The jobs picture in West Virginia continues to look bleak. This is especially true for males. The male 2010 1st quarter unemployment rate was 11.6% compared to a strong 4.0% in the last quarter of 2007. While the female unemployment rate increased 2 percentage points since the start of the Great Recession, the male unemployment rate has grown three-fold. This is primarily due to males working in industries hit hardest by the economic downturn, namely construction and manufacturing. Of the 18,100 jobs lost from December 2007 to May 2010, approximately 68% or 12,300 have been in these two industries alone. On the other hand, industries that employ more females have fared better. For example, employment in education and health services has increased by 4,400 since the recession started.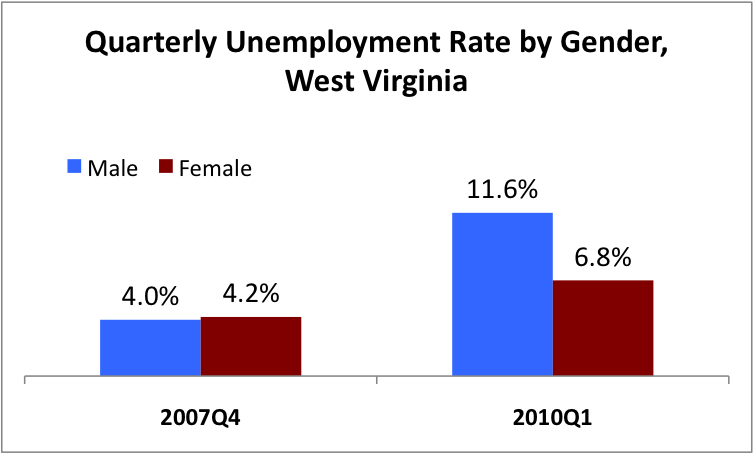 If we apply
Moody's Economy.com
state unemployment rateforecast for West Virginia, theunemployment rate for males will drop slowly to 9.6% in 2012Q4 and 5.6%for females. Moody's and the CBO are anticipating a very protractedrecession, lasting at least 7 years before reaching full-employment inWest Virginia.
As many know, the unemployment rate doesn't tell the whole story. This is because it doesn't include workers who have given up looking for work out of frustration (marginally attached) or those that want full-time work but can't find it. This is usually referred to as the "real unemployment rate" or the 'underemployment rate." According to BLS, the underemployment rate (U-6 measure of labor under-utilization)) in West Virginia from 2nd Quarter of 2009 to 1st quarter 2010 was 14.3% while the unemployment rate was 8.6%.
Workforce West Virginia released state employment figures today and our June unemployment rate is 8.5% (seasonally adjusted). This is one-percentage point higher than the national average of 9.5%. The biggest shock was that West Virginia lost about 5,400 state workers in one month. This was the largest drop of any industrial sector.