Want to be healthier and live longer?  Then you might want to move to Aspen, Colorado, home of the healthiest county in the U.S.  You'll also want to avoid our own McDowell County, one of the least healthy counties in the country.
Every year, the Robert Wood Johnson Foundation and the Population Health Institute at the University of Wisconsin release the County Health Rankings, which rank the overall health of every county in the U.S.  It evaluates counties by a whole boatload of factors including obesity rates, smoking rates, physical inactivity, STD rates, number of physicians, education rates, water quality, etc.  It jams all of these numbers into a machine, turns the magic crank, and spits out an apples-to-apples comparison of every county in the country.
Figure 1: 2013 West Virginia County Health Rankings – By Quartile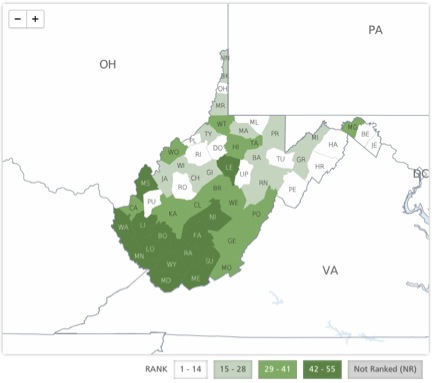 Source: County Health Rankings 2013, www.countyhealthrankings.org
What you find by exploring these data may be surprising, disheartening, or completely expected.  Regardless of what your take is though, it tells us one very important factor we often overlook when thinking about health – place matters.
In fact, location plays such a pivotal role that researchers can accurately predict your current health status just by knowing your zip code.  Although the data presented in the annual County Health Rankings isn't broken down to that level, it still paints an interesting picture of health in West Virginia.
For instance, the unhealthiest counties in the state are almost all in southern West Virginia, while the healthiest are in the Eastern Panhandle (Figure 1 above).  A resident of McDowell County is twice as likely to be a smoker than a resident of Monongalia County, while a child growing up in Berkeley County is at half the risk of living in poverty as a child in Clay County.
Take a look at the maps below to see just how much factors that contribute to health status change from county to county.  If you want to explore even more, check out the County Health Rankings website here or download the data set here.  (Monongalia County, home of WVU, is the healthiest county in West Virginia, if you were wondering.)
Figure 2: Smoking Rate by County – By Quartile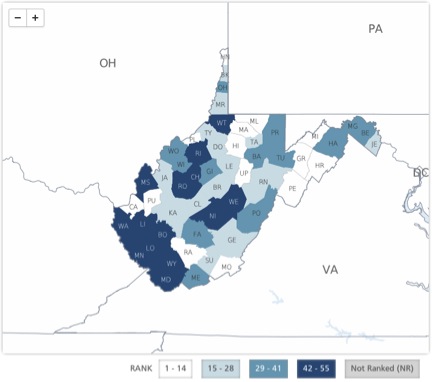 Source: County Health Rankings 2013, www.countyhealthrankings.org
Figure 3: Obesity Rate (>30 BMI)  by County – By Quartile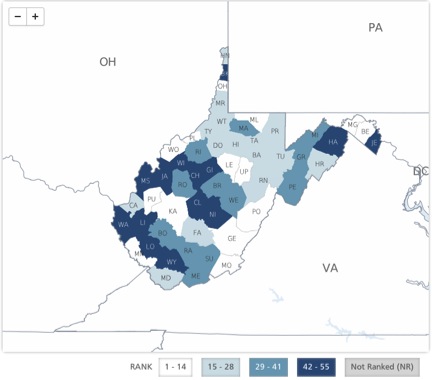 Source: County Health Rankings 2013, www.countyhealthrankings.org
Figure 4: Child Poverty by County – By Quartile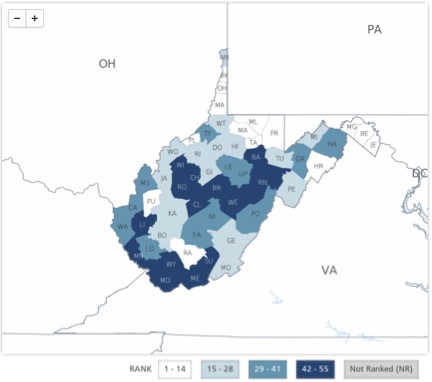 Source: County Health Rankings 2013, www.countyhealthrankings.org
Figure 5: Access to Healthy Foods by County – By Quartile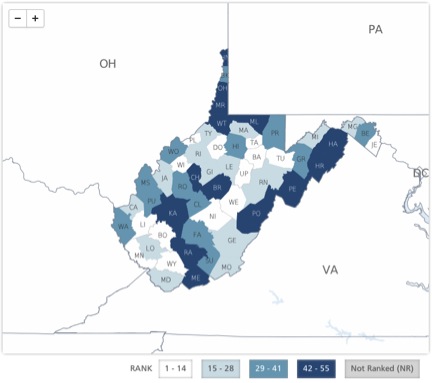 Source: County Health Rankings 2013, www.countyhealthrankings.org
 Figure 6: Ratio of Primary Care Physicians Per Population – By Quartile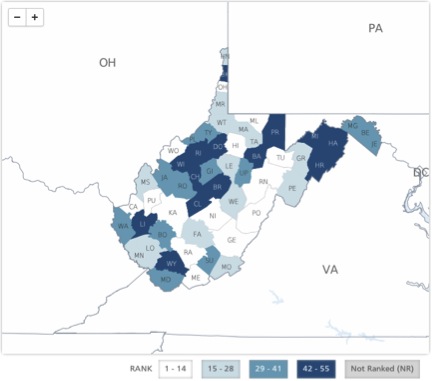 Source: County Health Rankings 2013, www.countyhealthrankings.org