We are now eight months into the COVID-19 pandemic that first started affecting West Virginia's economy in late March. Since then, the state has experienced huge drops in employment and revenue, followed by a much smaller bounce back, with an influx of federal aid providing a boost.
So how has West Virginia fared so far? Compared to the rest of the country, both the initial hit to the state's economy from COVID-19 and the subsequent recovery has been about average. Between February and April, total nonfarm employment in West Virginia fell by 93,900 jobs, or a decline of 13.2 percent. Nationally, nonfarm employment fell by 14.5 percent. Among the 50 states, Oklahoma had the smallest decline at 8.5 percent and Michigan had the largest at 23.8 percent, with West Virginia ranking 25th overall.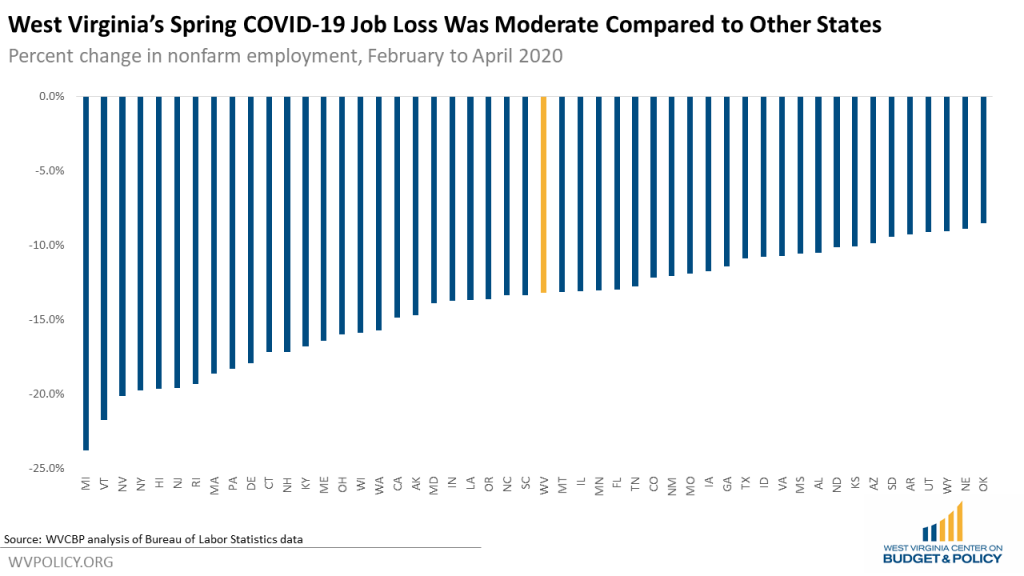 Since April, West Virginia has gained back 53,700 jobs, or 57.2 percent of what was lost. Nationally, 51.5 percent of jobs have been recovered. Among the 50 states, Idaho has gained back the most at 84.1 percent recovered, and Hawaii has gained back the least at just 4.7 percent recovered. West Virginia ranks 19th best in recovery, so again, right around the middle of the pack.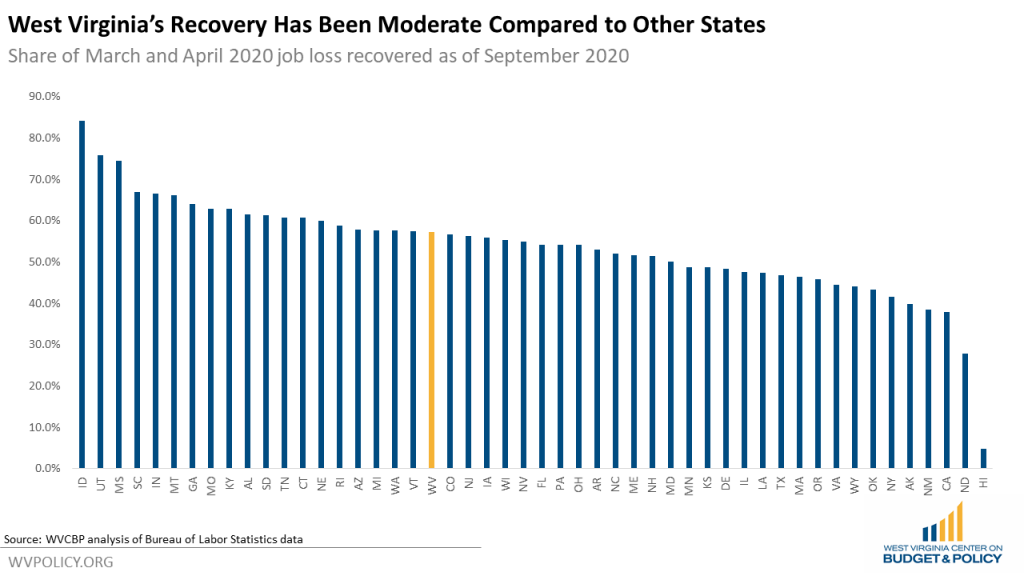 However, most of West Virginia's gains occurred in May and June, and the recovery has slowed down significantly since then. West Virginia gained back 49,600 jobs in May and June, but only 7,100 in July and August, and actually experienced a loss of 3,000 jobs in September.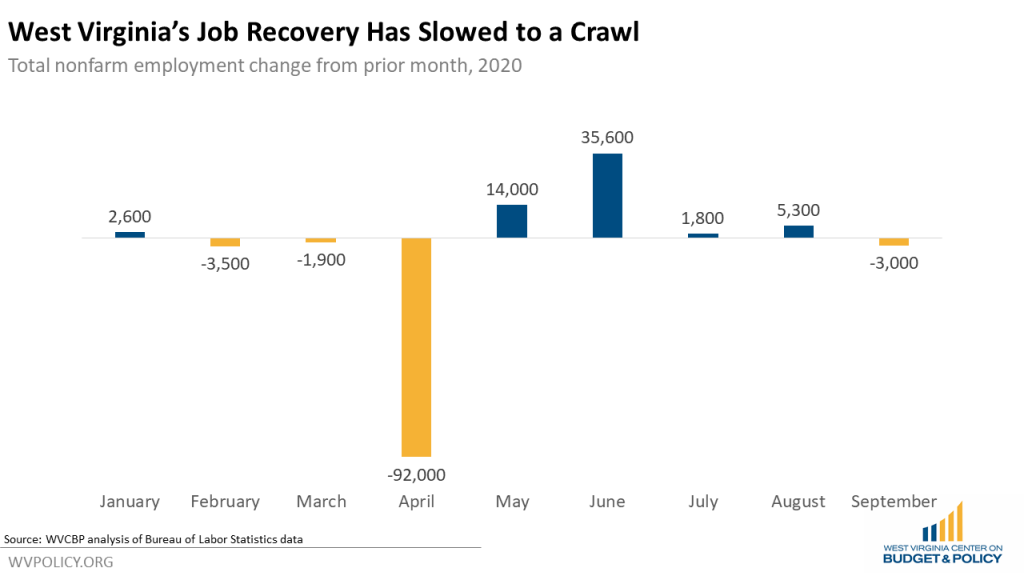 The stark reality is that West Virginia is likely looking at a long road back to full recovery. According to WVU's Bureau for Business and Economic Research's annual Economic Outlook, it could be until early 2023 before West Virginia gains back all of the jobs it lost in March and April. In other words, it could take 33 months to gain back what only took two months to lose.
But it's important to bear in mind, getting the state back to where it was pre-pandemic isn't saying much. West Virginia's economy was underperforming even before COVID-19 struck. Previous Economic Outlook projections from WVU forecasted that the state would see 0.6 percent average annual employment growth from 2016 to 2021. But through 2019, West Virginia's actual average annual employment growth was -0.2 percent.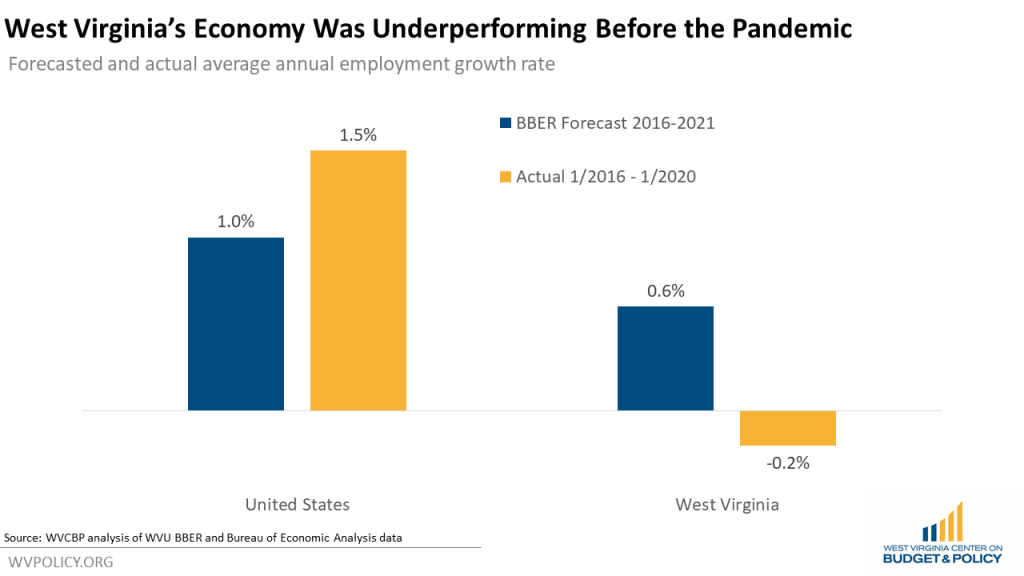 In fact, West Virginia was losing jobs all throughout 2019, before any signs of the pandemic.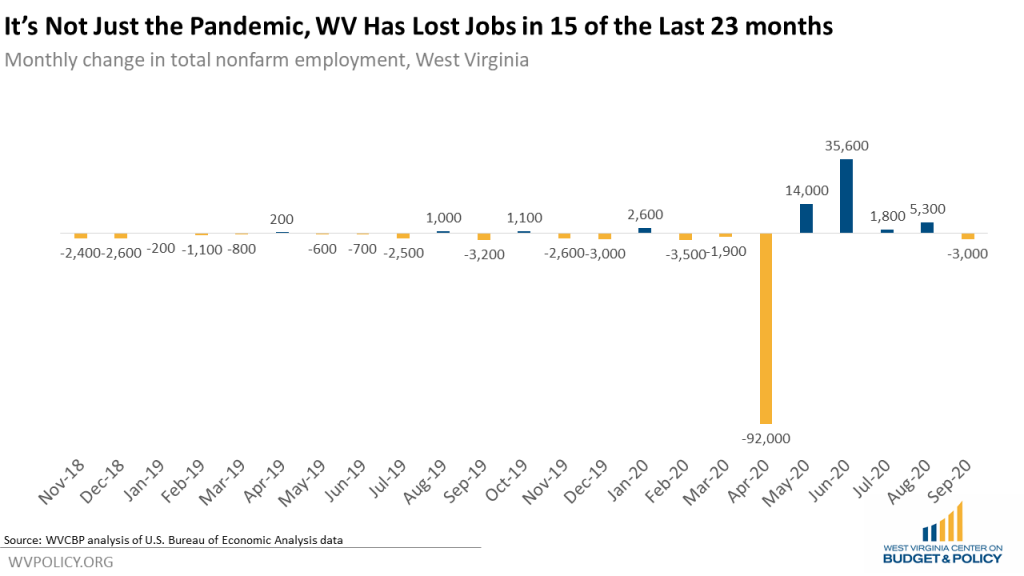 Getting back to normal in West Virginia means getting back to an economy that was struggling, as well as a state that was facing major budget gaps in the years ahead.
While West Virginia has been meeting and exceeding its monthly revenue estimates recently, there are still reasons for concern. Overall, West Virginia's revenue is $137 million below estimates from April through October.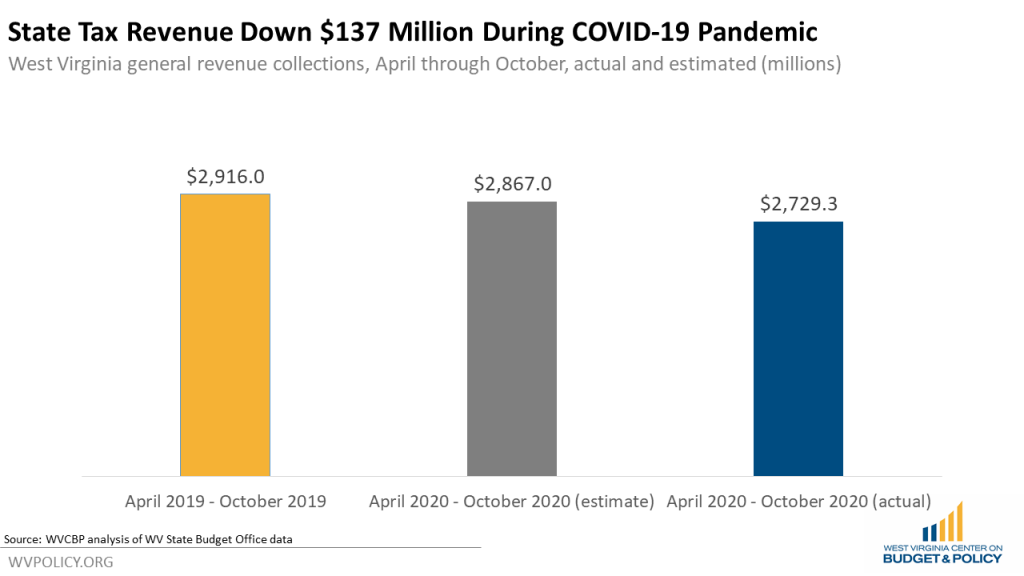 Most of West Virginia's FY 2021 "surplus" is due to deferring tax day from April to July, which boosted FY 2021's revenue by $192.5 million, as well as a boost from billions in CARES Act stimulus payments and enhanced unemployment benefits.
But West Virginia's recent revenue performance is a reminder that expectations were already low for FY 2021. Revenue collections exceeded estimates in September and October 2020, but the estimates for those months were already $83 million below actual collections in 2019. Total estimated revenue for FY 2021 of $4.574 billion is $182 million below actual collections of $4.756 billion in FY 2019.
If West Virginia continues to meet its revenue estimates, which again is happening due to both low expectations along with billions in relief dollars from the federal government, it is still facing significant budget gaps, totaling $661.7 million in the next four years.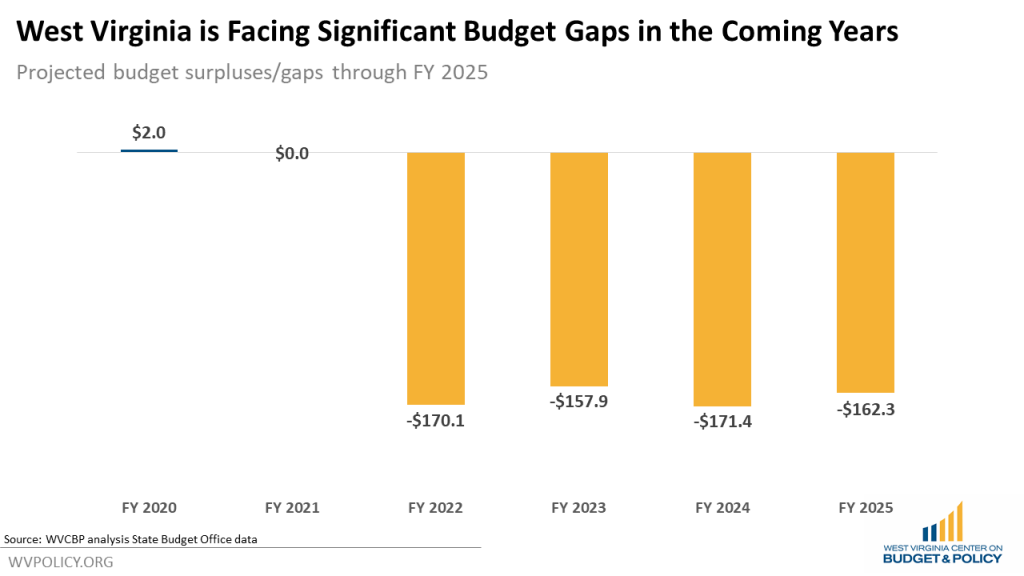 Keeping in mind the fact that COVID-19 cases are spiking in the state and that further relief from the federal government seems unlikely for the next few months, West Virginia — which entered the pandemic on shaky ground — has a long road ahead to full recovery.