The state Senate's version of the FY 2018 budget bill has been released, giving a glimpse into how the legislature plans to close the state's budget gap. The Senate's bill spends $402.6 million less from the General Revenue Fund than Governor Justice's proposed budget, meaning that once again, the budget is being balanced largely through spending cuts.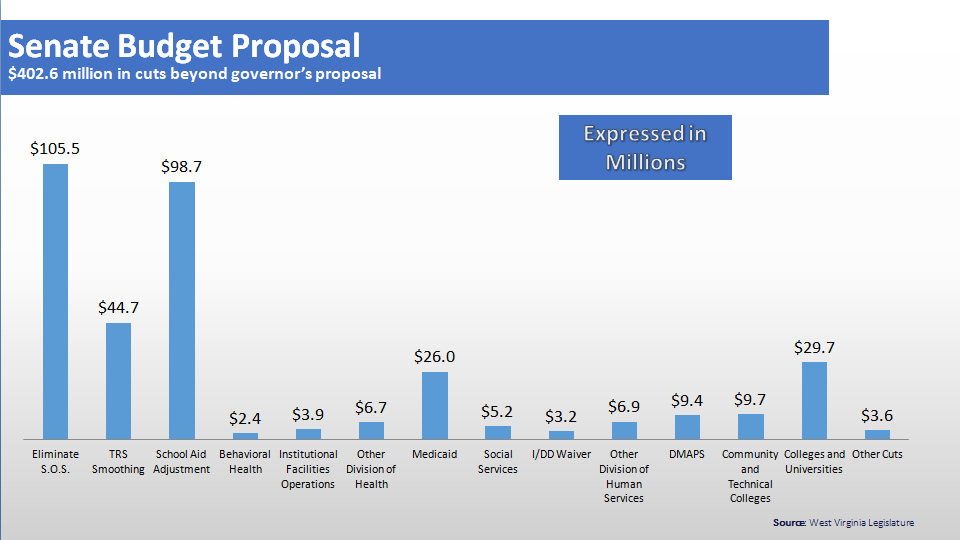 The biggest single change from the governor's proposal is the elimination of funding for Governor Justice's Save Our State Fund, which saves the budget $105.5 million dollars.
Another major change from the governor's proposal can be found in the budget for the Department of Education. The Senate's budget cuts appropriations for the Department of Education by $141 million, with two major changes. First the school aid formula is adjusted to increase the local share of k-12 education, lessening the state's share by $98.7 million. The Senate bill also keeps the governor's proposal to "smooth" payments to the Teacher's Retirement Unfunded Liability, saving $44.7 million.
In addition, there appears to be cuts to Medicaid in the Senate budget. General revenue appropriations for Medicaid are cut by $64.7 million, but are partially offset by increases in Excess Lottery and Trust Fund appropriations. Cuts to other areas of DHHR total $28.9 million below the governor's proposal.
Finally, after years of cuts totaling $55 million, higher education goes under the knife again, with cuts totaling $41.6 million below the governor's proposal, including $10 million in cuts to community and technical colleges and $31 million in cuts to public 4-year colleges and universities. The $41.6 million in cuts to higher education come on top of Governor Justice's proposed cuts to higher ed, bringing the total cut from FY 2017 to FY 2018 to $51.6 million. Funding for Higher Education from the General Revenue Fund would be $115 million below FY 2013 levels for FY 2018 under the Senate's budget bill.