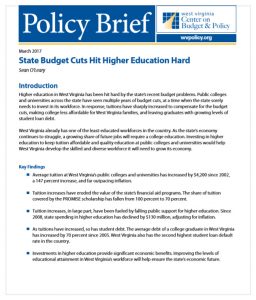 Higher education in West Virginia has been hit hard by the state's recent budget problems. Public colleges and universities across the state have seen multiple years of budget cuts, at a time when the state sorely needs to invest in its workforce. In response, tuitions have sharply increased to compensate for the budget cuts, making college less affordable for West Virginia families, and leaving graduates with growing levels of student loan debt. Read PDF here.
West Virginia already has one of the least-educated workforces in the country. As the state's economy continues to struggle, a growing share of future jobs will require a college education. Investing in higher education to keep tuition affordable and quality education at public colleges and universities would help West Virginia develop the skilled and diverse workforce it will need to grow its economy.
Key Findings
Average tuition at West Virginia's public colleges and universities has increased by $4,200 since 2002, a 147 percent increase, and far outpacing inflation.
Tuition increases, in large part, have been fueled by falling public support for higher education. Since 2008, state spending in higher education has declined by $130 million, adjusting for inflation.
As tuitions have increased, so has student debt. The average debt of a college graduate in West Virginia has increased by 70 percent since 2005. West Virginia also has the second highest student loan default rate in the country.
Tuition increases have eroded the value of the state's financial aid programs. The share of tuition covered by the PROMISE scholarship has fallen from 100 percent to 70 percent.
Investments in higher education provide significant economic benefits. Improving the levels of educational attainment in West Virginia's workforce will help ensure the state's economic future.