Statewide enrollment in West Virginia's public schools fell by 9,300 students this past year, as states across the country are seeing declining school enrollment due to the COVID-19 pandemic. Declining enrollment could mean budget cuts for school districts, even as schools struggle with the extra costs of improving remote learning offerings and adopting safety procedures that allow buildings to open for in-person classes.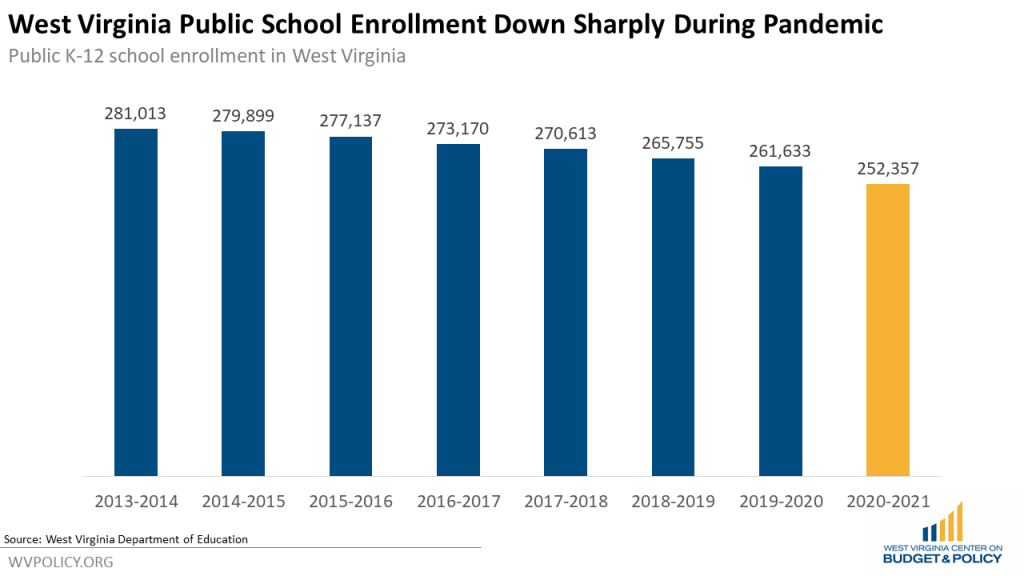 Like in many states, state funding for public K-12 education in West Virginia is based, in part, on enrollment. Fewer students means less state funding through the school aid formula, which could mean laying off employees and moving children to different classrooms, causing even more instability during a time when children are desperately seeking routine and reassurance.
According to estimates from West Virginia's Department of Education, the drop in enrollment this past year could mean a $42.7 million funding cut through the school aid formula.
Before this current school year, public school enrollment in West Virginia had fallen by 17,000 students since 2008, reducing state funding for local school districts by $81.9 million.
The potential loss of funding is of particular concern this year, as schools deal with the extra costs associated with COVID-19, as well as the expectation that most of those students, and their associated costs, will return to school next year once a vaccine is more widely available and the virus less widespread.
State education officials have suggested holding school districts "harmless" this budget year, freezing funding levels for the year rather than reducing them due to declining enrollment. Education officials across the country have asked their legislatures to do the same, with California passing a bill in June to freeze the state's schools funding at last year's levels for the remainder of this year.
The potential budget cuts come at time when several other threats to public education are on the horizon. Legislative leadership has signaled a renewed interest in education savings accounts, which would divert state funding away from public schools and into the private sector, while proposals to eliminate the business personal property tax would cost local school districts millions in lost revenue.
A downturn in enrollment due to the pandemic does not have to automatically equal a budget cut next year. The legislature has the power to pass legislation this upcoming session to help schools make up the gap in funds. If they do not, more public sector cuts will likely occur, putting the state's recovery at further risk.