While we knew that eliminating the business personal property tax was at the top of the legislative agenda, it was unclear how the tax cut would take shape. Now with the introduction of Senate Joint Resolution 8, the Manufacturing Growth Amendment, we can better understand its potential impact.
As previous blog posts have shown, the property tax on business personal property (which includes business machinery and equipment, inventory, and other business personal property like computers and fixtures, as well as the working interest in oil and natural gas property) totaled $388.4 million, accounting for 23 percent of total property tax revenue in the state in FY 2016.
SJR 8 proposes eliminating part of that tax, but only for manufacturers. All other businesses in the state would continue to pay property tax on their equipment and inventories. The property tax on manufacturing machinery, equipment and inventory totaled $91 million in tax year 2018.
Since property taxes are levied by the state, counties, school districts, and municipalities, the impact of the tax cut would be felt at every level of government in West Virginia.
If the property tax on manufacturing machinery, equipment, and inventory were to be eliminated, counties and municipalities would lose an estimated $30.8 million in annual property tax revenue, based on 2018 property tax collections.
The state would lose an estimated $362,000 in revenue, but would also have to pay out an additional $24.8 million through the school aid formula due to the loss of revenue by school districts, for a total annual fiscal impact of $25.2 million for state government.
School districts would be the hardest hit by the elimination of property tax on manufacturing machinery, equipment, and inventory. Schools would lose $59.9 million in annual property tax revenue. While $24.8 million would be replaced through the school aid formula, schools in West Virginia would still lose a total of $35.0 million annually through excess levies and the amount not fully replaced by the school aid formula. Since school levy rates are set by the legislature, and since most school excess levies are at or near the max rate, local school districts would be unable to fill this deficit, and the state would need to provide additional revenue to maintain the current educational system.
While SJR 8 calls for the state to set aside $100 million in general revenue funds from the state budget to distribute to local governments to offset the revenue loss, the state currently does not have $100 million to spare. Budget projections show the state facing a cumulative $663.7 million budget gap over the next four years, starting with a $170.1 million budget gap in FY 2023. SJR 8 would only contribute to those budget gaps, adding $150 million to them over the next 4 years, and $100 million in perpetuity.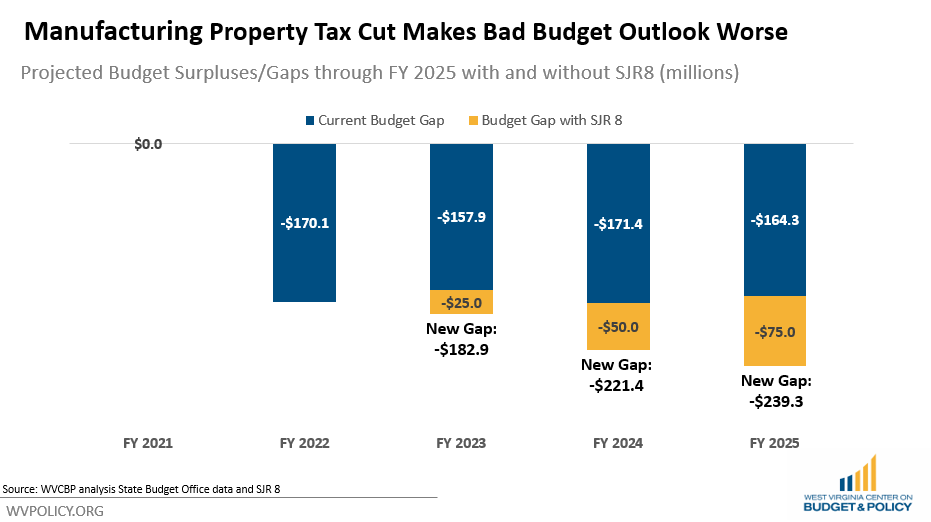 And again, while this tax cut is being sold as repealing the state's number 1 job killing tax, evidence suggests it won't have much of an impact on manufacturing jobs in the state. Studies examining state-level inventory and other personal property taxes concluded they rarely impact business location decisions or have a significant impact on employment levels in manufacturing, wholesale, or retail industries. In fact, in recent years, more manufacturing jobs have been added in states with the "job-killing" business inventory and equipment tax than in states without it.
A recent peer-reviewed study looking at Ohio's elimination of their personal property tax found no impact on manufacturing employment. In fact, the study suggests that eliminating the tax on machinery and equipment created an incentive to automate, and manufacturing employment in Ohio ended up lower than it would have been had the tax not been eliminated.
State and local taxes, and this tax in particular are small share of the total cost of doing business. For example, in 2016, manufacturers in West Virginia spent $19.6 billion on materials, labor costs, utilities, and capital expenditures. The "job killing" tax on manufacturing machinery, equipment, and inventory represents roughly one-half of one percent of those costs.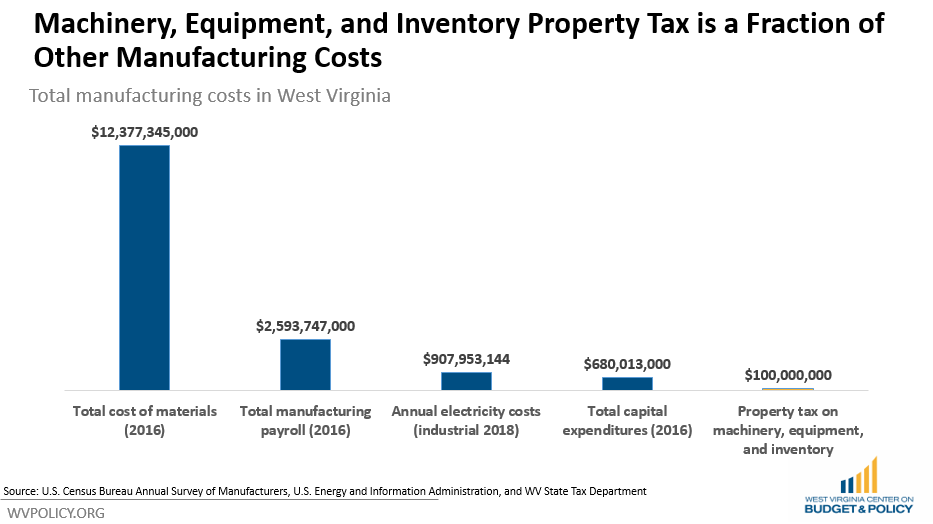 The tables below breaks down the fiscal impact of the SJR 8 by county based on Tax Year 2018.