As the 2020 Legislative Session heads down the home stretch, attention now turns to the state budget. While budget proposed by the governor at the beginning of the legislative session showed little change from the previous year, there will likely be some adjustments made, as a number of revenue reducing bills are currently working their way through the legislature.
But beyond those changes, the legislature is facing down large budget deficits beginning next fiscal year that will need to be addressed. And if past history is any indication, those budget gaps will be closed, in part, by cutting higher education.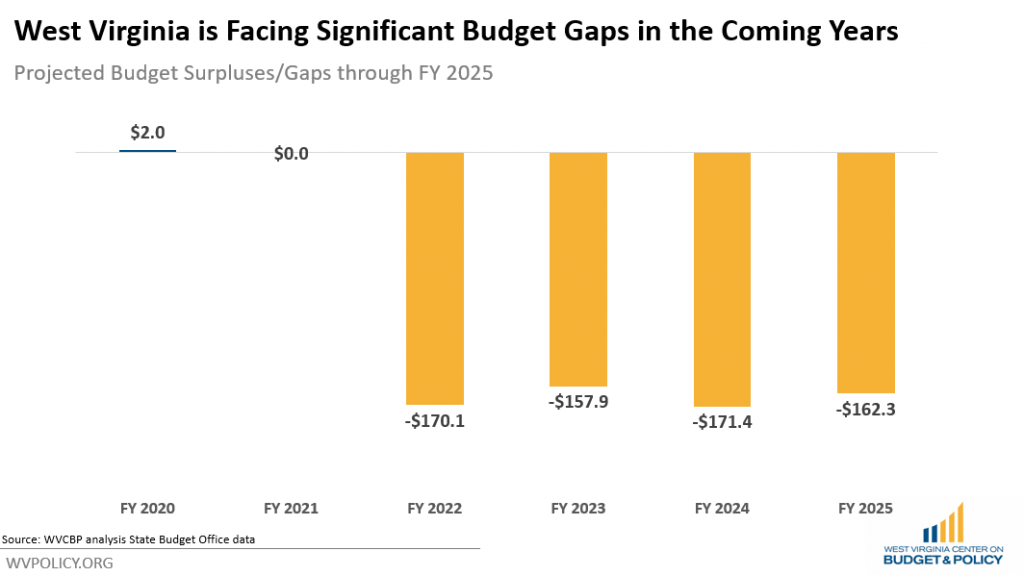 The state's budget forecast shows no increase in Higher Education funding in the coming years, after years of cuts to help pay for tax cut induced budget gaps. Overall, state funding for higher education in the FY 2021 budget is down $95 million, or 14.3%, adjusting for inflation, from it's most recent peak in FY 2013.
Those cuts have not been without consequence. State funding cuts have led to tuition increases. The average annual tuition and fees at the state's 4-year public colleges and universities has increased by 33% or $1,855, adjusting for inflation, since 2010. Tuition and fees at the state's 2-year community and technical colleges have also increased by 29%, adjusting for inflation, over that time period.
And these tuition increases have had a direct impact on college affordability and enrollment. Since 2010, enrollment in all public colleges and universities in the state has declined by 6.1%, with 12,989 fewer students enrolled in higher education in the state.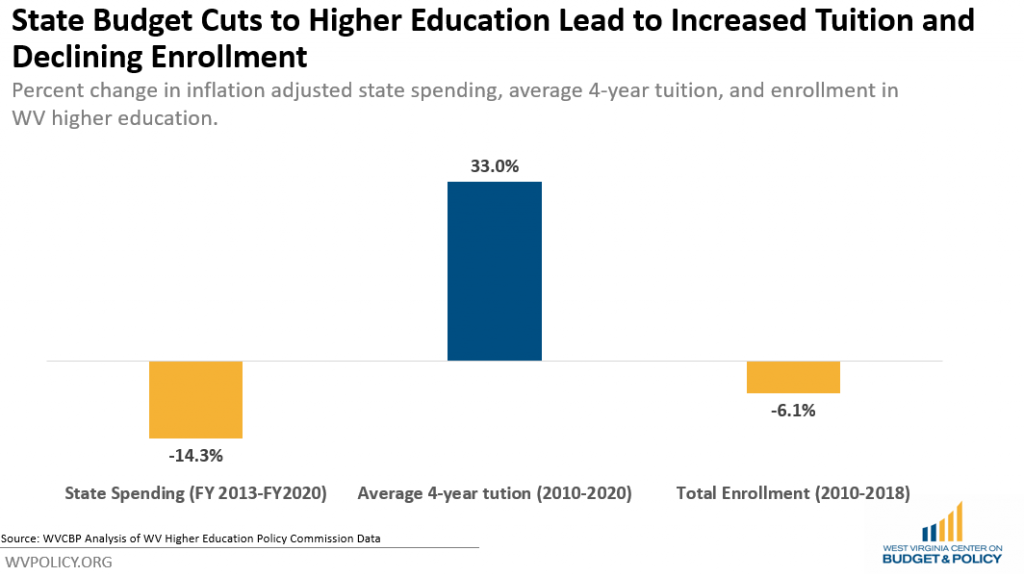 One needs to look no further than the diminishing value of the PROMISE scholarship to see the impact of spending cuts and tuition increases on college affordability. In 2010, the PROMISE scholarship covered nearly 94% of the average tuition and fees at the state's 4 year public colleges and universities. Today, it covers less than 63%. In 2010 a PROMISE recipient would need just $306 to make up the difference between the PROMISE and the average tuition and fees. Today a PROMISE recipient would need $2,846.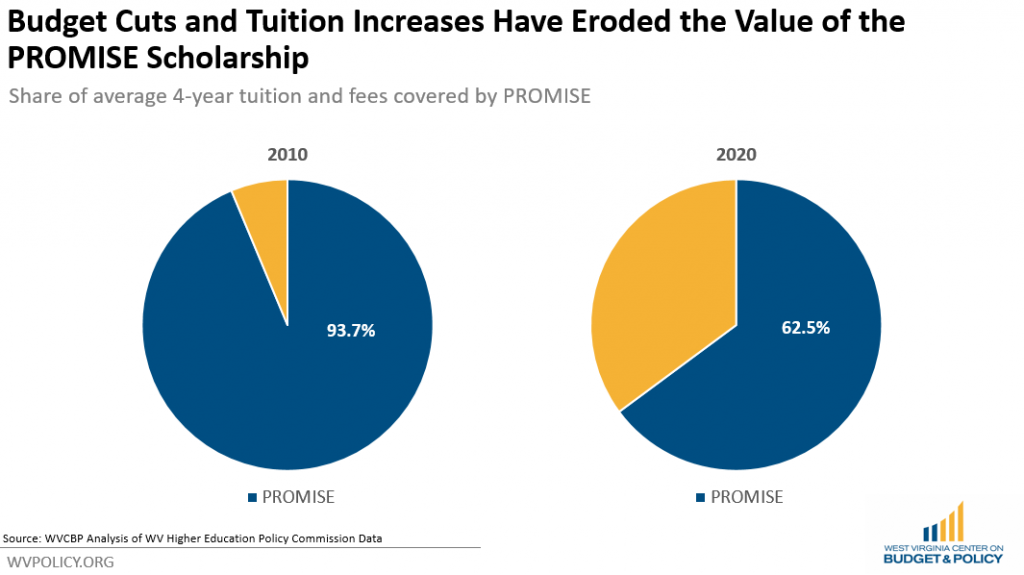 With rising costs and declining support, West Virginia's college-going rates have also declined, with fewer of the state's high school graduates going off to college than in recent years. In 2010, 58.5% of the state's high school graduates went on to college, with 50.3% going to an in-state college. In 2018, the overall college going rate had fallen to 52.6%, with the in-state rate down 45.2%. That's the equivalent of 1,171 fewer West Virginia students attending college.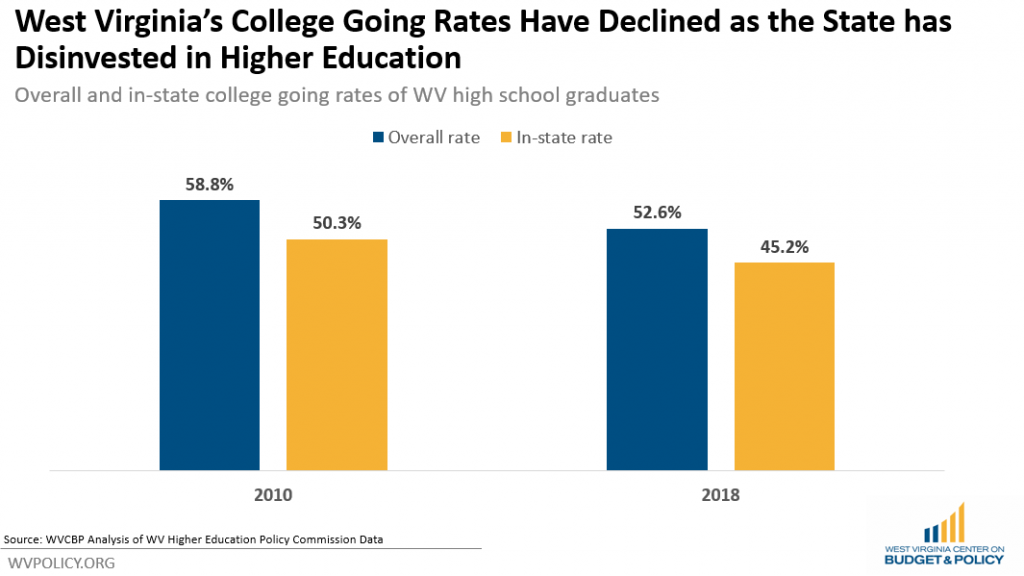 It is largely lower-income students that are no longer enrolling in West Virginia's colleges. The number of low income students enrolled in a public college or university in West Virginia has fallen from 21,344 in 2010 to 17,808 in 2018, a decline of 16.6%.
Those West Virginia students who are going to college are graduating with higher levels of debt. In 2018, West Virginia's college graduates graduated with an average of $30,014 in student loan debt. 65% of West Virginia's college graduates leave school with student loan debt, the 5th highest rate in the country. And the college participation rate for students from low-income families West Virginia is just 23%, ranking fifth lowest in the nation.
West Virginia can increase the skills and diversity of its workforce, and dramatically improve the future of its children and communities, by restoring higher education funding and making it more affordable. The state moved in the right direction last year with the enactment of SB 1, which using a "last dollar in" approach, provides free in-state college tuition at the state's community and technical colleges to qualified applicants. But it is clear the state is not doing enough and more action is needed to reverse these trends. West Virginia policymakers should explore making four-year public college tuition-free for in-state residents regardless of income, similar to New Mexico. As we've noted before, this would be cheaper than the business tax cuts the state enacted over the last decade.