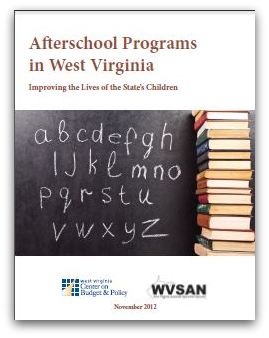 West Virginia's children are struggling to attend school, develop healthy lifestyles, and receive their high school diploma. During the 2011/2012 school year, one in three students in West Virginia had at least five unexcused absences from school. Truant children often fall behind their peers, perform worse in school, and are more likely to drop out. More than one in three children in West Virginia are obese, putting them at risk for a multitude of health issues. West Virginia has the 20th highest dropout rate among high school students, and these dropouts will find it increasingly difficult to find employment and become financially secure in the future. Read PDF of report
This report examines these issues of truancy, childhood obesity, and high school dropouts in West Virginia and looks at the role afterschool programs can play in alleviating them. In addition, this report maps the locations of afterschool programs in West Virginia against a range of educational, poverty, health, and economic measures at the census tract and county levels. These maps can help afterschool advocates identify areas of the state that may need additional support and attention.
Key Findings
• County truancy rates ranged from just under 10 percent to nearly 58 percent.
• Childhood obesity rates in the United States tripled from 1980 to 2008, rising from seven percent to 21 percent.
• Obesity rates are higher among nonwhite children than white children. Obesity rates also tend to be higher among children in low-income families than children in high- or middle-income families.
• In 2007, 16.7 percent of West Virginia youth between the ages of 10 and 17 were overweight and an additional 18.9 percent were obese.
• West Virginia's preschool-age obesity rate is increasing rapidly. In 2000, only 12 counties in the state had preschool obesity rates greater than 13 percent. By 2009, the number had increased to 25 counties.
• Between 2008 and 2009, 4.1 percent of West Virginia's high school students left school without transferring to another school or completing their degree.
• West Virginia's dropout rate among African- Americans is low compared to other states. The rate for white students is one of the highest.
• 18 percent of West Virginia's population over 25 did not complete high school.
• Among 16 to 25 year olds, high school dropouts have the lowest employment rate of 45.7 percent. In comparison, 86.8 percent of individuals with a bachelor's degree or higher had work in 2008.
• Dropouts earn millions less in a lifetime than those who graduate from college or have higher degrees.
• Studies have shown that afterschool programs can improve a student's behavior, grades, and attendance, and can close the achievement gap. Since children typically attend these programs nearly every weekday for several hours at a time, the potential influence an afterschool program can have on the life and health of a child is immense.
• There are at least 380 afterschool program sites in West Virginia, although they are not distributed evenly across the state.