Last month, Congress allowed the CARES Act's $600 boost to weekly unemployment benefits to expire. It was replaced with a temporary and inadequate executive order providing funding for enhanced benefits that West Virginia has applied for but has yet to receive. And now, another unemployment provision of the CARES Act is about to run out for thousands of West Virginians: the number of weeks of unemployment benefits available to workers who have lost their jobs.
In West Virginia, workers receiving regular state unemployment benefits are eligible for up to 26 weeks of benefits. Under the CARES Act, the Pandemic Emergency Unemployment Compensation (PEUC) program adds 13 weeks to the maximum number of weeks of jobless benefits for regular unemployment insurance (UI) beneficiaries, bringing the maximum number of weeks up to 39. Workers eligible for the Pandemic Unemployment Assistance (PUA) program created by the CARES Act, which provides UI benefits for many workers not covered by regular UI, including the self-employed, independent contractors, and gig economy workers, are also eligible for 39 weeks of benefits.
Both of these programs, however, expire at the end of December. Even with these provisions, a large number of workers will start to exhaust their benefits before the end of the year — with many more exhausting early next year — if the next relief package does not increase the total number of weeks of benefits available and extend PEUC and PUA into 2021.
West Virginia has been averaging approximately 4,100 PEUC claims each week since the program started. Those workers who filed PEUC claims at the beginning of the pandemic are now reaching the end of their eligibility, even as the state's economic recovery is showing signs of slowing down.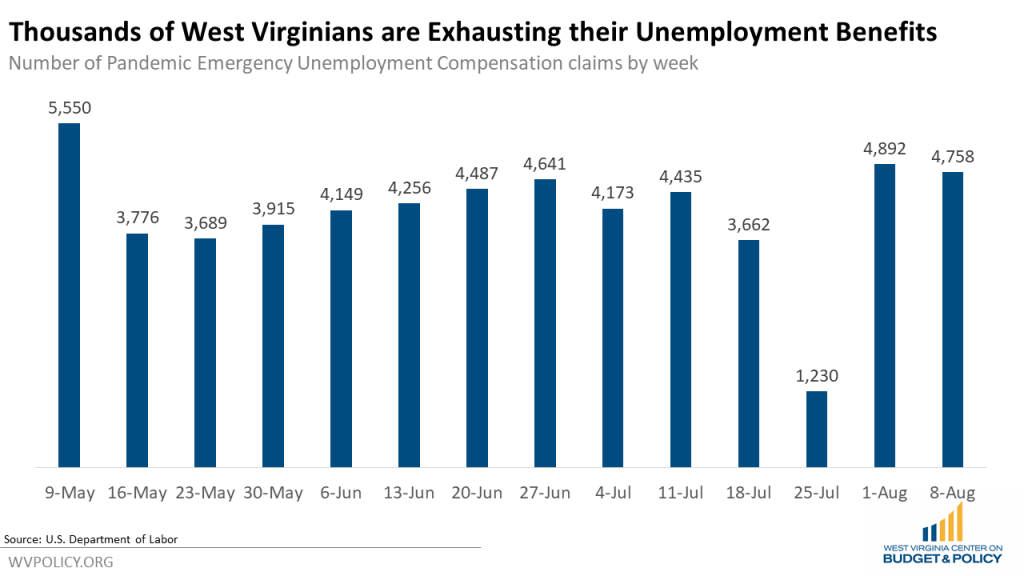 Once workers' PEUC is exhausted, they are eligible for extended benefits. In West Virginia, extended benefits offer an additional 13 weeks of benefits in times of high unemployment. For workers who have begun to exhaust the PEUC benefits, extended benefits would last until the end of the year. After that, PUA and PEUC both expire for all workers. So far in 2020, only a handful of workers in West Virginia have filed for extended benefits.
With the number of new unemployment claims still historically high, a growing number of workers will exhaust their benefits and be left with no basic income support to replace their lost wages. While job losses have been widespread, losses have been most severe among workers in low-paid industries. As a result, a large share of those exhausting their benefits will be low-paid workers, including a disproportionate number of women and people of color. Unless Congress acts soon to pass a comprehensive relief package, large numbers of West Virginians will suffer.