West Virginia's economy added only 200 jobs in July, according to the monthly jobs report from Workforce WV, after adding 35,600 in June. West Virginia's overall jobs picture has been heavily skewed the past two months due to the temporary hiring of poll workers for June's primary election. Government jobs increased by 11,200 in June, followed by a loss of 5,500 in July. However, looking at the private sector alone, West Virginia is showing signs of a significant stagnation in the recovery of its job losses suffered early on in the COVID-19 pandemic.
West Virginia added 5,700 private sector jobs in July, a solid number, but far below the gains of past months, leaving a still sizable jobs gap compared to earlier in 2020. After losing 93,900 private sector jobs in March and April, West Virginia gained 14,000 in May, and 24,400 in June. West Virginia's gain of 5,700 in July still leaves the state 37,700 private sector jobs below where it was in February.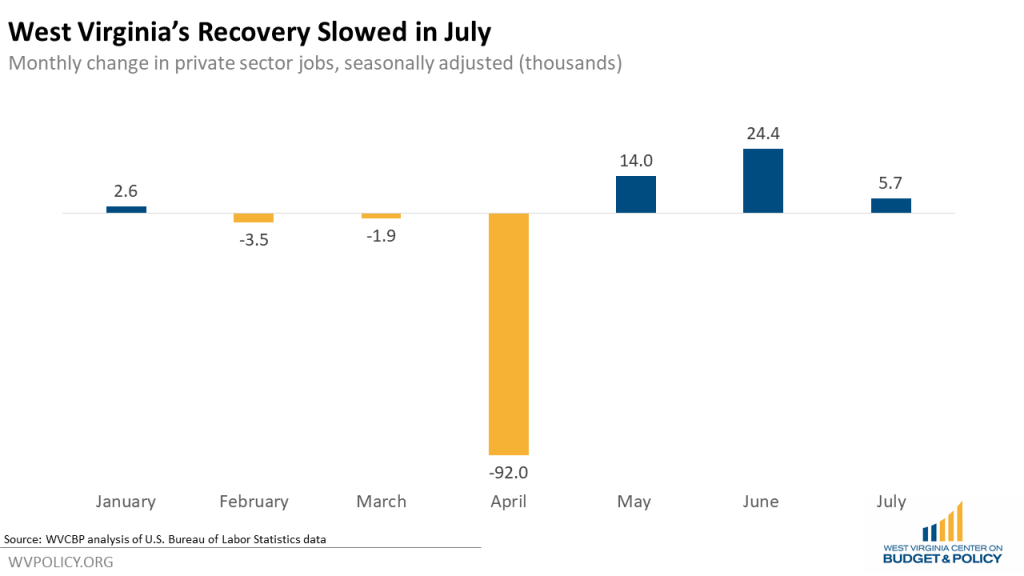 With the exception of health care and social assistance, most of the industries that were hit hardest by the pandemic saw their recovery slow down in July. Retail trade saw no increase in July, after gaining 3,200 jobs in June; professional and business services gained 600 jobs, after gaining 1,300 in June; arts, entertainment, and recreation gained 200 jobs, after gaining 3,700 in June; and accommodation and food service gained 1,600, after gaining 8,800 in June. In addition, the state lost 1,200 mining jobs and 700 manufacturing jobs in in July.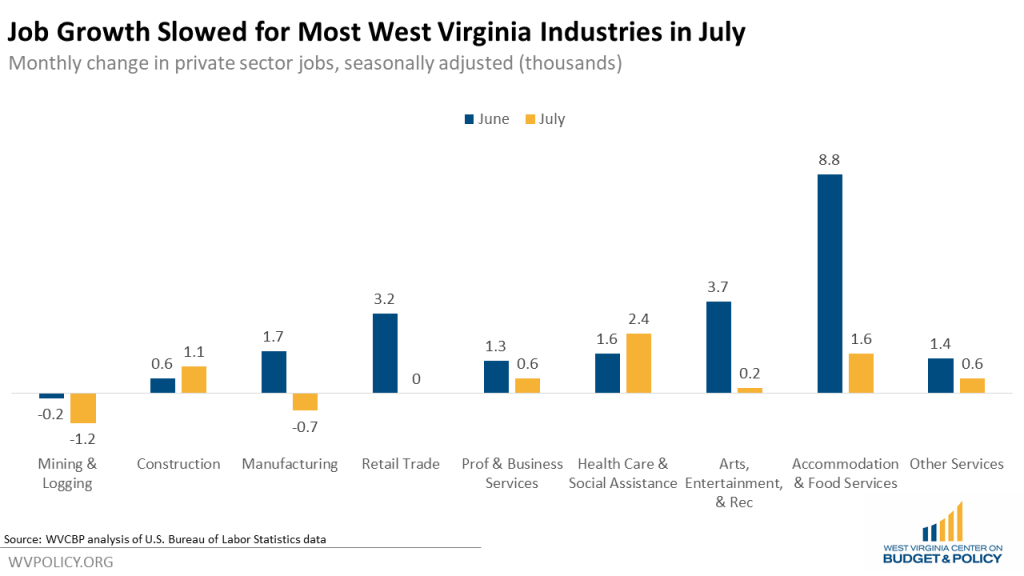 The report from Workforce WV also showed that the state's unemployment rate, which is calculated in a different survey from the jobs report, dropped from 10.5 percent in June to 9.9 percent in July. However, this decline can mostly be attributed to workers leaving the labor force, not unemployed workers finding jobs.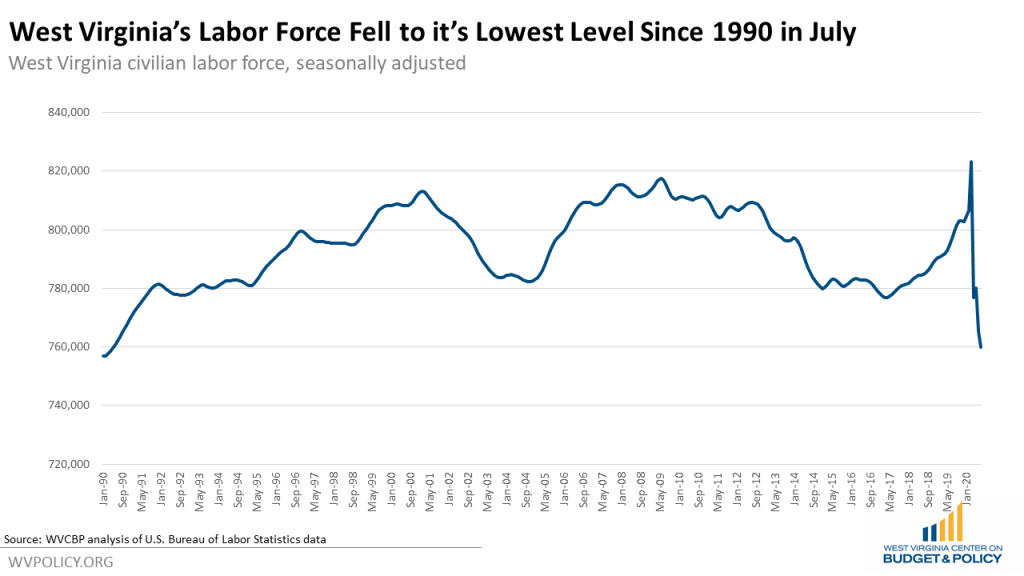 While the number of unemployed West Virginians fell by 4,600 workers in July, the number of employed West Virginians also declined, falling by 800. The drop in the unemployment rate was driven by workers leaving the labor force, which fell by 5,300 workers in July, suggesting that instead of finding jobs, many unemployed workers in West Virginia simply gave up on looking for work entirely. Since March, 63,300 workers have left West Virginia's labor force. If those workers had stayed in the labor force, and were still counted as unemployed, the state's unemployment rate would be 16.8 percent, nearly seven percentage points higher than the July rate. At just 760,000 workers, West Virginia's civilian labor force is at its lowest level since 1990.
The July downturn in jobs recovery happened just as the boosted $600 per week unemployment benefit known as Federal Pandemic Unemployment Compensation (PUC) expired for West Virginians receiving jobless benefits. Over the last several months, the enhanced benefit has helped to boost consumer spending, prop up the state budget and enable tens of thousands of out-of-work West Virginians to make ends meet. The fact that the economy is still in such a deep hole, and showing signs of slowing down, makes it more urgent than ever that an adequate and comprehensive relief package passes Congress.