Before the COVID-19 pandemic, nearly 186,000 workers in West Virginia were employed in six broad industries that are now considered the frontlines of the response. Nurses, janitors, grocery clerks, child care staff, bus and truck drivers, these are the essential workers in our state and our economy, and the current crisis has done little to change that. Instead it has shown just how vital these workers are.
However, these same workers with whom we trust with our health, our nourishment, our loved ones, and our lives are too often underpaid while working long hours. Many lack health insurance, and too many are living in poverty.
This post provides some demographic details of these essential workers, so we both can better address their needs can better appreciate the work they do every day on the frontlines of this pandemic. The data comes from a Center on Economic Policy and Research analysis of the 2014-2018 American Community Survey.
More than 66 percent of all frontline workers in West Virginia are women, including 83 percent in the social services and 78 percent in health care.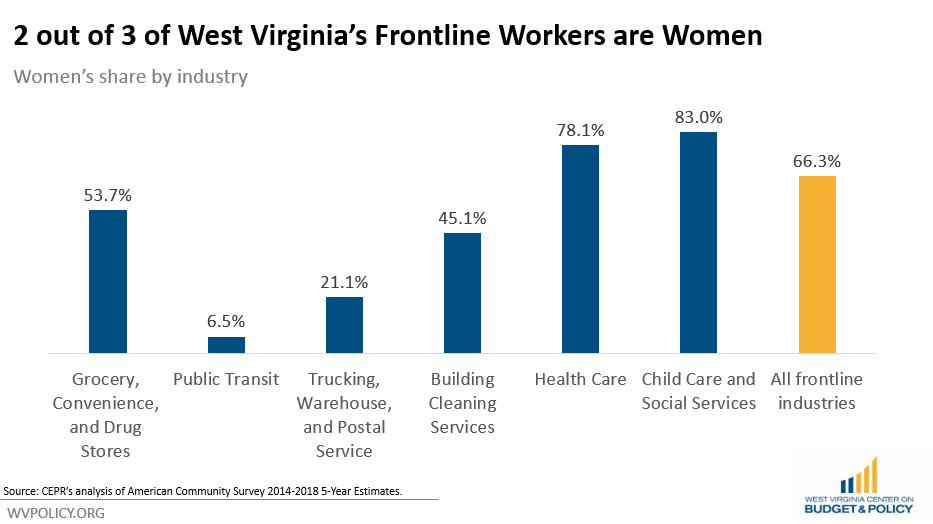 People of color are also over represented in West Virginia's frontline industries, particularly in the building cleaning, health care, and social services industries.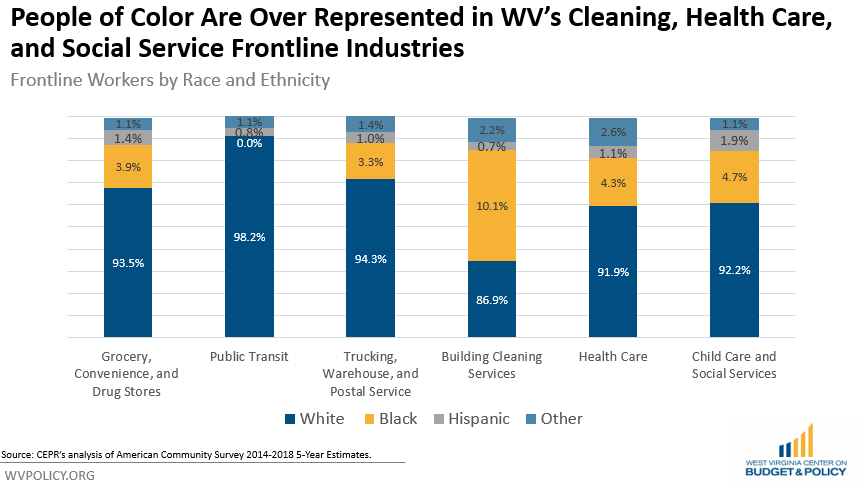 Despite working in such essential industries, 8.8 percent of West Virginia's frontline workers are living in poverty (less $26,200 for a family of four) and 25.7 percent live at or below twice the poverty line ($52,400 for a family of four). Moreover, 46 percent of workers in cleaning services, 37 percent in food and drug stores, and 36 percent in social services live in households at or below twice the poverty line.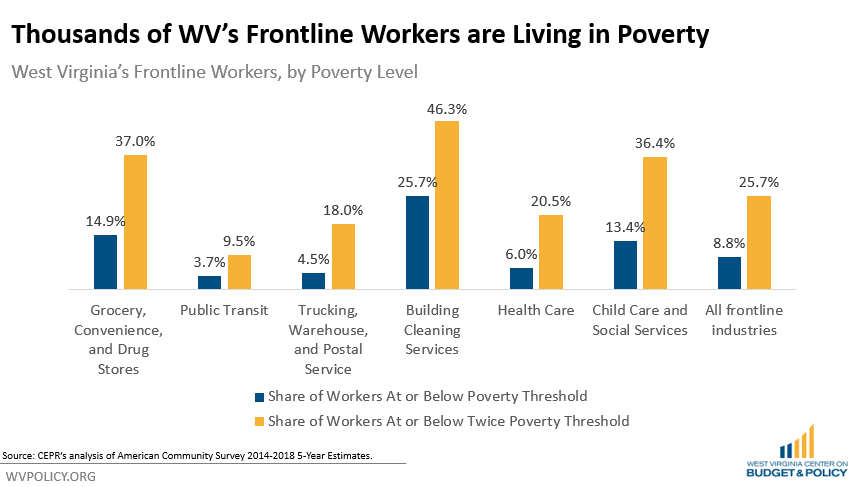 Meanwhile, 18.5 percent of cleaning services workers, 13.2 percent of delivery and warehousing employees, and 9.8 percent of child care and social service workers do not have any health insurance. The West Virginia workers guiding us through this global pandemic and most likely to be exposed to COVID-19 would be forced to suffer serious financial hardship if infected.
With no healthcare and low wages, caring for a family can be a challenge for many frontline workers. In total, 34.1 percent have a child at home, including 36.2 percent of health care workers and 32.8 percent of grocery and drug store workers. This underlines the importance of affordable and easily accessible daycare, both during the crisis and afterwards.
Protecting and assisting these workers should be a top priority for the next steps in the state and federal response to the coronavirus crisis. While some important protections for frontline workers have been enacted, there is far more that could be done. Further policies could include:
Providing free protective equipment and gear—including gloves, masks, and hand sanitizer—to all businesses that have frontline workers interacting with high volumes of people and potentially contagious conditions.
Comprehensive health insurance that includes free coverage of COVID-19 testing and treatment.
Subsidized hazard pay for frontline workers.
Paid sick days and family leave
Subsidized or free child care