The Coronavirus Aid, Relief, and Economic Security (CARES) Act, signed into law last week, included many important provisions to help mitigate the sharp economic decline that millions are struggling with. But while the bill expanded unemployment insurance and provided financial assistance to families, individuals, state and local governments, and businesses, there is more that will need to be done, particularly in the areas of health coverage, food assistance for struggling families, and additional state fiscal relief.
With millions losing jobs, including tens of thousands in West Virginia, Congress should look to policies that would help people who lose their health insurance along with their jobs transition to marketplace coverage. This could be done by increasing premium tax credits, making coverage more affordable for at least 9 million currently uninsured people and many others likely to become uninsured in the coming months.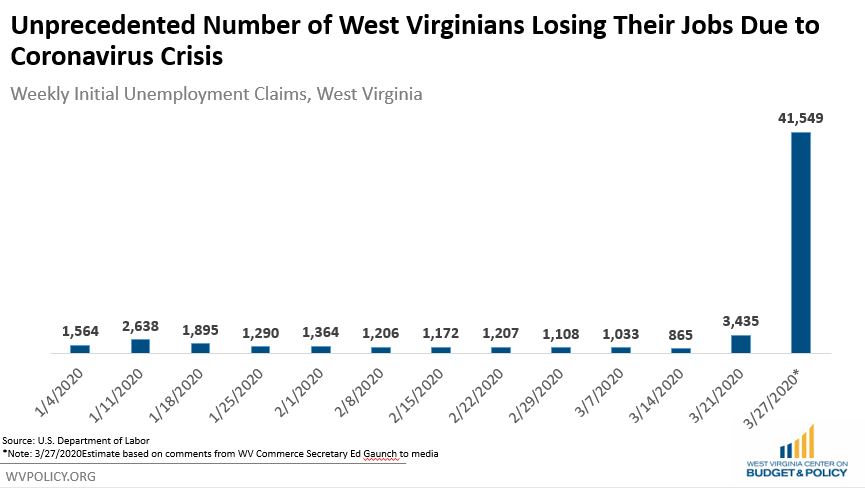 West Virginia has already taken the step to cover all testing and treatment of COVID 19 for uninsured West Virginians through Medicaid. Congress should enable this for all states while covering the cost.
One area overlooked by the CARES Act is food assistance. SNAP benefits are one of the fastest, most effective forms of economic stimulus because they get money into the economy quickly during a recession. Low-income individuals generally spend all of their income meeting daily needs such as shelter, food, and transportation, so every dollar in SNAP that a low-income family receives enables the family to spend an additional dollar on food or other items. The Congressional Budget Office and Moody's Analytics rate SNAP expenditures as one of the most effective supports for the economy during economic downturns. A temporary boost in SNAP benefits would help families put food on the table and effectively boost the economy.
Another way to improve SNAP in response to the coronavirus would be to allowed the use of SNAP benefits for household and sanitary items, and to allow for purchase of groceries and other household items online.
Finally, while the CARES Act includes $150 billion in a new Coronavirus Relief Fund for states and local governments, it may prove to be insufficient as states incur huge new costs as they seek to contain and treat the coronavirus and respond to the spike in joblessness and related needs of their residents. State budget shortfalls reached about $227 billion in the worst year of the last recession (adjusted only for inflation, and not including city and county shortfalls) and will likely be even larger in this recession. That's because unemployment is rising much more rapidly in this recession, causing steeper drops in income and sales tax revenues, and because states and localities face substantial direct costs related to the virus. As a result, West Virginia may end up needing more than the $1.25 billion it is estimated to be receiving.
One simple way to provide more assistance to states is to further increase to the federal share of state Medicaid expenditures. The Families First Coronavirus Response Act, enacted about a week ago, included an increase in the federal share of Medicaid costs, but the increase is modest and time-limited. A larger increase, tied state-specific economic indicators, would provide greater and more effective relief.
While the federal legislation passed to this point has represented important progress, there is more work to do in the coming weeks to address the needs of the people who are suffering the most severe health and financial risks as well as our state and local governments. Rising up to meet our needs throughout this crisis will require a sustained response by all of us, including our federal government.