According to reports, the Senate agreed to a compromise coronavirus relief bill last night that improves on flaws in its initial bill, which would have left out thousands of low-income West Virginians.
The compromise bill provides up to $1,200 in payments or rebates for individuals with income up to $75,000 a year and $500 per child. Benefits start to phase out for singles with income greater than $75,000 and married couples with incomes greater than $150,000. In West Virginia, the average rebate for households is $1,830, according to an analysis from the Institute on Taxation and Economic Policy.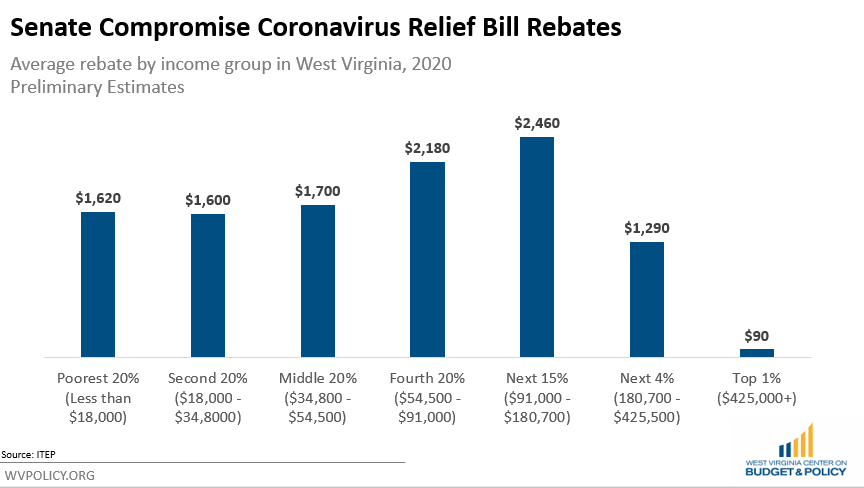 The compromise plan is an improvement over the initial proposal, which was rejected by the Senate last week. The average payment for low-income West Virginians is almost $1,000 higher under the compromise plan compared to the initial proposal. Under the initial proposal, one-third of low income West Virginians would have been left out.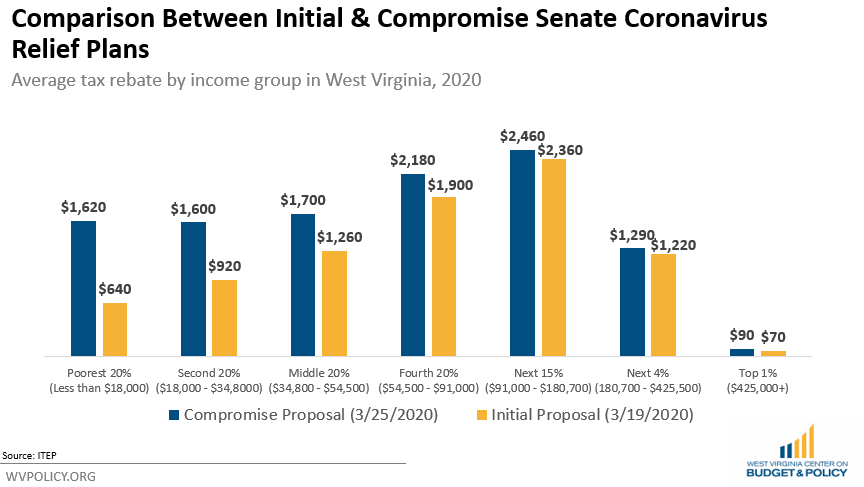 It is still not clear how or when these payments would be made.
The Senate reportedly plans on voting on the proposal today. If passed it is expected to be quickly taken up by the House.
Note: This post will be updated as additional information, including the legislative text, becomes available.
***UPDATE 3/27/2020***
The relief bill has passed the Senate and is expected to be voted on by the House today. Here is a more detailed rundown of the bill's provisions beyond the rebate payments.
Expanded and increased unemployment benefits
The bill contains a significant expansion of unemployment benefits, increasing unemployment benefits by $600 a week for the next 13 weeks, fully paid for by the federal government. In 2019, West Virginia's average unemployment benefit was only a modest $323 a week. This increase will help those workers laid off or unable to work due to the virus pay bills and make ends meet, replacing most, if not all, of their lost wages in the near term. The bill also lengthens the time an unemployed worker can receive regular benefits (not including the $600 a week) by an additional 13 weeks — beyond the state's maximum of 26 weeks — with the federal government paying for all of that extension.
The bill also creates a Pandemic Unemployment Assistance (PUA) systyem to expand eligibility for unemployment insurance to workers not normally eligible because they are self-employed, furloughed, don't have a sufficient work history or are seeking part-time employment. That includes independent contractors and "gig" economy workers. Also eligible are those who have quit because of COVID-19 including due to care responsibilities for a sick member of their household and because of closed schools and childcare centers. PUA will provide no less than ½ the average state benefit (or approximately $162 a week in West Virginia) through December 2020. PUA recipients are also eligible for the temporary additional $600 a week benefit through July 31. PUA is paid for by the federal government.
The extra $600 a week will bring an estimated $223 million into West Virginia for jobless workers over the four month period, according to an analysis from the Century Foundation. Importantly, that supplement will not be counted as income for purposes of determining eligibility for Medicaid and the Children's Health Insurance Program, helping ensure more unemployed people can receive those benefits.
Assistance for state and local governments
The bill creates a $150 billion Coronavirus Relief Fund for state and local governments that will result in an estimated $1.25 billion for West Virginia. The bill will also distribute across states $30 billion for K-12 and higher education; $25 billion for mass transit; $5 billion for community development block grants, 30% of which will go to states and the rest to local governments; and $3.5 billion for child care. The Families First Coronavirus Act that recently passed also included an increased federal match for Medicaid costs that will result in approximately $200 million in savings annually for West Virginia.
Other elements
Other significant elements of the relief bill include:
$349 billion in loans to small businesses (less than 500 employees) that can be forgivable for businesses that agree not to lay off their employees.
$500 billion for loans and aid to businesses, states and cities (with $46 billion set aside for airlines, air cargo carriers and national security-related businesses). Companies receiving this aid are only required to maintain existing employment levels "to the extent practicable" through September.
$100 billion for grants to hospitals and other healthcare organizations for unreimbursed costs related to COVID-19, and other monies for equipment and supplies.