On November 10, one week after the election, the Supreme Court will hear a case that threatens to overturn the Affordable Care Act (ACA). If it succeeds, the ACA repeal lawsuit would throw our health care system into chaos in the middle of a pandemic and a recession. West Virginia's Attorney General, Patrick Morrisey, has signed West Virginia onto this lawsuit in support of overturning the ACA, despite West Virginia arguably benefiting more than any other state from the health care law.
The U.S. Senate is currently considering a nominee for the Supreme Court who could cast the deciding vote in this critical case.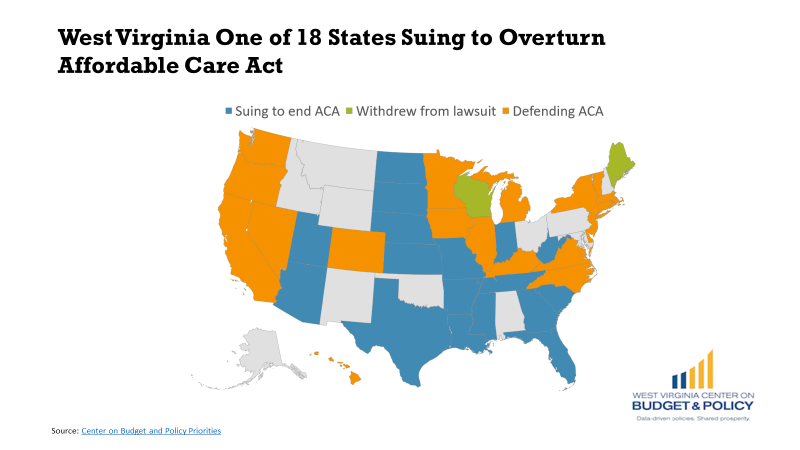 What's at stake for families if the ACA is struck down by the Supreme Court?
An estimated 21 million Americans, including 198,000 West Virginians would lose their health coverage. This would nearly triple the uninsured rate in West Virginia.
Health coverage losses would disproportionately impact the state's poorest counties, including those who have suffered the most from loss of coal jobs. It would also have disparate negative impacts on Black and brown West Virginians.
382,000 non-elderly adults in West Virginia would no longer have access to the ACA's pre-existing condition protections, meaning they could be charged more or denied health coverage based on medical history.
Tens of thousands of West Virginians who rely on the Medicaid expansion for substance use treatment would no longer have health coverage.
No-cost birth control for 62.4 million people nationwide would be lost. The ACA mandates that private health plans require coverage for contraception along with related services at no cost to patients.
Annual and lifetime benefit caps could be once again permitted- meaning that a costly illness or injury could mean that insurers would no longer cover health issues.
Recent state legislative victories including dental benefits for adults who rely on Medicaid and Medicaid coverage for pregnancy at higher income levels would no longer be feasible for the state to provide with reduced federal Medicaid funding.
What's at stake for our state's economy?