West Virginia's Public Employees Insurance Agency (PEIA) provides health care coverage to state and local government employees and their families, with total enrollment of about 75,000 active members. Providing adequate funding for PEIA has been an ongoing issue for the state, one that has only worsened in recent years. After four years of prioritizing flat budgets over state needs, crises have emerged across state programs and agencies due to underfunding – and PEIA is no exception. Repeated flat budgets have meant that the state budget cannot keep up with the impacts of inflation on state costs, including medical costs which impact PEIA directly. Increased health care costs were a major driver of the public teachers' and service employees' strike in 2018, and nearly five years later the same problems remain.
Now, a lack of dedicated state investment in PEIA is coming to a head, with the potential to force increases in state employee health premiums, significant additional state budgetary spending, benefit reductions, or other cost-control measures. According to the PEIA five year outlook, "The conclusion of long-term solvency for the program over the five-year forecast is based on significant revenue increases in employer and employee premiums in later fiscal years of the plan through FY 2027 as approved by the Board."
In this piece, we will lay out four options that policymakers have suggested might be considered for addressing the quickly growing PEIA shortfall.
PEIA Costs Repeatedly Punted, Addressed with One-time Maneuvers
In response to the 2018 strike, Governor Justice created the PEIA task force to find a long-term solution to the solvency of PEIA. However, the task force's recommendations were never implemented by the state and the group has not met since January of 2019. Since then, state lawmakers have relied on one-time surpluses and other maneuvers to keep the program solvent, including setting aside a $105 million PEIA reserve fund during the 2019 legislative session. It's worth noting that these one-time infusions of cash only punt the cost issue down the road rather than meaningfully addressing it.
According to the latest projections from PEIA, costs for the state will dramatically increase over the next five years. Rather than being a sign that PEIA itself is unsustainable, the growing costs are a result of years of flat budgets that have failed to keep up with annual medical inflation. From FY 2022 to FY 2023, medical costs are expected to increase by seven percent and prescription drug costs are expected to increase by 14 percent, which is in line with longer term annual growth trends in the program.
After PEIA ended FY 2022 with a $93 million shortfall, policymakers tapped $31 million from the PEIA reserve fund in FY 2023 and plan to use the remaining $74 million in FY 2024, though the program will still need an additional $40 million above that in FY 2024 to fully cover costs. After that, costs for the state jump quickly — again a result of punting long-term funding solutions. In FY 2025, PEIA is projected to face a $204 million shortfall, followed by a $283.5 million shortfall in FY 2026, and a $376.5 million shortfall in FY 2027.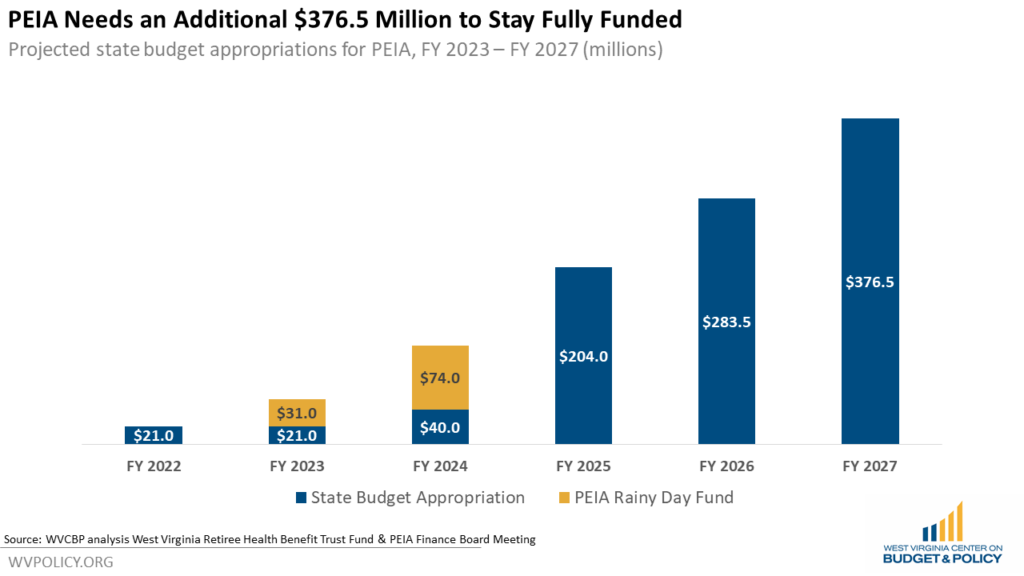 While the $105 million in PEIA reserve funds have helped Governor Justice keep the promise that employee premiums would not increase during his time in office, there is no plan so far to address growing annual costs in PEIA when those reserve funds run out in the upcoming fiscal year.
Comments from state budget officials at the December legislative interim meetings suggested that the upcoming budget would once again lack a Six Year Plan, which is intended to project future state expenditures, revenues, and any potential shortfalls. The state hasn't created a Six Year Plan since before the pandemic, and the most recent plan showed several structural issues creating future deficits, including growing PEIA costs, as well as growing Medicaid costs. Those costs have only increased since then, with Medicaid now also facing a $157 million shortfall in FY 2027.
Four Options for Addressing the PEIA Shortfall
Lawmakers have indicated they plan to tackle PEIA in the upcoming legislative session. Here are four options (some preferable to others) that have been suggested in recent years by policymakers and advocates to address the long-term sustainability of PEIA, a critical program for state and local employees and their families. We will lay out what each option might mean for public employees, their families, and the state.
Increase State Budget Appropriations: One option lawmakers could consider would be increasing state budget appropriations through the general revenue fund to meet the total expected shortfall amount. West Virginia is currently enjoying revenue surpluses, a portion of which are due to recent flat budgets that have not kept up with rising costs. Dedicating some of that surplus revenue to PEIA would be warranted. This option would require a change in statute to allow the state as the employer to contribute a minimum 80 percent of the cost-sharing of PEIA rather than the current 80 percent maximum cap. This was one of the recommendations from the 2018 PEIA Taskforce that was agreed upon but not yet adopted by the state legislature.
Increase Premiums: Another option lawmakers might consider is increasing PEIA premiums. After years of artificially holding premiums flat, raising premiums could result in significant increased costs for state and local employees who utilize PEIA — particularly if lawmakers wait until a future fiscal year to do so. Again, current law requires an 80/20 split on premiums, with employers paying 80 percent of the premium and expected health care costs and employees paying the remaining 20 percent.
If lawmakers exclusively relied on premium increases to cover the shortfall, state employees on PEIA could expect to see a cumulative increase of 54.1 percent on their health care premiums in FY 2027, or smaller but still substantial premium increases each year through FY 2027. To be clear, this would be the scenario if the full $376 million needed in FY 2027 were funded by premium increases. And notably, relying fully on this option would present challenges in keeping and attracting prospective teachers to West Virginia and could result in a net pay reduction if not paired with wage increases or other benefit improvements. At the same time, the significant potential increase in costs would be the result of continued failure to address rising medical costs in real time.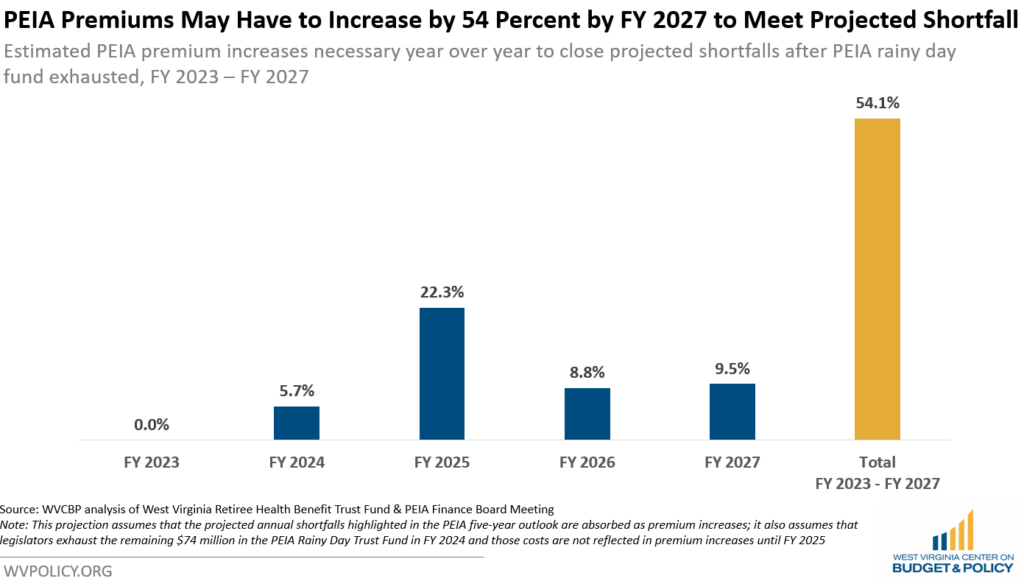 As mentioned above, the state as the employer would be responsible for 80 percent of the increased premiums for state employees on PEIA. By 2027, that could result in an additional $238 million of spending through the state budget.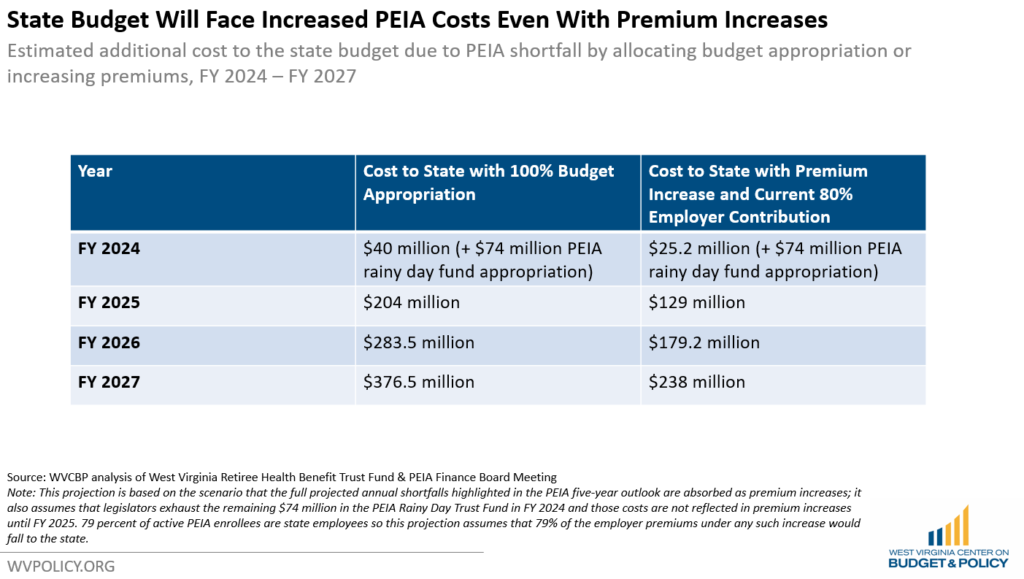 Reduce Benefits: When premium increases or additional state funding are not an option, PEIA enrollees have faced benefit cuts as a cost-saving measure. This short-sighted and harmful path could involve raising out-of-pocket costs like deductibles and copays for enrollees, reducing or eliminating dependent coverage, or cutting benefits. This could exacerbate an existing crisis we are already seeing in state agencies with vacancies driven by pay that is lower than in the private sector and in neighboring states. If benefits are also reduced, it could become even harder to attract qualified employees. Additionally, this would be contradictory to legislators' stated commitment to help families address rising costs — this would in fact increase costs on working families throughout the state.
Privatize PEIA: In the past, lawmakers and other state officials have suggested privatizing PEIA. However, privatizing PEIA would also be harmful and short-sighted, while likely failing to save the state much money. Nearly every state has self-insured health coverage for public employees, with only two states operating privatized systems. And the state would still be on the hook for the employer share of the premiums, meaning that there would be little, if any, cost savings found.
PEIA must be a priority for legislators in the upcoming legislative session. West Virginians and policymakers cannot afford to keep punting this decision down the road, thereby creating an even larger cliff. The solution should ensure that the state not make benefits less generous for current or prospective employees and not enact policies that raise costs on workers and families. Right now, the state is enjoying revenue surpluses, which are in some part due to four years of flat budgets that did not keep up with the growing costs of goods and services or the needs of our state's people. Lawmakers can invest some of the surplus revenue in ensuring that our state's public employee insurance system remains strong for the future.