The Labor Department released state unemployment and job figures for October today that show there has been no statistically significant increase in jobs over the last year in West Virginia. According to preliminary figures, the seasonally adjusted unemployment rate in October was 4.8% and payroll employment stood at 733,100, an increase of 3,200 from October 2018. West Virginia has not experienced any job growth in 2019.
The data on the number of payroll jobs at businesses and government entities in the state continues to diverge sharply from the number of people that are estimated to be employed in the state. While payroll jobs are down nearly 3,400 since January, the number of state residents employed has grown by 17,000. As we noted in a previous post, this is likely do to the inability of the Labor Department to accurately assess our state's population levels and that this survey (LAUS) is model-based using a very small sample size. For these reasons and more, this data should be used with extreme caution and people should not use this data to make a case for "job growth". Moreover, it will mostly likely undergo a large revision next year. The payroll figures from the establishment survey (CES) are also more inline with our state income and sales tax revenues collections, which have barely grown in 2019 compared to last year.
While West Virginia had significant job growth in 2018 from natural gas pipeline construction, the state's job performance in 2019 remains bleak. Compared to most states, West Virginia's job growth over the last 12 months has been low at just 0.4% compared to the national average of 1.4%. Only 8 states have had worse job growth over the last year than West Virginia. Throughout most of West Virginia's industries and across the state, there has not been any significant job growth from October 2018 to October 2019.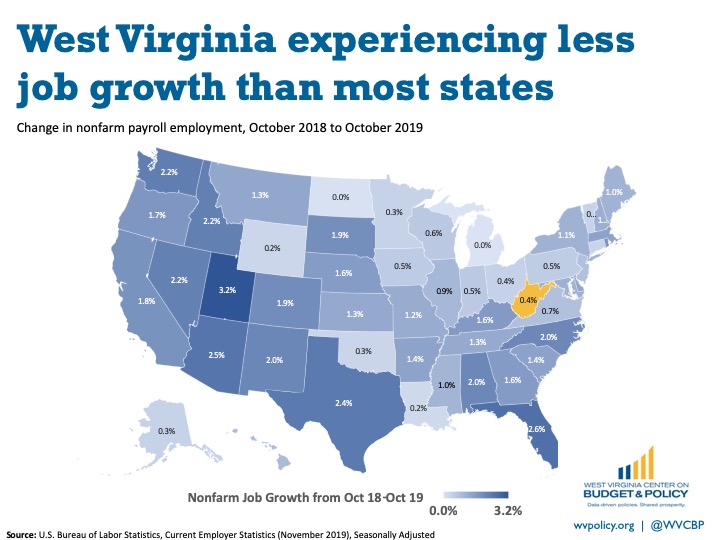 Looking regionally, nonfarm jobs in Charleston have dipped below 1994 levels. In October 2009, Charleston had approximately 13,000 more jobs than today (October 2019). Some of the biggest contributing factors have been a sharp decline in construction employment over this period. From 2009 to 2018, construction employment dropped from 12,300 to just 7,100, while trade, transportation and utilities has declined by 3,500 jobs.  Virtually every industry sector has shed jobs over this period except health care, professional business services, and the financial sectors.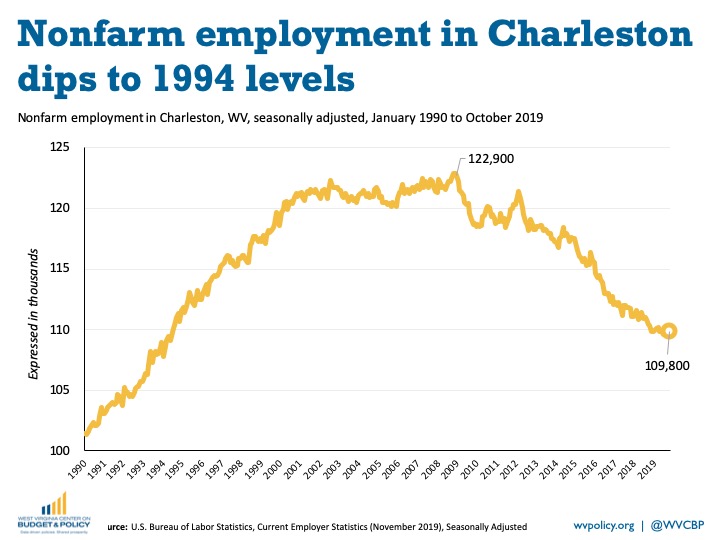 To move West Virginia and Charleston forward, it will require making much needed investments across the board and passing policies that will lift wages and improve the quality of life in the state.