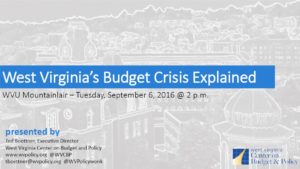 Balancing the state budget has meant year after year of cuts to higher education funding in West Virginia. Public colleges and universities have been forced to respond with year after year of tuition hikes while the state's Promise scholarship has remained flat, putting college affordability out of reach for some West Virginia families.
Policymakers are divided on how to solve the state's continuing budget crisis; so divided that an expensive and lengthy special session in June was necessary to give them time to agree on solutions. While they were able to patch the $250 million hole in this year's budget, they heavily relied on the state's Rainy Day Fund and were not able to fix the problem permanently. This means the state will likely face another budget gap of over $300 million, with legislators likely to call for even more cuts for the upcoming fiscal year. It's doubtful that higher education funding will be spared, despite already having been slashed by 32% since 2008.
On Tuesday, September 6, WVCBP Executive Director Ted Boettner presented at the Mountainlair at West Virginia University on the impact on higher education by years of budget cuts. Read his presentation here. Watch it here.