When economic times get tough and state revenues decline in West Virginia, higher education funding is often the first thing to be cut in the state budget. This is counterintuitive for a state looking to grow and diversify its economy. Investments in higher education lower tuition costs for students, reduce student debt origination, lead to more collegiate and post-collegiate attainment, and increase economic outcomes like credit score and home ownership. Still, over the past decade state general revenue funding for higher education has declined in both nominal dollars and as a share of the state budget, shrinking as a priority as other programs and even business tax cuts have taken precedence. Amendment 2, which will be on the ballot in November and could reduce property tax funding for local services, would introduce another strain on the state budget that could crowd out higher education investments if lawmakers enact a plan to reimburse local authorities for property tax revenue losses.
Between 2013 and 2023, higher education has shrunk as a priority in the state budget, going from making up 10.8 percent of the general revenue fund in FY 2013 to just 9.5 percent in FY 2023. After adjusting for inflation, the state's investment in higher education is $156 million lower in 2023 than it was a decade earlier.
Also over the past decade, tuition at our state's colleges has more than doubled, far outpacing inflation. After adjusting for inflation, tuition has increased by 57.7 percent at four-year institutions and 81.2 percent at two-year colleges. This significant increase in tuition passed onto students due to inadequate state investment likely pushed many West Virginians out of college affordability entirely. Enrollment in the state's colleges and universities is down 24.3 percent over the same period.
So why is it that higher education always finds itself on the chopping block in the state budget? One big reason is that state lawmakers have very little flexibility in the budget decisions they can make. Nearly two-thirds of the state budget is statutory or non-discretionary, meaning that it has to be funded unless state code or the state constitution is changed. This means that when revenues are down or new priorities emerge, it's a small slice of the budget that can be shuffled around or cut to accommodate those needs. Higher education is one of relatively few state-funded areas that is not protected by state code or the constitution.
Amendment 2 could exacerbate this issue and further crowd out higher education as a priority. Under the Senate's proposed plan for reimbursing counties for lost revenue if Amendment 2 passes, the state would absorb county reimbursements into the state budget as another item they have to pay for out of the general revenue fund. We've covered in depth how the Senate's plan relies on unrealistic spending and revenue assumptions, which could quickly lead to a strain on the state budget. This could result in further cuts to state programs, as lawmakers have another priority that they want to fit into the general revenue fund pie. That could put the state's remaining investments in higher education on the chopping block yet again.
Read Kelly's full blog post.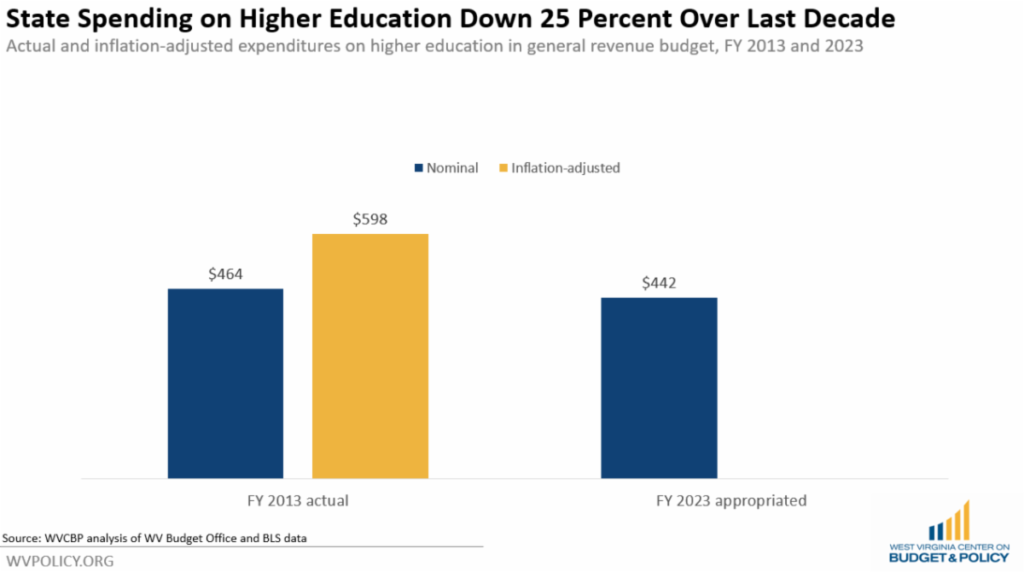 Amendments 2 and 4 Would Harm Local Schools and Services
Amendments 2 and 4 will be on the ballot this November and would both serve to harm our local schools and community services. WVCBP executive director, Kelly Allen, wrote an op-ed this week further detailing why the amendments are bad for West Virginians and our local communities. Excerpt below:
Amendments 2 and 4 would take power over important local schools and public services away from voters, communities and education experts and give it to partisan politicians in the Legislature. The all-but-certain result will be layoffs for teachers and emergency responders, larger class sizes, longer wait times for 911 calls and more political fights in the classroom. To stand up for local control, for our schools, and for the seniors, workers and families who rely on local services, we have to vote No.
Amendment 2 would remove nearly a century of constitutional protections that give voters the ultimate say over local funding for schools and public services and give that control over local revenues to state lawmakers. The Legislature has already made clear their plans of what they'll do with their newfound power over our school and county funding: give out hundreds of millions of dollars in tax cuts to out-of-state corporations.
Amendment 4 would strip power over school policy and curriculum away from the nonpartisan education experts who work with parents and local school boards to make decisions and give that power to state legislators. This would effectively make our classrooms another battlefront for competing political agendas.
Both of these proposals reek of politics. Proponents of these amendments want to politicize our schools and take critical funding away from them, along with our fire departments and emergency services, all to give a big tax cut to their corporate donors.
While some proponents have suggested that the state legislature could use the one-time revenue surplus to offset the losses that schools and local governments see as a result of Amendment 2, we all know that surpluses are temporary — making the state's promise to local governments temporary, too.
States across the country are expecting revenues to decline over the next year as federal COVID relief ends, and West Virginia will be no different. When the surplus dries up, some have already suggested that eventually they'd raise property taxes on our homes or the sales tax on the goods we buy — both of which fall more heavily on local families and small-business owners than the taxes that would be eliminated through Amendment 2, which mostly benefit big, out-of-state corporations.
Opposition to these proposals is broad and bipartisan. Anyone who understands the importance of local control over schools and county budgets knows this can only harm our communities.
The folks I've been talking to in communities across the state — voters, teachers, firefighters, sheriffs and parents — are the ones who'd see their voices, and even jobs, lost if these amendments pass. We should keep our power in our communities and not give away our own ability to make sure we have what we need in our schools and for the public services we all benefit from. Vote no on 2 and 4 on Nov. 8.
Read Kelly's full op-ed.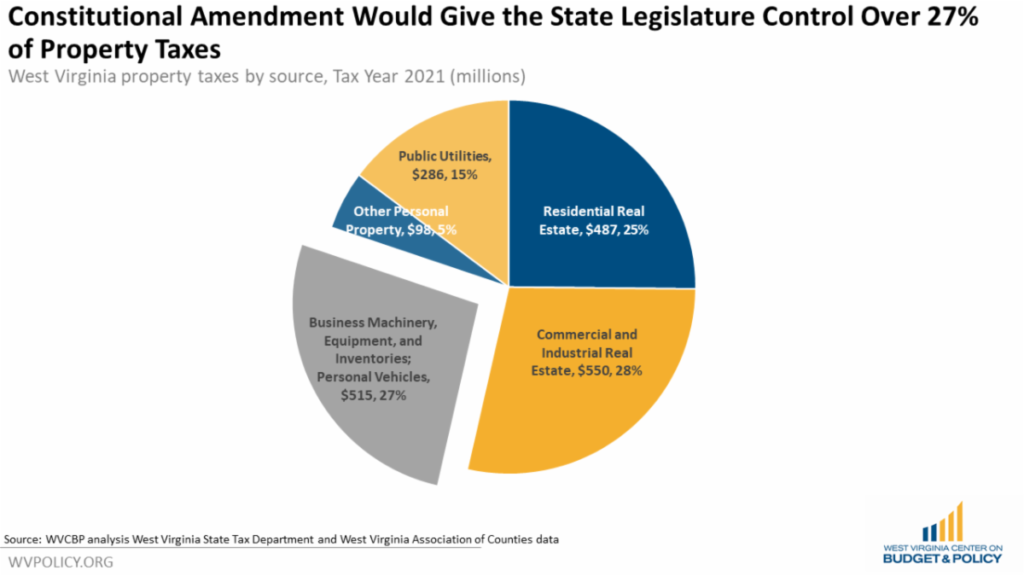 Join the WVCBP at Our 10th Annual Budget Breakfast!
As November's election and the 2023 legislative session approach, the West Virginia Center on Budget and Policy staff would like to invite you to join us at our 10th annual Budget Breakfast, taking place on January 20, 2023.
Each year, the WVCBP holds this event to provide analysis of the Governor's proposed budget. You'll hear from our executive director, Kelly Allen, our senior policy analyst, Sean O'Leary, and our chosen keynote speaker, to be announced closer to the event.
Please find further event details below. You can register for the event here.
WHAT: WVCBP's 10th Annual Budget Breakfast
WHEN: January 20, 2023. Breakfast will be available starting at 7:30am. The WVCBP's analysis of the Governor's 2024 proposed budget will begin at 8am, followed by keynote speaker presentation and time for Q&A.
WHERE: Charleston Marriott Town Center (200 Lee Street East, Charleston, WV 25301)
WHO:
Kelly Allen, WVCBP executive director
Sean O'Leary, WVCBP senior policy analyst
Keynote Speaker (to be announced)
PLEASE NOTE: The cost of a single standard ticket is $50, but if you take advantage of our Early Bird Special (available to all who register by 12/31/22), you will receive $10 off.
We appreciate your ongoing support of the WVCBP and we hope you can join us at next year's event!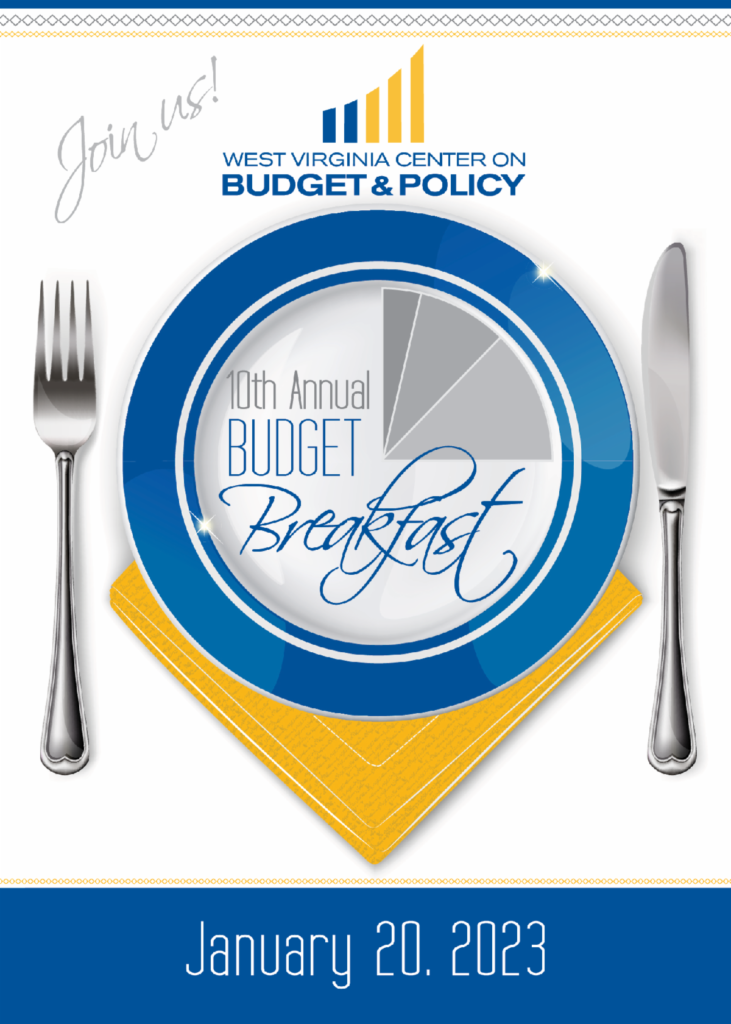 Take Action to Defeat Amendments 2 and 4
Amendment 2, or the Property Tax Modernization Amendment, will be on the ballot this November for West Virginia voters to consider. If passed, it would amend the constitution to give the state legislature the authority to exempt business machinery and equipment, business inventory, and personal vehicles from property taxation. As such, passage of the amendment would give the legislature control over $515 million of property tax revenue, or 27 percent of total property tax revenue in the state, resulting in the fulfillment of a long-term goal of state legislators to take control of a significant portion of property tax revenue in order to pursue property tax cuts that largely benefit out-of-state businesses.
The proposed exemptions under Amendment 2 would result in local governments losing control over an essential revenue stream. The $515 million in property tax revenue from personal vehicles and business machinery and equipment, business inventory, and other business personal property accounts for up to 37 percent of total property tax revenue in some counties. The loss of this critical revenue will adversely impact the ability of municipalities, county governments, and school districts to provide needed services that benefit all West Virginians, and will likely lead to cuts to services or increased taxes on other parties, like homeowners.
Meanwhile, Amendment 4 would strip education experts of the ability to make decisions about school policy and curriculum.
As we approach this November's election, here are two key ways you can take action to help us defeat Amendments 2 and 4:
Update your social media pages with our digital toolkit, where you can find profile pic images, sample social media posts, and factsheets.
Share our partner (the West Virginia Education Association)'s new commercial! Here it is on twitter and here it is on Facebook. Please like, comment, and share to make sure more people see it!
Learn more about what's at stake here.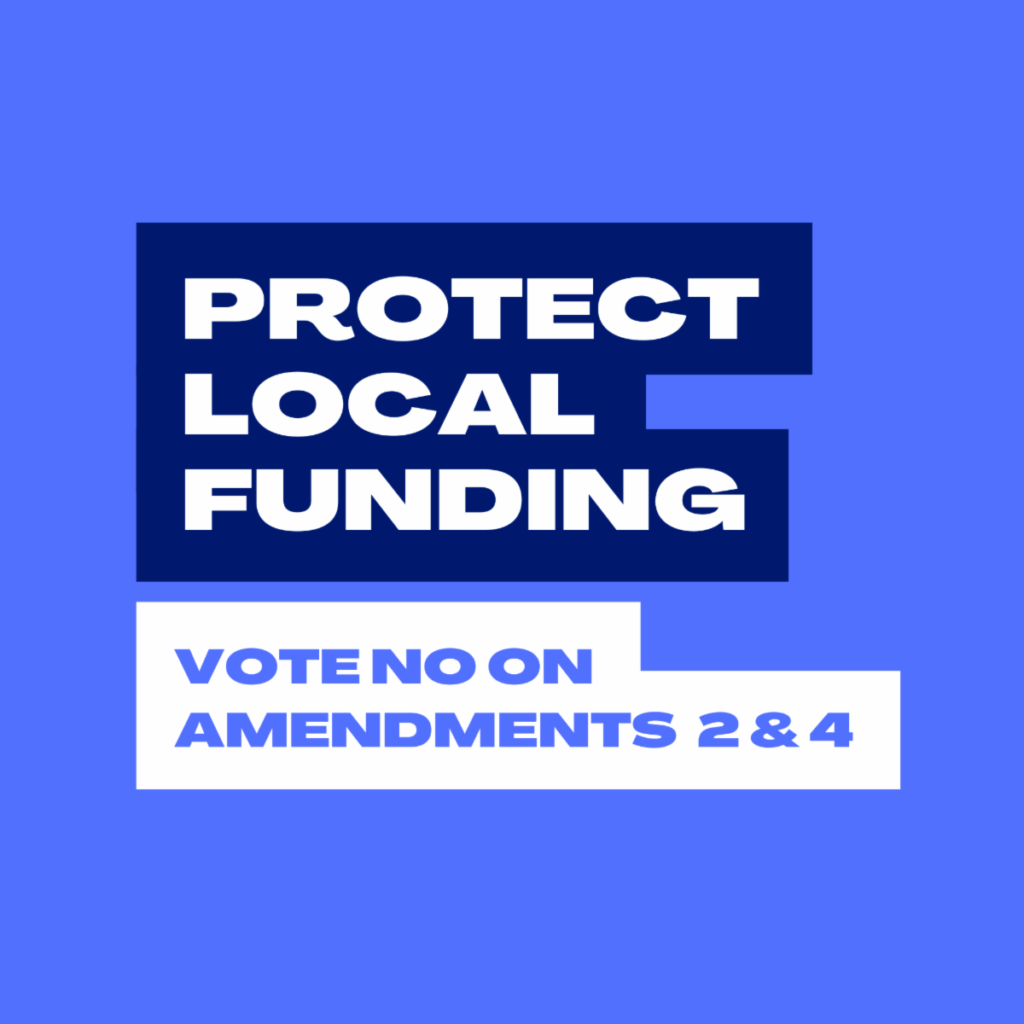 Trick or Treat: What You Need to Know About the End of the Medicaid Public Health Emergency
BOO! Medicaid's public health emergency is set to expire as soon as January 2023. Change can be scary, but we're here to help!
During this webinar, we'll explain what the public health emergency is, what's been happening nationally and in West Virginia, and what steps we can all take to protect public health in our communities!
The webinar will be held Tuesday, Oct. 31 at 12pm. Register here. Find the Facebook event here.
Please note: this event is aimed at direct service providers, advocates, researchers, and folks interested in learning more about the PHE. We'll be hosting webinars early next year aimed specifically toward Medicaid enrollees, so stay tuned!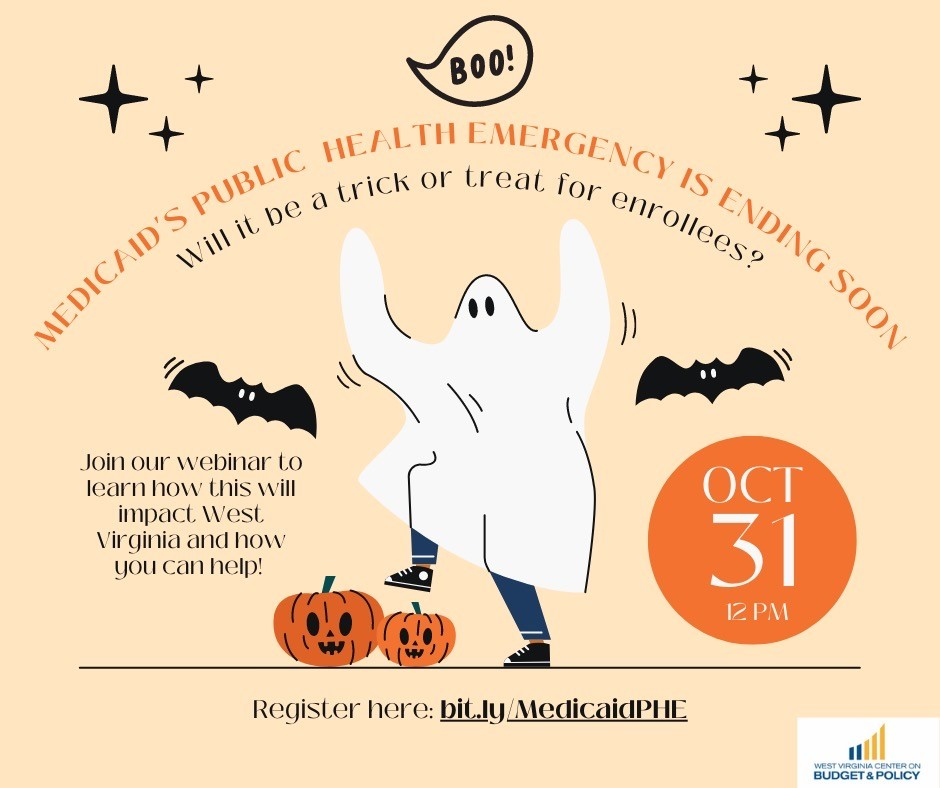 Food for All Summit 2022: Amplifying Appalachian Voices
The fourth annual Food for All Summit is a place to learn about the decisions that state and federal policy makers are considering that affect both food access and farm viability. Come learn, build skills, and develop policy-changing ideas!
The event will take place on November 16 from 10am-4pm at the Brushy Fork Event Center (929 Brushy Fork Road, Buckhannon, WV 26201).
Please refer to the event landing page for updates on the event itinerary, speakers, and more. There is no cost to attend. Breakfast and lunch will be provided, but registration is required.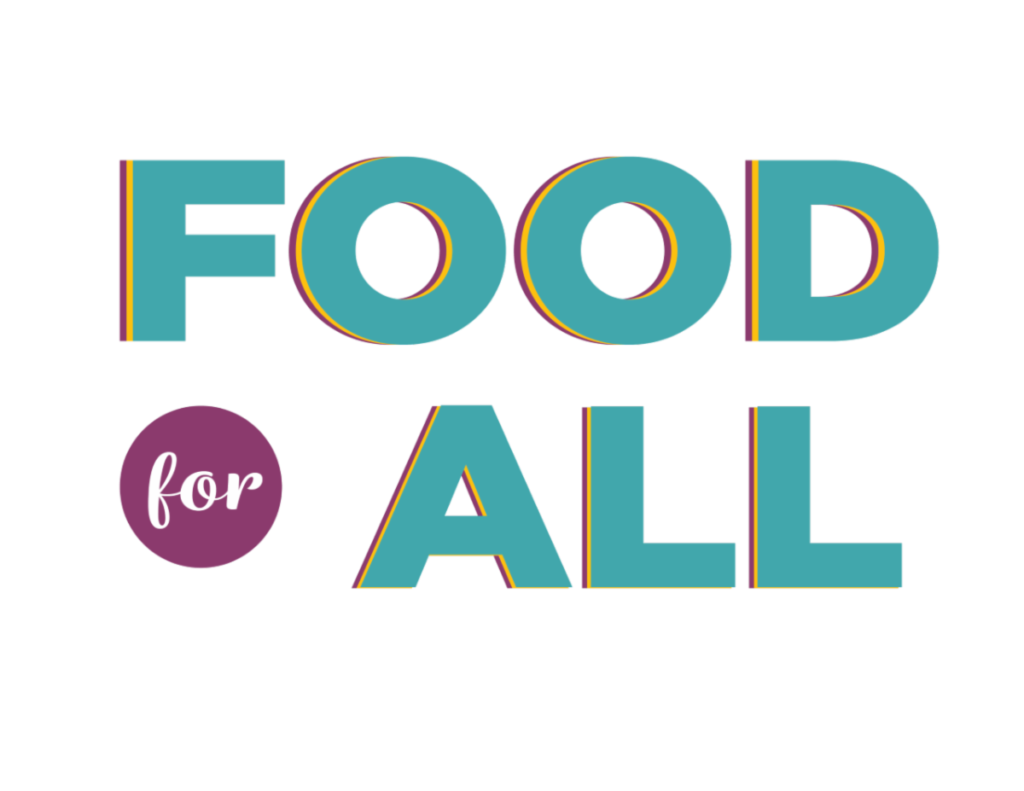 Share Your Medicaid Experience with Us!
The WVCBP's Elevating the Medicaid Enrollment Experience (EMEE) Voices Project seeks to collect stories from West Virginians who have struggled to access Medicaid across the state. Being conducted in partnership with West Virginians for Affordable Health Care, EMEE Voices will gather insight to inform which Medicaid barriers are most pertinent to West Virginians, specifically people of color.
Do you have a Medicaid experience to share? We'd appreciate your insight. Just fill out the contact form on this webpage and we'll reach out to you soon. We look forward to learning from you!
You can watch WVCBP's health policy analyst Rhonda Rogombé and West Virginians for Affordable Health Care's Mariah Plante further break down the project and its goals in this FB Live.