The West Virginia legislative session began on Wednesday, February 10 and legislators have wasted no time rolling out their priority bills. Several bills with major fiscal impacts are being moved quickly, raising worries of whether lawmakers have had adequate time to thoroughly consider individual bills — much less to consider how the interaction of numerous bills could collectively impact funding for public services.
Nowhere is this more apparent than in relation to bills with potentially significant impacts on public school funding. Several bills are moving swiftly and each, if passed, would individually take millions of dollars out of state and local K-12 education funding. Together they could mean devastating budget cuts for school districts, even as schools struggle with the extra costs of improving remote learning offerings, adopting safety procedures that allow buildings to open for in-person classes, and accommodating students who have faced learning challenges due to the pandemic.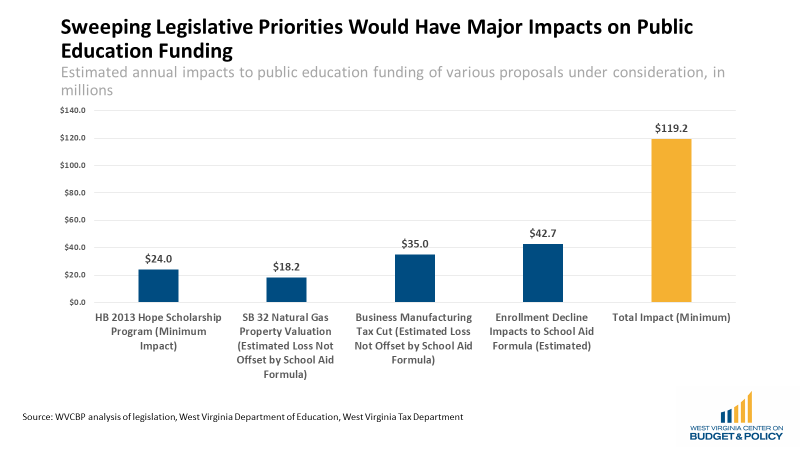 HB 2013, the Hope Scholarship Program, is moving quickly through the House with a floor vote expected this week. Similar to Education Savings Accounts (ESAs), the bill would divert public education funding to private schools by allowing families to receive the state share of public education funding, about $4,600 in FY 2020, into an account that can be used for private or nonpublic education expenses.
While proponents say that this bill has no true cost to public education since money follows the student, the cost for individual schools and school districts is significant. West Virginia schools have high fixed costs like transportation and building maintenance, and these do not decrease when students leave the public school. Additionally, the value of the Hope Scholarship falls far short of average private school tuition in West Virginia and many rural counties in West Virginia do not have private schools at all, meaning that most low-income and rural students are left out of the program altogether.
As the legislation currently stands, it has no enrollment or cost cap, but legislation does have a floor, requiring that a minimum of 2 percent of state public education funding be put into the program. This means that the minimum annual cost is $24 million and could be significantly higher pending the number of applicants. As such, the bill could cost public education tens of millions of dollars per year in lost state funding despite the vast majority of West Virginia students being enrolled in public schools.
SB 32 would reduce the property tax assessment of natural gas properties by removing caps on deductions, significantly reducing property tax revenues in energy-producing counties. This legislation is similar to a bill introduced last year, which was estimated to cost some counties up to half of their natural gas property revenue, for a total loss of up to $53 million per year. Property taxes are the largest source of local funding for public education. While some of those losses would be made up through increases in the state school aid formula, under last year's similar bill, county school districts would have lost approximately $15.8 million in excess levy revenue and $2.4 million in regular levy revenue that would not be replaced by the state.
Another stated priority of the House majority is to reduce or eliminate the business personal property tax, which is a major source of property tax revenue and, by extension, public education funding for counties. Depending on the legislation and how it is structured, counties could lose up to $388 million in property tax funding, which would have a significant impact on public school funding, as well as other services that counties provide like fire protection. Although the state would be required to offset some losses via the school aid formula, counties with excess levies would see significant losses in K-12 education funding that would not be made up. A version of this legislation was considered in 2020, under which public schools would have lost $59.9 million in annual property tax revenue. While an estimated $24.9 million would have be replaced through the school aid formula, schools in West Virginia would still lose a total of $35.0 million annually through excess levies and the amount not fully replaced by the school aid formula.
It remains to be seen how efforts to reduce or eliminate the personal income tax will shape up, but it is likely that state funding for public education would be impacted. And if the above efforts that lower the local share of funding require increases in the school aid formula, the state has to come up with additional funding, likely a major challenge as they are looking at a "flat budget" which will make new costs hard to accommodate without offsetting cuts.
Finally, if lawmakers fail to pass legislation to hold school districts harmless for enrollment reductions due to the pandemic, they could lose tens of millions of dollars via the school aid formula. In West Virginia, school enrollment is down an estimated 9,300 students this school year, likely due to parents holding their children out of school due to COVID-19 concerns but who will plan to have their children return after the pandemic ends. According to estimates from West Virginia's Department of Education, the drop in enrollment this past year could mean a $42.7 million funding cut through the school aid formula.
It is critically important to evaluate these bills not only individually, but also in relation to one another. All told, the changes to state and local tax revenues being considered would be devastating to public education, one of the most important investments that government provides to ensure opportunity for all West Virginians. As we emerge from the pandemic, we must fully fund public education, not slash investments necessitating painful budget cuts that set back learning for children around the state.