While life expectancy has steadily increased for Americans over the past century, these gains have slowed in recent decades — and even reversed course — in some populations due to the precipitous rise of opioid overdose deaths. This is of particular concern in West Virginia, the state hardest hit by the opioid epidemic and facing declining overall population, which is in part attributable to more people dying than being born. The opioid epidemic is rooted in complex interactions between economic and social conditions, and new research out this year makes clear that economic security is a significant factor in overdose deaths.
The study, titled "Unemployment Insurance and Opioid Overdose Mortality in the United States," looked at county mass layoff data and changes in the generosity of state unemployment benefits, both in terms of maximum weekly benefits and duration of weeks available, to determine if unemployment benefits moderate the relationship between job loss and opioid overdose death rates. They found that the harmful effects of job loss on opioid overdose mortality decline with increasing state unemployment benefit levels.
The researchers found that, "UI generosity was consistently associated with lower opioid overdose death rates, with the largest effects observed among Whites [and men]. This implies that income support serves a similar role in reducing opioid use [including the max weekly benefit and duration of weeks available] following employment separations… In sum, while job losses evoked a range of different responses, the findings here show that UI was consistently associated with lower opioid overdose mortality rates across demographic groups."
These findings are critical for West Virginia lawmakers and the public to examine in their consideration of Senate Bills 2 and 3, which would cut the overall weeks of unemployment insurance benefits available to displaced West Virginia workers from 26 weeks to as few as 12 weeks, and enact more red tape for workers to navigate in order to establish eligibility for the fewer weeks that remain.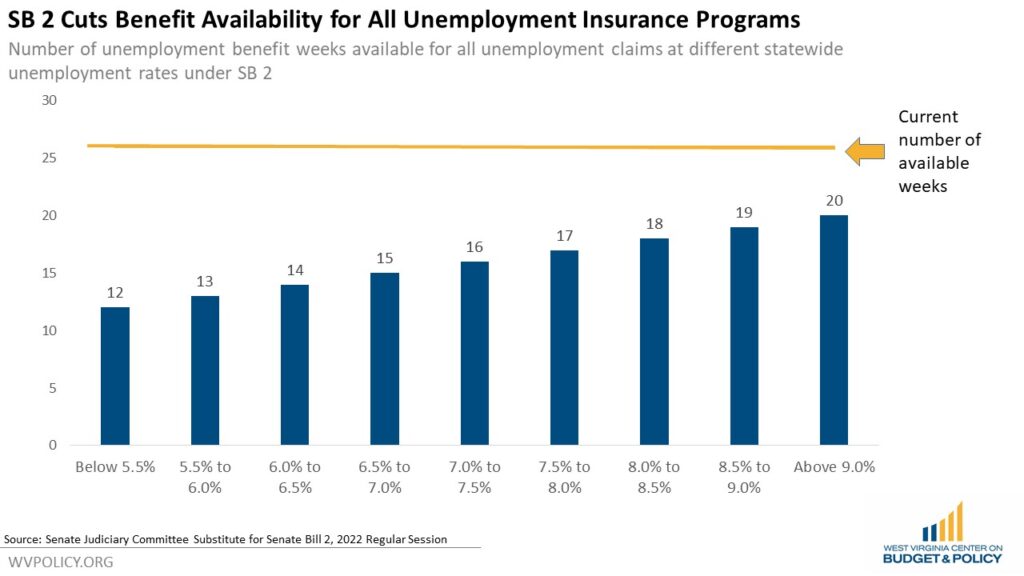 It is not hyperbolic to suggest that cutting the weeks of unemployment insurance available to workers will have an adverse impact on opioid overdose deaths. This is yet another serious concern in addition to the myriad of other issues with these bills, including their negative effect on family economic security; their failure to take into consideration variations in regional economies, industries, and barriers faced by workers; and the absence of a link between generosity of unemployment benefits and filling job openings.