The Charleston Gazette had another timely editorial on Monday (I've been out of town all week) urging West Virginians to embrace the state's changing energy economy by creating solutions for the ongoing transition.
As the chart below highlights, coal production has declined markedly over the last decade while natural gas is at unprecedented levels. As we've discussed before, these trends will continue in the coming decades as the economic (and political) power of the state shifts to the northern part of the state  – where gas production will continue to boom and coal will still be an important player, unlike the southern part of the state where coal is declining rapidly and shale development is materializing more slowly.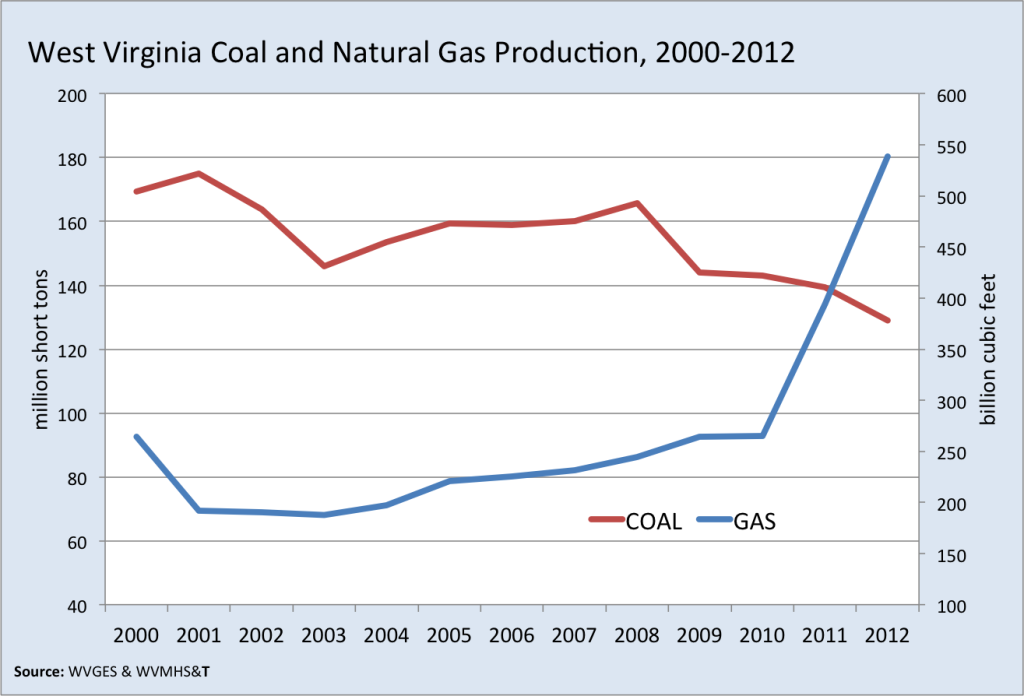 In a recent article in the Martinsburg Journal, West Virginia Commerce Secretary Keith Burdette stated:
"We want to take the products and create added value products," he said. "We do not want West Virginia to be an energy colony. We want to make the products here. We want to take advantage of this opportunity this time, which we've missed other times."
Burdette is absolutely right. If the history of West Virginia has taught us anything, it is that natural resource extraction does not exactly go hand-in-hand with a shared prosperity. That's why it is so important that we have adequate taxation of our mineral resources, a plan for when they run out, and a idea for how to ensure a just transition as coal declines.