It's Halloween week — time to get spooky! Who needs ghost stories when you have spine-tingling bars and trend lines? Here are five ghoulish charts about West Virginia in 2021 that will make your bones rattle and your blood curdle.
At the beginning of the pandemic, West Virginia lost an unprecedented 101,000 jobs as total nonfarm employment dropped from 718,700 in February 2020 to 617,700 in April 2020. While the state has seen relatively steady job growth in 2021, a substantial jobs gap remains. As of September 2021, West Virginia had nearly 29,000 fewer jobs than before the pandemic. Job growth also slowed in recent months with the recent surge in COVID-19 cases.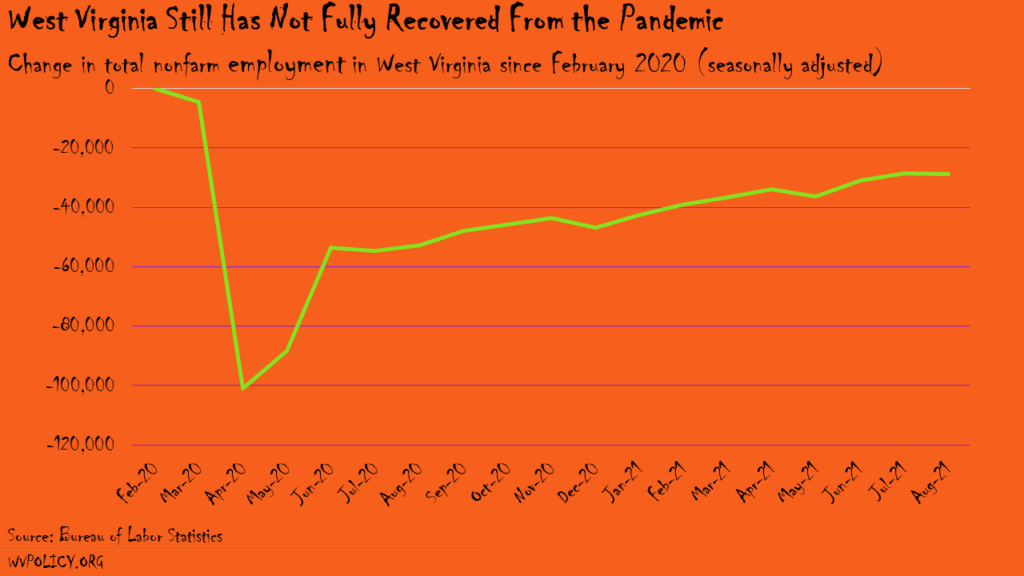 West Virginia's unemployment rate spiked from 5.1 percent in February 2020 to 15.6 percent in April 2020. Since then, the unemployment rate has fallen back to pre-pandemic levels, and stood at 4.6 percent in September 2021. However, it's important to note that the state's labor force has shrunk substantially during the pandemic. 38,500 workers left the labor force in April 2020, and while some returned in the following months, West Virginia's labor force has begun to decline again, losing 4,200 workers during the past five months. Taking into account those who have left and not returned to the labor force, West Virginia's unemployment rate in September 2021 would be 6.2 percent, still well above its pre-pandemic rate.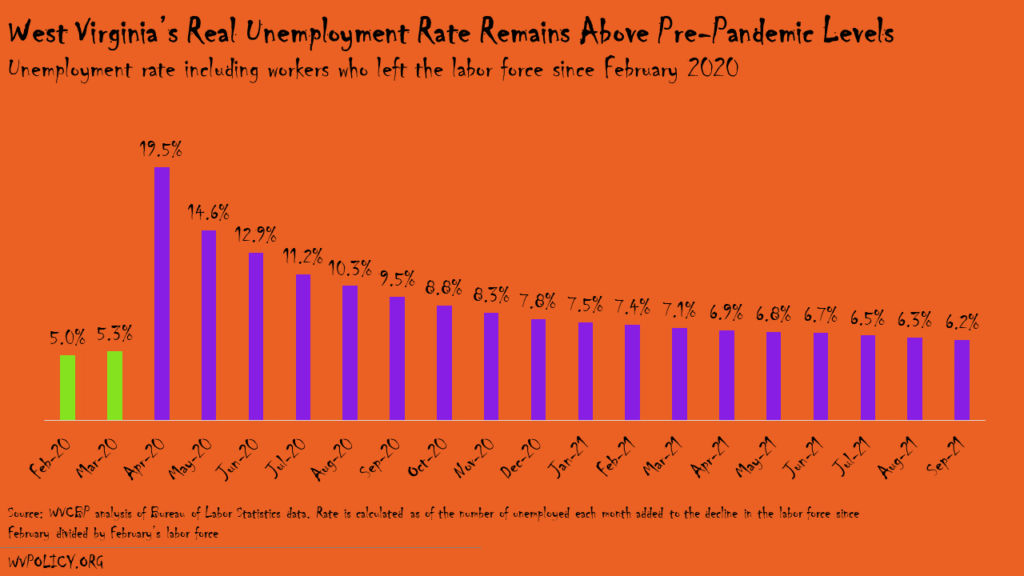 In June, Governor Justice ended all federally-funded pandemic unemployment benefit programs, claiming — without evidence — that the enhanced benefits were discouraging people from returning to work. However, in the four months since Governor Justice prematurely ended the enhanced benefits for unemployed West Virginians, there has been no sign that doing so has positively impacted the employment rate. In fact, unemployment claims fell faster and job growth was stronger in West Virginia while the benefits were in place. Since ending those enhanced benefits, financial hardship has increased in the state and the pace of the jobs recovery has slowed.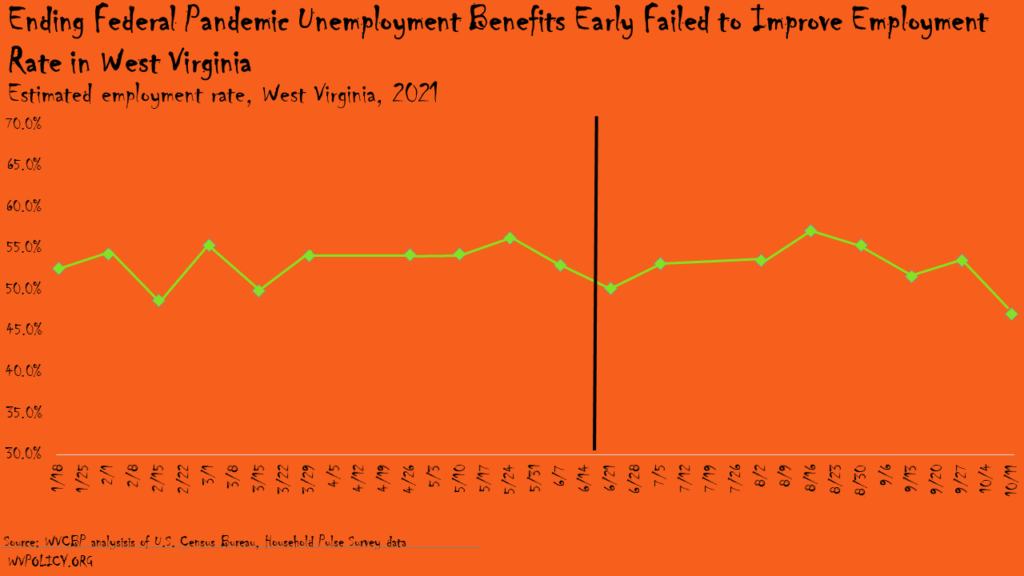 The enhanced unemployment benefits, along with other COVID-related federal relief legislation, helped countless West Virginians weather significant hardship throughout the pandemic and economic downturn. Thanks to federal relief like enhanced unemployment benefits, enhanced SNAP benefits, the expanded Child Tax Credit (CTC), and stimulus payments, an estimated 301,000 fewer West Virginians were living in poverty this year than would have been otherwise, a reduction of 71 percent.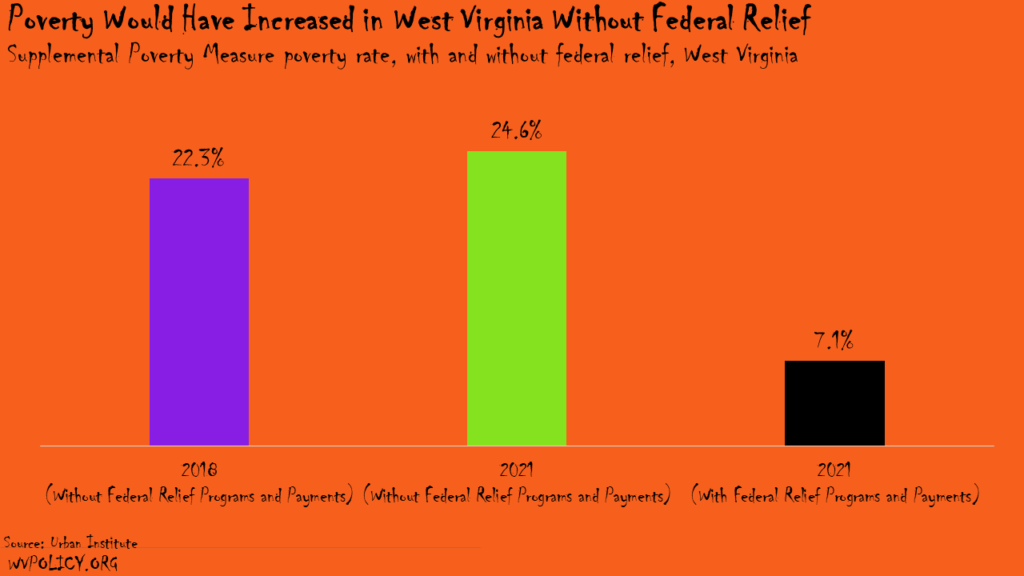 Of those federal relief programs, the enhanced Child Tax Credit has arguably had the most significant impact in West Virginia, leading to historic reductions in poverty and providing a significant boost to the economy. If made permanent, the enhanced CTC will lift 43 percent of West Virginia children out of poverty. However, it has been reported that Senator Manchin was calling for a significant weakening of the enhanced CTC as part of his proposal to scale back the Build Back Better agenda. Reducing the size and scope of the CTC would mean that tens of millions of children nationwide would miss out on the enhanced credit, including 190,000 in West Virginia, with families in the state missing out on $268 million in CTC benefits. Now that is scary.