On June 19, Governor Justice ended all federally funded pandemic unemployment benefit programs, 12 weeks before they were set to expire. The benefits — which included an extra weekly $300 payment to unemployed workers, as well as extended eligibility both for workers who had exhausted their regular weeks of eligibility and for self-employed workers and independent contractors who are not eligible for regular state unemployment benefits — have played a major role in West Virginia's economic recovery. They have pumped nearly $1.7 billion into the economy over the past year, boosting state tax revenue and sustaining jobs.
Despite the fact that the enhanced unemployment benefits were helping the state recover, and that there was no evidence that the benefits were creating a so-called "labor shortage," Governor Justice claimed that federal programs — in particular, the extra $300 weekly payment — were discouraging people from returning to work, and that he was losing patience with what he described as people "scamming" the system.
However, in the nearly two months since Governor Justice prematurely ended the enhanced benefits for unemployed West Virginians, there has been no sign that doing so has positively impacted the employment rate. In fact, the data indicates that the governor's decision may be hurting the economy.
While Governor Justice claimed that ending the benefits early would encourage unemployed workers to stop claiming unemployment benefits and return to work, neither has occurred. While state unemployment claims have been dropping steadily throughout the year, they were actually decreasing faster when the $300 federal enhanced benefit was in place than they have been since ending the benefits. From February 20 to June 19, when the enhanced benefits were cancelled, state unemployment claims dropped by an average of 608 claims per week. Since the June 19 cancellation, the drop in unemployment claims has slowed, averaging a decline of just 483 claims per week.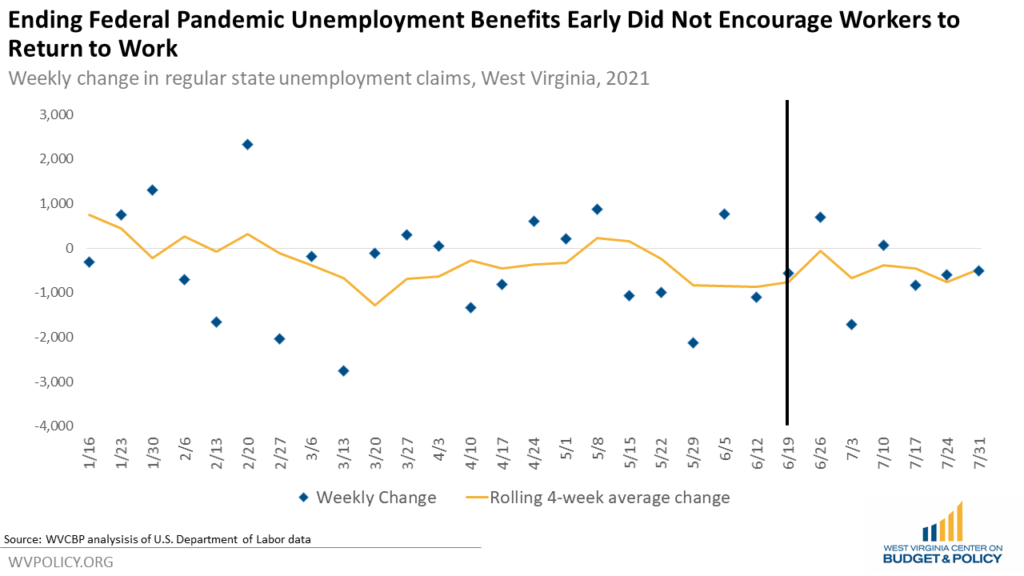 The same is true for other states that ended the federal pandemic benefits earlier than required. States that prematurely ended the enhanced benefits are not seeing unemployment claims fall any faster than the states that kept the benefits.
Further, there has been no boost to employment rates in the weeks after the benefits were terminated. According to the Census Household Pulse Survey, West Virginia averaged an employment to population ratio of 53.3 percent from January 18 to June 7, 2021. Since then, the state's employment to population ratio has slightly declined, averaging 52.3 percent since June 21, 2021. There has been no boost to employment in West Virginia since ending the enhanced unemployment benefits, and again, this holds true for the other states that also ended their benefits early.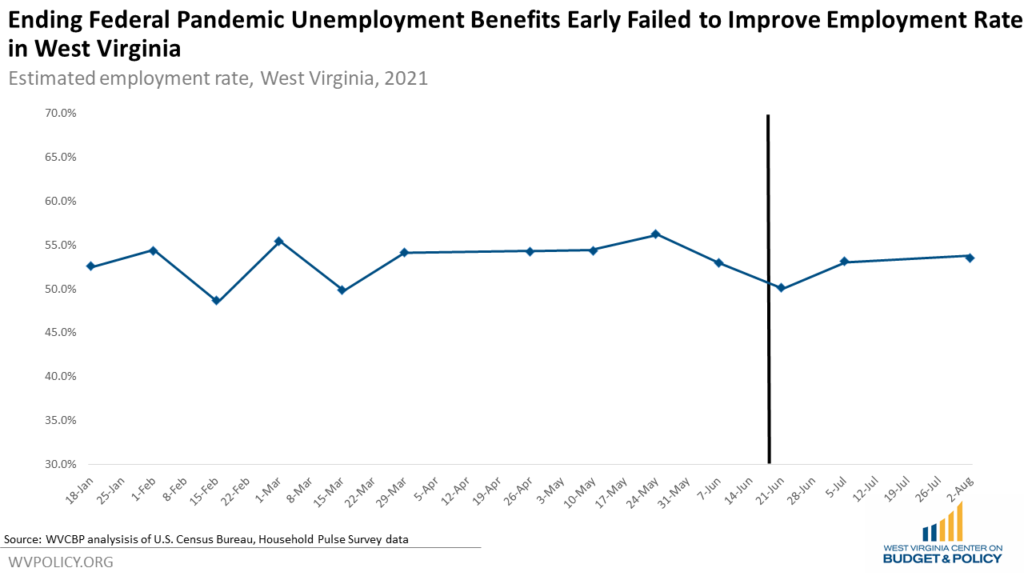 While ending the enhanced benefits early failed to increase employment as predicted, it has had a dramatic impact on the lives of the workers who were relying on those benefits to meet their needs while trying to find jobs. Cutting off unemployment benefits for tens of thousands of workers in West Virginia — and sharply reducing benefits for tens of thousands more — during an ongoing pandemic has expectedly led to greater financial hardship. According to the Census Household Pulse Survey, the number of adults in West Virginia who had reported difficulty in paying weekly household expenses had been steadily declining throughout 2021. However, after Governor Justice ended the enhanced pandemic unemployment benefits, that number jumped sharply, from 24.6 percent of adults for the week of June 7, to 33.8 percent of adults for the week of August 2.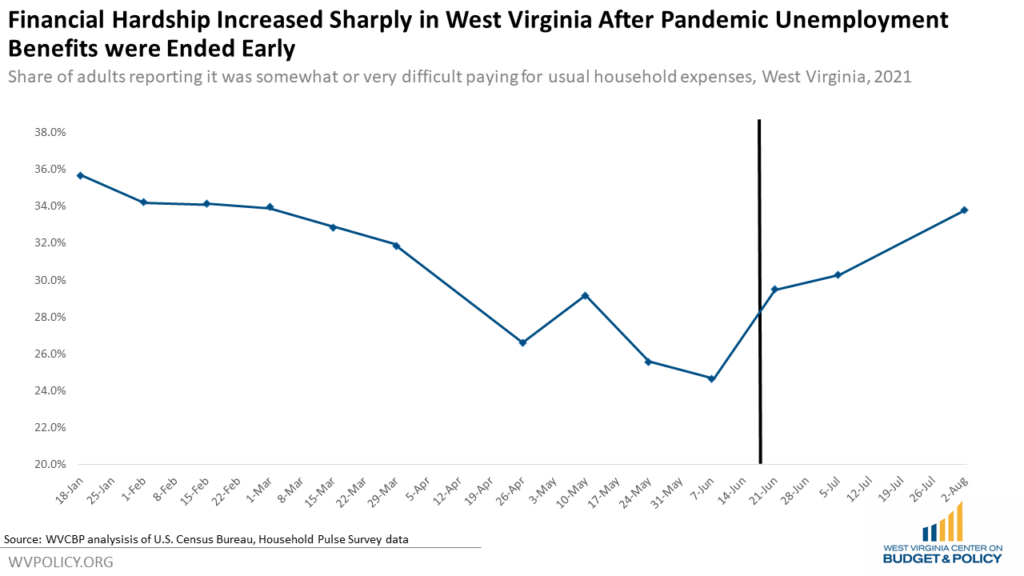 Throughout the pandemic, the federal enhancements to the unemployment system helped ease the transition, reduce hardship, boost spending, and contribute to the recovery, while keeping tens of thousands of workers in West Virginia afloat. With the pandemic still ongoing and the economy still recovering, West Virginia chose to prematurely end these benefits based on a fictitious and discredited narrative of lazy workers abusing pandemic unemployment benefits to avoid returning to work. And in doing so, West Virginia not only failed to boost employment, but also needlessly harmed struggling workers and undermined our economic recovery.
Instead of pulling the rug out from under West Virginia workers who are still navigating a changing economy, our state and federal elected officials should focus on worker and family supports that ensure that everyone has a fair chance to succeed. At the state level, the WVCBP's recovery blueprint shows a path forward for investing in work supports like investments in child care, enactment of paid sick days, and fair scheduling provisions. And at the national level, our federal delegation should support the "Build Back Better" recovery package, which would grow opportunity for families in our state by securing paid family and medical leave for workers, investing in our child care and home- and community-based services workforce, and extending working family tax credits like the Earned Income Tax Credit and Child Tax Credit.