Thanks to the CARES Act that was passed in March, last week more than 76,000 unemployed West Virginian workers claimed unemployment benefits that were more generous than those they normally would have received, while thousands more were able to receive benefits who otherwise would have received no benefits at all.
However, if Congress does not act, the CARES Act's boost in benefit levels will expire on July 31 and its eligibility expansions and additional weeks of benefits will expire on December 31, despite the reality that the support unemployed workers and the economy need will remain substantial.
Unemployment has skyrocketed in West Virginia due to COVID-19. The number of unemployed West Virginians rose from 39,700 in February to 100,400 in May. The state's unemployment rate in May was 12.9 percent.
More than 76,000 West Virginians were claiming regular state unemployment insurance benefits during the week ending June 13, up from an average of 16,500 in a typical week between the beginning of the year and mid-March, and just an average of 8,600 from this time last year.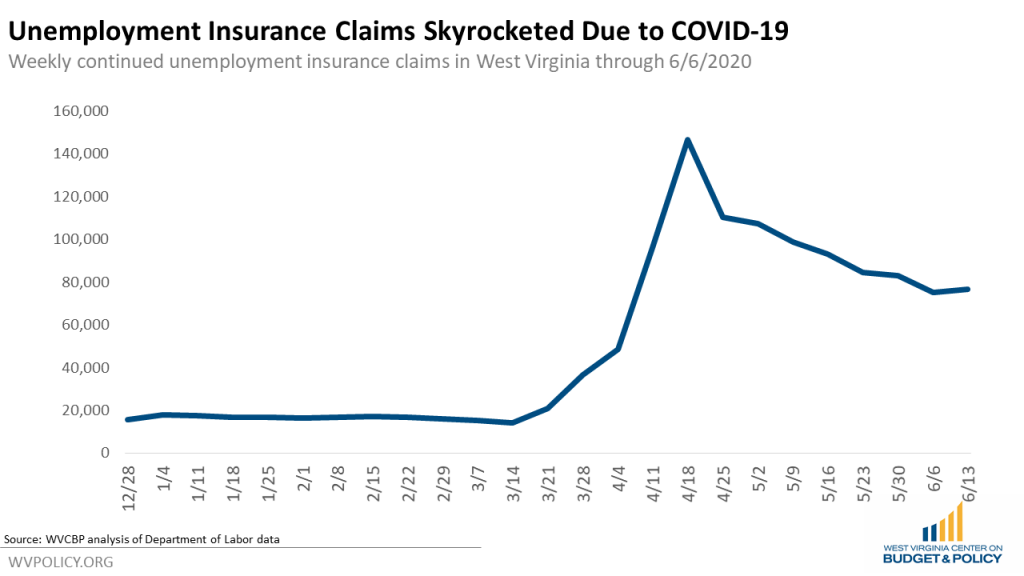 Thousands more West Virginia workers claimed benefits through the Pandemic Unemployment Assistance (PUA) program, which provides jobless benefits to people who would not have qualified for unemployment benefits under states' regular programs, including the self employed, independent contractors, and gig economy workers.
With an average state benefit of $325/week, plus the additional $600/week from the CARES Act, West Virginia's workers have received an estimated $944.0 million in unemployment benefits since April. The majority of these payments, an estimated $612.3 million, were from the CARES Act provision that provides a $600 boost to an unemployed worker's regular weekly benefits.
The $944.0 million estimate does not include PUA payments, which the state has not reported yet to the Department of Labor.
The PUA expansion of eligibility, as well as a provision providing additional weeks of federal emergency unemployment compensation to people exhausting regular state benefits, expire on December 31, while the $600 boost in weekly benefits expires July 31. The economy is projected, however, to continue to experience very high unemployment in 2021. The Congressional Budget Office (CBO) projects that the unemployment rate will average 9.3 percent in 2021, more than double its pre-coronavirus level and comparable to the worst rate of the Great Recession. By the end of 2021, the CBO projects that 8.1 million fewer people will have jobs and the labor force will still be 2.5 million people smaller than at the end of 2019.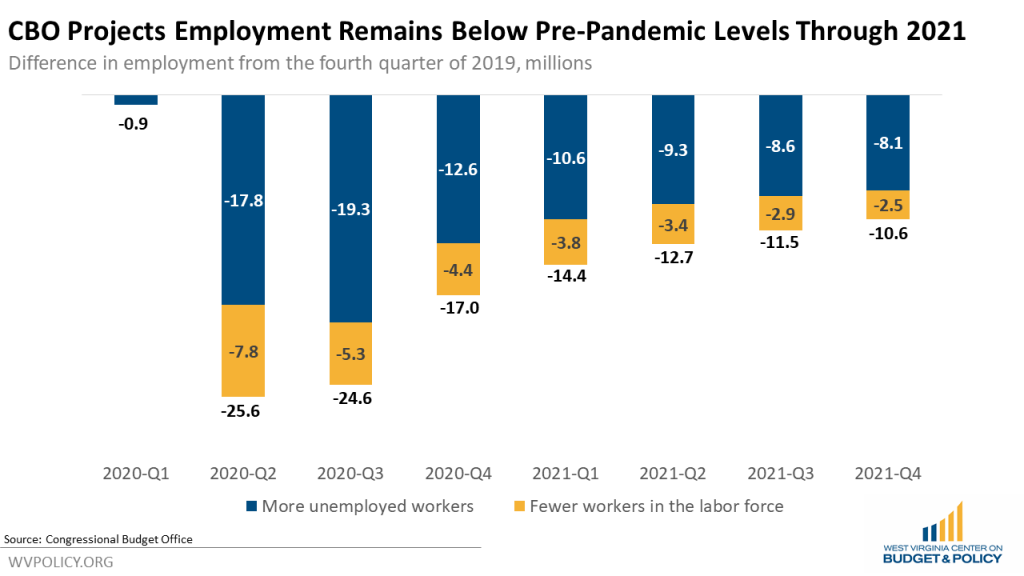 Each of the CARES Act's unemployment insurance provisions has and is continuing to play an important role in both the response to COVID-19 and the economic fallout it created. These measures allowed people to responsibly prevent the spread of COVID-19 without facing a financial penalty for doing so, while also providing major economic support during what is now an official recession.
Even without the COVID-19 concerns keeping many people from working, there are not enough jobs reemerging to get everyone who lost a job back to work. Nationally, there are currently 4.6 job openings for every unemployed worker. And while West Virginia added 13,300 jobs in May, that is a fraction of the 92,000 jobs lost in April, and the state has also seen 21,930 new unemployment claims since the reporting period for the May jobs report.
The CARES Act provisions have helped and will continue to help tens of thousands of unemployed workers in West Virginia make it through this uncertain time before returning to work or finding a new job. Those workers, however, will be in a far worse financial position if they lose the weekly pandemic benefit supplement and revert to the meager regular state benefit. Thousands more could lose eligibility altogether if the PUA program expires. More still could be harmed if they remain unemployed and facing a tough job market going into 2021 and the extra weeks provided through the CARES Act measures are no longer available.
Policymakers must ensure that unemployed workers are not left with little or no assistance while unemployment remains high, job prospects remain limited, and unemployment spells drag out longer than when the economy is stronger and unemployment is lower.