West Virginia University is currently facing a $45 million budget shortfall for the upcoming fiscal year, expected to balloon to $75 million annually by 2028. During this year's State of the University address, WVU President Gordon Gee pointed to several factors driving the shortfall including declining college-aged population, lower college-going rates, and rising financial costs. But one major factor was glaringly missing: deeply reduced state funding for colleges and universities. In fact, if West Virginia lawmakers had simply kept higher education funding at the same levels as a decade ago, West Virginia University would have an estimated additional $37.6 million in state funding for FY 2024, closing the majority of this year's budget gap.
We've previously analyzed the decline of higher education as a priority in the state budget. Over the last decade, state higher education funding is down by about a quarter, adjusted for inflation. Over the same period, the value of the Promise Scholarship has eroded, going from a scholarship covering the full cost of in-state tuition at a public college or university to a fixed block grant that covers just 63 percent of tuition on average.
While students and families have long felt the impacts on tuition of reduced public investments in higher education, federal pandemic relief temporarily cushioned colleges and universities from some of the broader institutional impacts. As those federal funds are drying up, state funding austerity is fully in view.
Nowhere have the impacts been more visible than at West Virginia University, where the administration plans to layoff faculty, eliminate programs, and implement a host of other cost reduction measures in response to the projected budget shortfall. But far fewer of these measures would be necessary if state funding for colleges and universities had simply been maintained at the same levels as a decade ago.
In 2013, WVU's General Administrative Funding out of the state general revenue budget totaled $130.8 million out of a total higher education funding allotment of $456.1 million. A decade later, total higher education funding is essentially unchanged despite growing costs at $455.8 million. WVU's General Administration Funding is $116.5 million – a reduction in nominal funding compared with FY 2013 that balloons to a $37.6 million gap when adjusting for inflation.
Between FY 2013 and 2024, overall higher education funding in the state's general revenue budget has declined by 24.3 percent, or $146.2 million, adjusting for inflation. Had state higher education allotments remained at the same level as a decade ago, simply keeping up with inflation, the total higher education investment for FY 2024 would be $602 million and WVU would have received around $154.1 million in General Administration Funding.
Put simply, West Virginia University would have an estimated additional $37.6 million in state funding for FY 2024 had state funds remained at the same level as a decade ago, closing more than four-fifths of the expected $45 million budget gap.
Declining college population alone does not explain the budget crisis. In 2022, West Virginia's education appropriations per full-time equivalent were nearly $3,000 below the national average. An analysis from State Higher Education Finance (SHEF) found that over the last few decades, West Virginia's public colleges and universities have increasingly had to rely on tuition as a share of total revenues as state funding has declined — a national trend that has been even more dire in West Virginia. Between 1980 and 2022, colleges and universities nationwide doubled their reliance on tuition, on average, going from 21 percent to 42 percent of total revenue collected via student tuition. Over that same period, West Virginia's public institutions tripled their reliance on tuition, going from receiving 19 percent of their total revenue from tuition to 56 percent.
Read Kelly's full blog post.
For more information on the broader cost of disinvestment in higher education, see this infographic.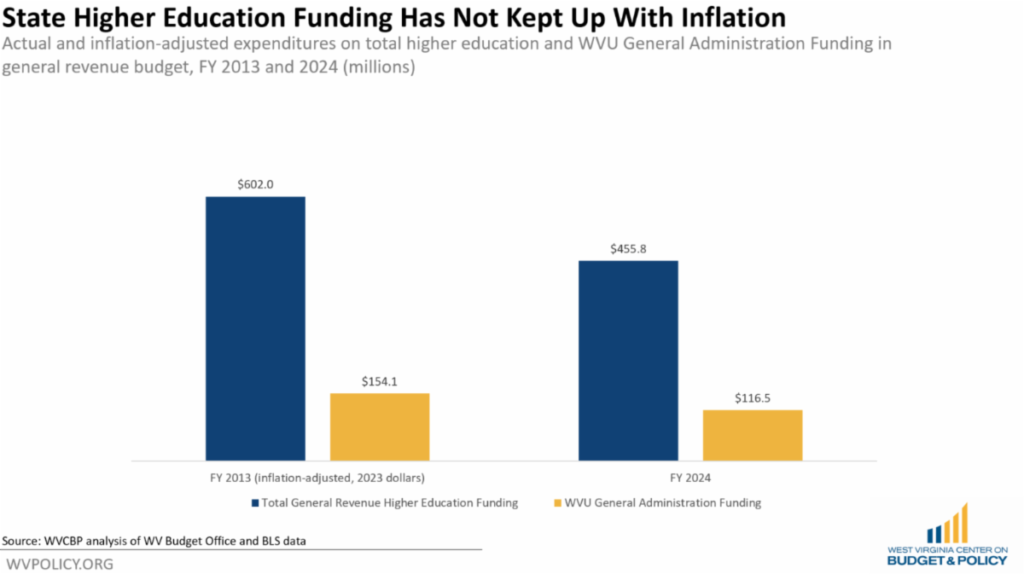 An Early Look at the End of Medicaid's Public Health Emergency
West Virginia, alongside the rest of the nation, began rolling some residents off of Medicaid in April upon expiration of the three-year continuous coverage protection triggered by the COVID-19 pandemic and subsequent economic downturn. The flexibilities implemented during that time helped keep many West Virginians healthy and economically stable. And while the federally-recognized COVID-19 public health emergency has ended, there are many lessons that the period illuminated that states can learn from to ensure access to health care beyond the emergency.
Over the next year, the state's health agency will redetermine the eligibility of all Medicaid enrollees—or 655,000 West Virginians as of March 2023. While it is expected that Medicaid enrollment will decline over this period, it's important to distinguish those who will lose coverage because they were eligible for Medicaid when they initially enrolled and are now no longer eligible from those who will lose coverage simply due to procedural denials — in other words, those who may still qualify but did not receive their renewal paperwork or had difficulty filling it out or submitting it by the requested deadline.
The extent of this eligibility redetermination undertaking is unprecedented for both Medicaid enrollees and workers, and the data collected during this time can indicate overall wellness and provide insights that can make the Mountain State a healthier, happier place to live beyond this period. The state recently released the first month of data from the renewal process.
Throughout the pandemic, Medicaid steadily grew because of the continuous coverage requirement to protect health and economic stability. In February 2020, before the pandemic, Medicaid covered roughly 489,000 people. It peaked in March 2023—the last month before the continuous coverage provisions ended—at 655,000. Experts anticipate that Medicaid will shrink to its pre-pandemic reach as the economy recovers. In the first month of renewals, roughly 22,000 West Virginia enrollees lost coverage for Medicaid (and CHIP).
In April, 48,000 West Virginians were considered for Medicaid coverage renewal, and just under 35,000 (72 percent) of them successfully renewed and will continue receiving coverage. Of the 17,500 people who terminated their benefits, 2,000 were found ineligible for Medicaid or CHIP and were referred to the Marketplace for alternative coverage. This group captures those who completed their renewal forms and are over the income threshold for the program. The remaining 15,500 denials were for procedural reasons. Procedural denials capture those who did not correctly fill out their renewal forms and supplementary materials and return them if requested on time.
While each state is tackling the Medicaid unwind slightly differently, West Virginia is not unique in the high percentage of procedural denials. Early data indicates that several states are also experiencing high ratios of procedural denials, though the reasons may differ based on local factors. In West Virginia, the high percentage of procedural denials paired with a comparatively low ex parte—or automatic—renewal rate indicates an opportunity that may help eligible families stay enrolled. Ex parte renewals review available state and federal data sources to confirm income eligibility for enrollees. This creates less paperwork for enrollees and agency employees while still providing accurate, up-to-date information.
While some people the state procedurally denied may be over the income eligibility threshold, research suggests that most folks in this category may still be within the requirements to remain covered by Medicaid. Several barriers might make correctly completing and returning paperwork on time onerous for enrollees, including having difficulty getting questions answered via phone, limited access to transportation and broadband, and avoidance due to anticipated hardship. Ex parte renewals are one of the state's many options to work around these barriers. While the number of ex parte renewals has grown significantly in recent months, there is still room to increase impact. By utilizing every available resource, the state can reduce procedural denials and help West Virginia remain healthy.
Read Rhonda's full blog post.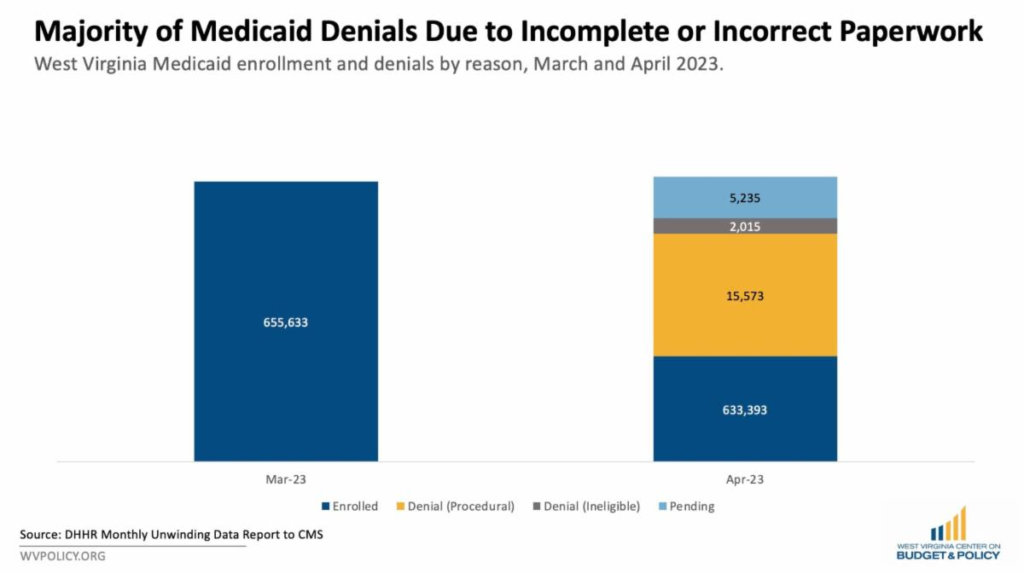 Jail Overcrowding Bill Goes Into Effect Today, June 9
In March 2023, lawmakers passed legislation, Senate Bill 633, to address a growing reason why people are taken to West Virginia jails: capiases. A capias – or bench warrant – is an arrest order issued by a magistrate or judge. The number of people brought to jail on a capias arrest in West Virginia increased from 1,990 in 2012 to 4,936 in 2022. Today, one in eight people enter jail because of a capias.
These capiases are contributing to the overcrowding in regional jails that makes it so difficult to keep people safe and to attract people who want to work inside them. Despite a decade of falling crime rates and a decline in the number of criminal charges filed, there are more people in West Virginia jails today than there were a decade ago.
Before Senate Bill 633, there was no uniform standard for what would happen when a person was jailed on a capias. Typically, that person would have been incarcerated without bond until a hearing was scheduled. In one courtroom, that hearing might occur within a few days. In another, that hearing might not have happened for weeks. But every day of incarceration costs the county $48.25, which means that a county could spend hundreds or thousands of dollars on a jail bill before a person even has a hearing.
Senate Bill 633 created a uniform standard for capias arrests. Under the new law, magistrates and judges must set a hearing within five days of a capias arrest.
This uniform standard will benefit those who work in the criminal system. The law creates simple, clear guidelines for attorneys, magistrates, and judges.
Last year, jail bills cost counties $45 million. Reducing the number of days people wait for a hearing will save money that could be invested in those counties.
Further, the new law may ease the burden on corrections staff, who last year processed 38,000 jails admissions across 10 regional jails. Any law that reduces jail overcrowding also reduces the stress and burden on people working in those facilities.
Most importantly, the new law's uniform standard will protect people from the harms of incarceration. Just a few days in jail can be devastating to a person's health, family, and stability. Research has shown that people in jail are at greater risk of job loss and reduced future earnings, experiencing homelessness, and losing custody of their children.
Read the full blog post here. Our accompanying fact sheet is included below, but you can download it here.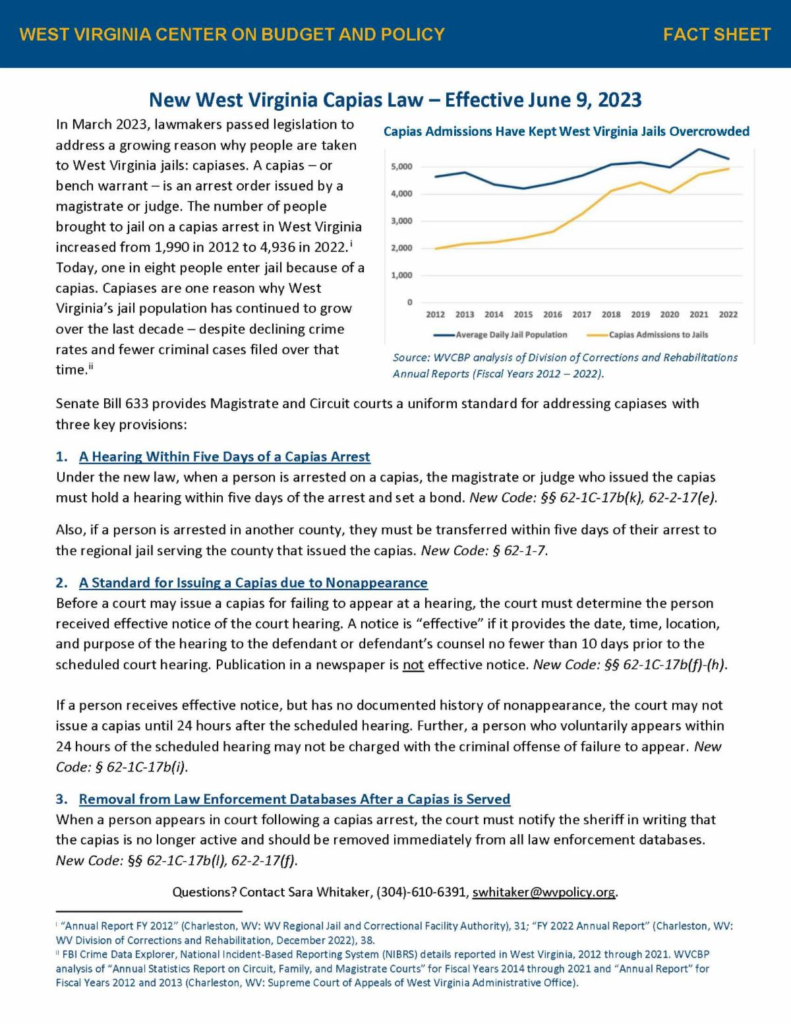 Community Conversation about the Black Infant and Maternal Mortality Rate in West Virginia
Would you like to learn more about the status of infant and maternal mortality/morbidity in the Mountain State or share how it has impacted your life or the lives of your loved ones? Join our community conversation on July 21, 2023 at 12pm. All are welcome, particularly Black families and families of color who've experienced infant and maternal loss, inaccessible or biased health care, or are passionate about these issues. We are grateful for your voices and expertise.
You can register for the meeting here and RSVP to the Facebook event here.
We hope to see you in July!
To learn more about the status of infant and maternal mortality in West Virginia, see our recent blog post here.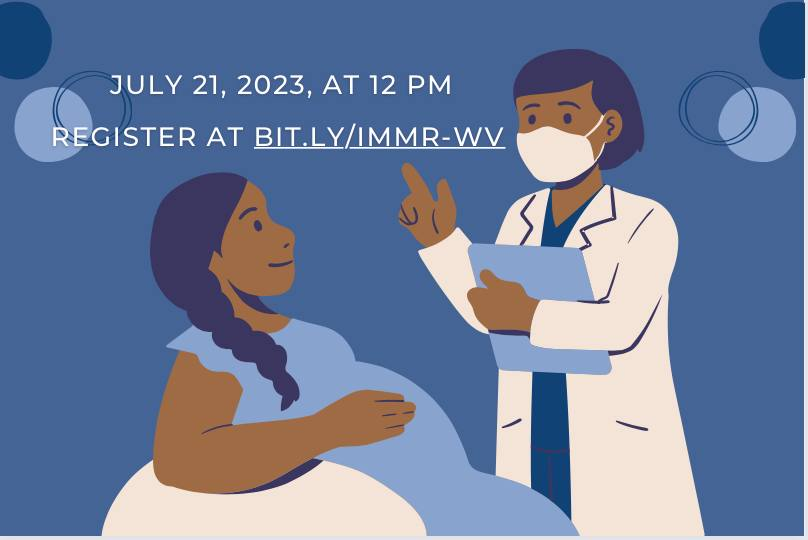 Juneteenth Festival 2023
Join us Saturday, June 17 at the second annual Charleston Juneteenth Festival!
The event will feature a parade, local artists and food vendors, a community choir, Mr. and Miss Juneteenth (KG-2nd, 3rd-5th, 6th-8th, 9th-12th) crownings, line dancing, a kids zone, and more.
Learn more and RSVP here.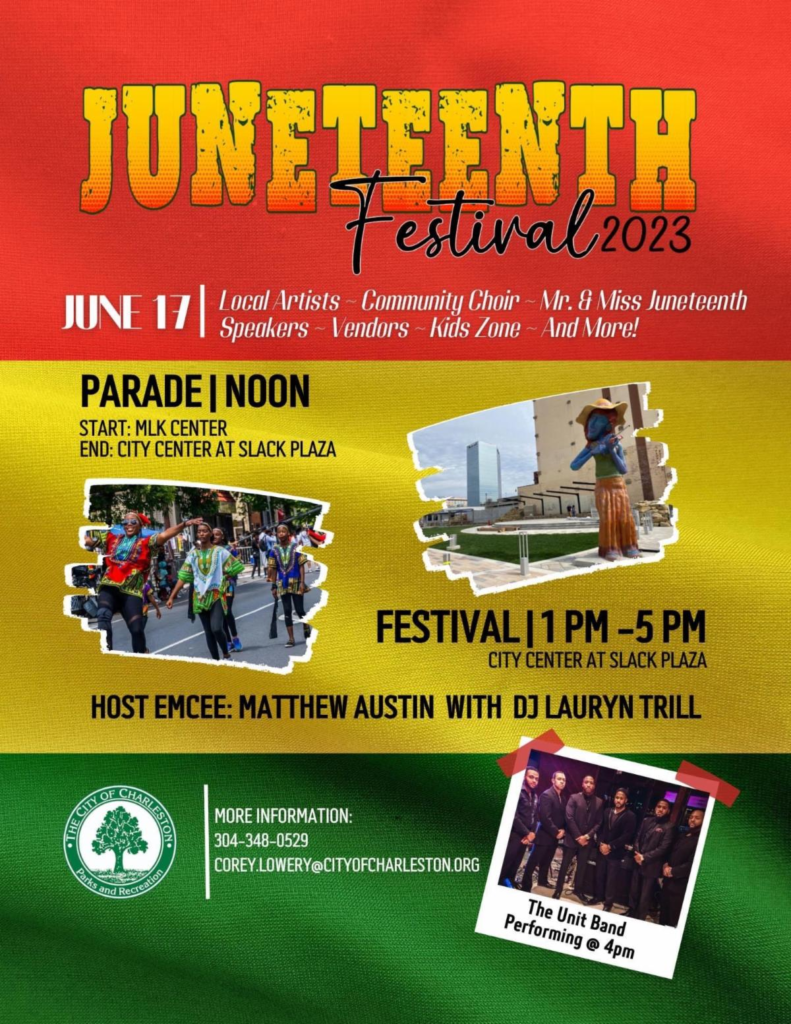 Volunteers Wanted for A Research Study About Birthing Experiences
Dr. Jerica Wesley from Marshall University and Dr. Lauri Andress from Andress & Associates are seeking volunteers for a research study to learn more from West Virginia women and birthing people about their health care experiences. Currently there is little state-level data publicly available about the disparate experiences of birthing people across race. This study seeks to empower West Virginians through the sharing of stories and to gather qualitative data to inform advocates and policymakers.
Contact Dr. Wesley (jerica.wesley@marshall.edu /304-746-1912) or Dr. Andress (landress@bridgingthehealthgap.com /713-553-8192) to participate or for more details.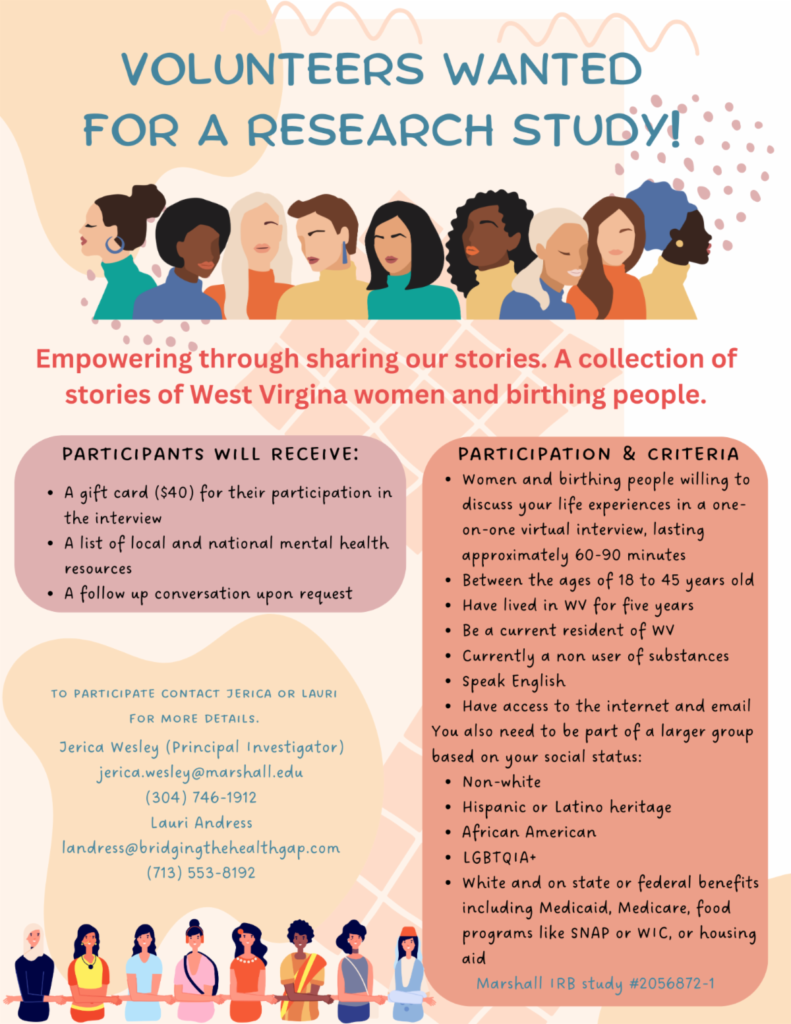 Share Your Medicaid Experience with Us!
The WVCBP's Elevating the Medicaid Enrollment Experience (EMEE) Voices Project seeks to collect stories from West Virginians who have struggled to access Medicaid across the state. Being conducted in partnership with West Virginians for Affordable Health Care, EMEE Voices will gather insight to inform which Medicaid barriers are most pertinent to West Virginians, specifically people of color.
Do you have a Medicaid experience to share? We'd appreciate your insight. Just fill out the contact form on this webpage and we'll reach out to you soon. We look forward to learning from you!
You can watch WVCBP's health policy analyst Rhonda Rogombé and West Virginians for Affordable Health Care's Mariah Plante further break down the project and its goals in this FB Live.