Throughout the 2023 legislative session, lawmakers spoke often about the ongoing state of emergency in West Virginia jails. To them, the crisis was the record-high staff vacancies within the Division of Corrections and Rehabilitation (DCR).
But people behind bars have been living in a state of emergency for years. In the last decade, West Virginia jails had the highest death rate in the country – twice the national average. Last year, 12 people died in Southern Regional Jail alone. Then over a two-week period at the beginning of this year, a dozen people incarcerated in one jail were hospitalized for suspected overdoses. It is clear that this state has failed to keep people in its custody safe.
But on the final day of session, lawmakers took action and passed a bill likely to reduce these harms. Senate Bill 633 tackled an issue that has swept more and more people into jails every year: capiases. Also called bench warrants, capiases accounted for 1 out of 25 admissions to regional jails in 2012. In 2022, capiases accounted for 1 out of every 8 people jailed.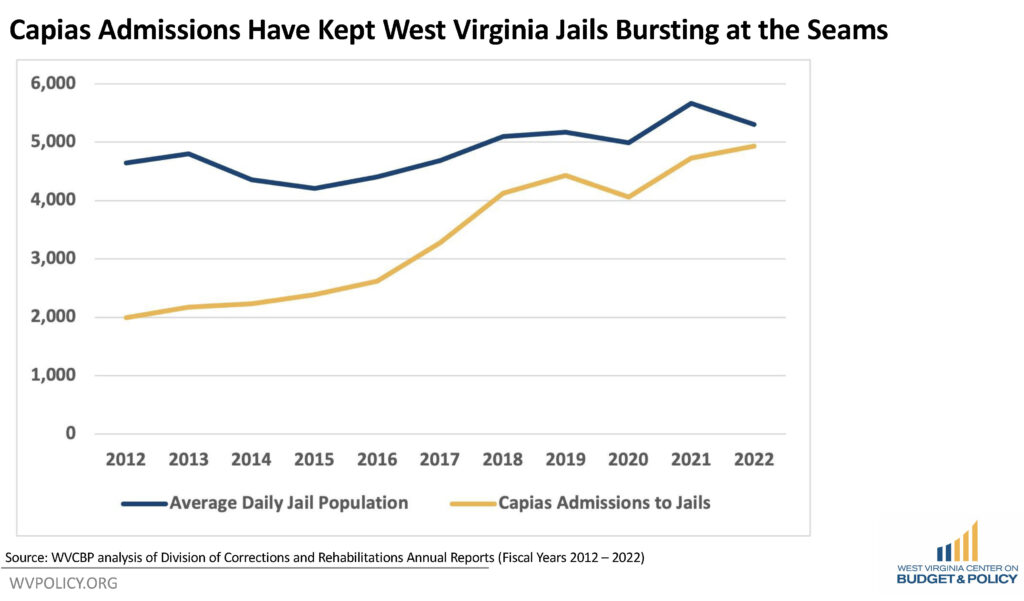 These capiases are contributing to the overcrowding in regional jails that makes it so difficult to keep people safe and to attract people who want to work inside them. Despite a decade of falling crime rates and a decline in the number of criminal charges filed, there are more people in West Virginia jails today than there were a decade ago.[1]
Before Senate Bill 633, there was no uniform standard for what would happen when a person was jailed on a capias. Typically, that person would have been incarcerated without bond until a hearing was scheduled. In one courtroom, that hearing might occur within a few days. In another, that hearing might not have happened for weeks. But every day of incarceration costs the county $48.25, which means that a county could spend hundreds or thousands of dollars on a jail bill before a person even has a hearing. Research has shown that people in jail are at greater risk of job loss and reduced future earnings, experiencing homelessness, and losing custody of their children.
Senate Bill 633 created a uniform standard for capias arrests. Under the new law, magistrates and judges must set a hearing within five days of a capias arrest.
This uniform standard will benefit those who work in the criminal system. The law creates simple, clear guidelines for attorneys, magistrates, and judges.
Last year, jail bills cost counties $45 million. Reducing the number of days people wait for a hearing will save money that could be invested in those counties.
Further, the new law may ease the burden on corrections staff, who last year processed 38,000 jails admissions across 10 regional jails. Any law that reduces jail overcrowding also reduces the stress and burden on people working in those facilities.
Most importantly, the new law's uniform standard will protect people from the harms of incarceration. A few days in jail can be devastating to a person's health, family, and stability. Danni Dineen waited 124 days for a bond to be set following her capias arrest. In that time, she gave birth to her daughter, with only a correctional officer by her side. Kyle Steven Robinson died at Southern Regional Jail after being held for 81 days without a bond following his capias arrest.
Under Senate Bill 633, which goes into effect on June 9, 2023, future tragedies like these will be avoided.
Read our fact sheet providing further details about the new law here.
---
[1] Federal Bureau of Investigation, Crime Data Explorer, National Incident-Based Reporting System (NIBRS) details reported in West Virginia, 2012 through 2021; WVCBP analysis of "Annual Statistics Report on Circuit, Family, and Magistrate Courts" for Fiscal Years 2014 through 2021 and "Annual Report" for Fiscal Years 2012 and 2013 (Charleston, WV: Supreme Court of Appeals of West Virginia Administrative Office) (Circuit court filings went down 6.4 percent; magistrate court filings went down 27.0 percent between 2016 and 2021); "Annual Report FY 2012" (Charleston, WV: WV Regional Jail and Correctional Facility Authority), 31; "FY 2022 Annual Report" (Charleston, WV: WV Division of Corrections and Rehabilitation, December 2022), 38.