A new report by our friends at Demos finds that "state disinvestment in public higher education over the past two decades has shifted costs to students and their families." As readers may know,  this is something we've looked at before (see here and here). From 1991 to 2011, total state support for higher ed has dropped from $8,608 per full-time student to $6,360 after adjusting for inflation (2010 dollars).
In West Virginia the drop in state support for higher ed per student has not been as dramatic, falling from $7,544 to $6,254, over the 20 year period. However, these figures do not reflect that tuition at 4-year and 2-year colleges has far outpaced inflation, growing by 112 percent and 71 percent respectively from 1991 to 2011.
The growth in tuition has caused student debt to skyrocket. Nationally, student loan debt has grown from $119 billion in 1999 to $541 billion. It now makes up nearly 5 percent of household debt compared to just 1 percent a decade earlier.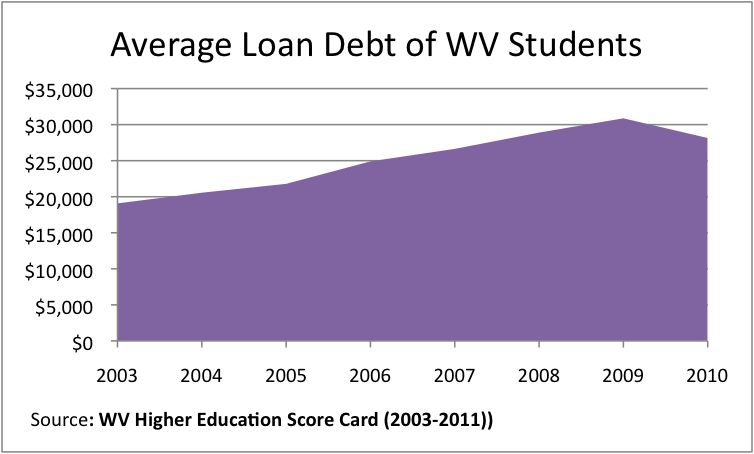 The sharp rise in student debt corresponds with the growth in tuition and fees at West Virginia's public colleges over this time period. Since 2002, in-state residents have seen their tuition/fees grow by 83 percent, from $2,816 to $5,147.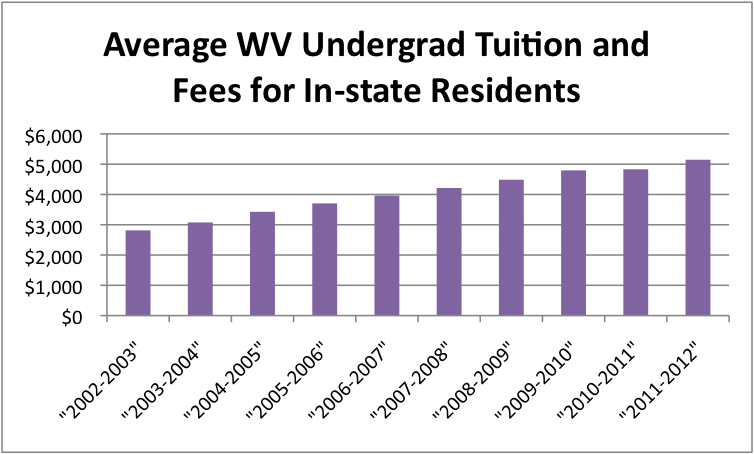 The increase in student debt and tuition and fees at public universities in West Virginia is major cause damaging our state's future and economy. While it will require action at the national level, states can also play an important role in ensuring that more students are not saddled with excessive loan debt. Demos offers the following recommendations for states:
State leaders should renew their commitment to public higher education.
States should view support for higher education in the light of the adequacy of their overall revenue systems.
States need to focus on the entire population of post-secondary students and its characteristics. 
States must recognize the consequences of constant tuition increases.
States should align investments in higher education with the goal of completion.
States should reorient their financial aid policies back toward need-based aid.
And finally, states should think more systematically about how they incorporate borrowing into financial aid programs.