Over the last year and a half, the public has learned what people behind bars have known for years: that the West Virginia Division of Corrections and Rehabilitations (DCR) consistently fails to keep people in its custody safe.
Since the beginning of 2020, 217 people have died in a West Virginia jail or prison. This translates to an appalling rate of one human being every 6.2 days.[1]
These deaths are not new. The last decade was particularly dangerous for people behind bars in West Virginia. Between the first and second half of the decade, the number of people in prison who died by suicide tripled. At the same time, state jails were the deadliest in the country. Two out of three people who died in jail were waiting for their trial date, meaning they had not been convicted of a crime and remained legally innocent at the time of their deaths. When the pandemic hit in 2020, our prisons had the highest death rate in the country.
Thanks to the perseverance and courage of people who have lost loved ones behind bars, and the diligence of reporters and attorneys, we now know more about what happens inside of one of our most secretive government institutions.
From sworn affidavits by correctional officers, we learned that people in jail face physical and sexual assaults, black mold and broken toilets, inadequate food portions that were regularly rotten or undercooked, and retaliation when they filed grievances.
Local reporting uncovered how in the span of just several days at the beginning of this year, a dozen people incarcerated at a single jail were hospitalized for suspected overdoses.
A year after Cabinet Secretary Jeff Sandy released a report accusing incarcerated people of lying about the conditions at Southern Regional Jail, he admitted under oath that he never checked the sinks or toilets, or even stepped foot in a cell.
In August 2023, federal prosecutors announced criminal charges against two former corrections officers who conspired in the beating death of a 37-year-old man inside Southern Regional Jail.
At an October 2023 court hearing, DCR officials admitted that despite a pending lawsuit, they had permanently destroyed the email accounts of former DCR employees, leading a federal magistrate judge to exclaim, "I'm stunned. I just cannot believe what I'm hearing."
West Virginia's violent over-reliance on the Division of Corrections and Rehabilitation is an ongoing choice. At any time, those in power could decide to lessen this dependency on the criminal system, and they could do so without making our communities less safe.
Between 2011 and 2021, violent crime incidents decreased by 27.1 percent, while property crime incidents decreased by 50.4 percent.[2] And yet, the average daily population in West Virginia jails and prisons crept up to more than 10,000 people.
For decades, elected officials and punishment bureaucrats have turned to the criminal system to solve problems the government refuses to address. Each year the legislature creates new criminal offenses and longer punishments, despite evidence that long sentences don't make us safer. Each year judges and the Parole Board send hundreds of people into prison for technical violations of probation and parole, despite the person having committed no new crime.
The emergency inside DCR's death-making facilities is unlikely to end. One reason: years of mass incarceration and excessive sentences have created a growing (and vulnerable) population of older residents. In 2002, there were 445 people age 50+ in West Virginia prisons. Last year, there were 1,209.
One prison has taken the step of building a Dementia Unit.
The governor, the Parole Board, and the DCR Commissioner have the power to release people who are elderly, ill, or who do not pose a threat to the community. In 21 years, DCR has released a person by medical respite only twice. One other person was released through a conditional pardon by the governor. And not a single person has received a full pardon release.
By comparison, during that same time, 478 people have been "released by death."[3]
As the fact sheet below demonstrates, an aging prison population is a policy choice. It is the result of extreme sentencing policies and a lack of compassion by the people at the top.
You can download the fact sheet here.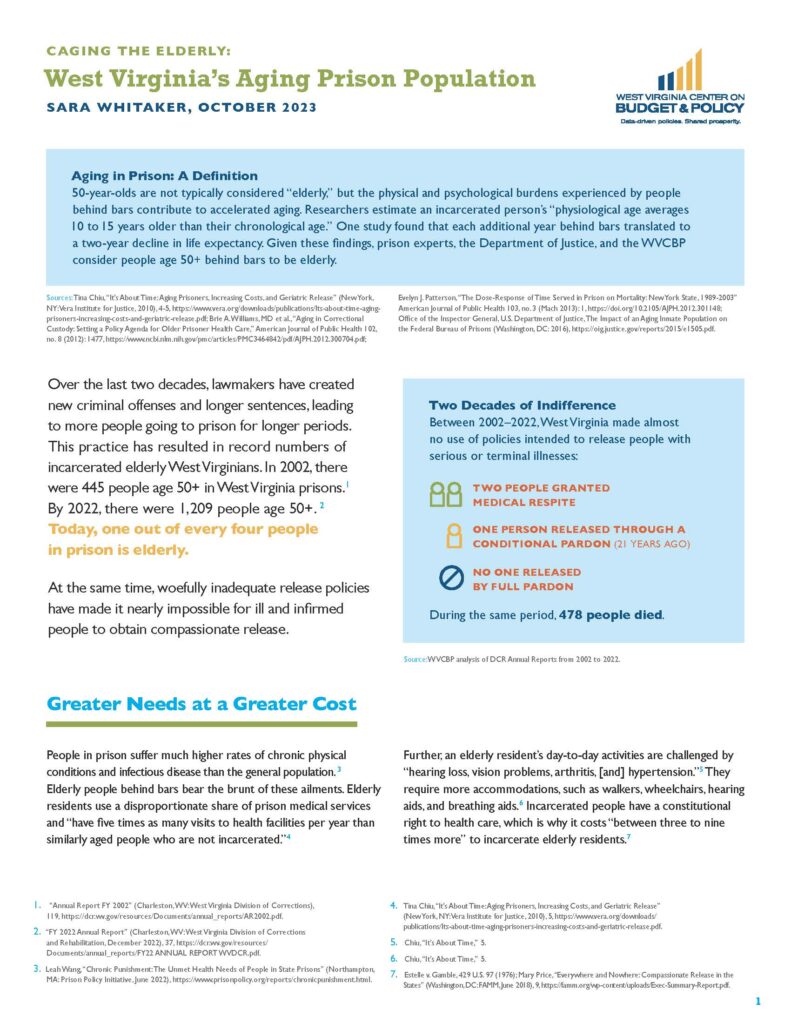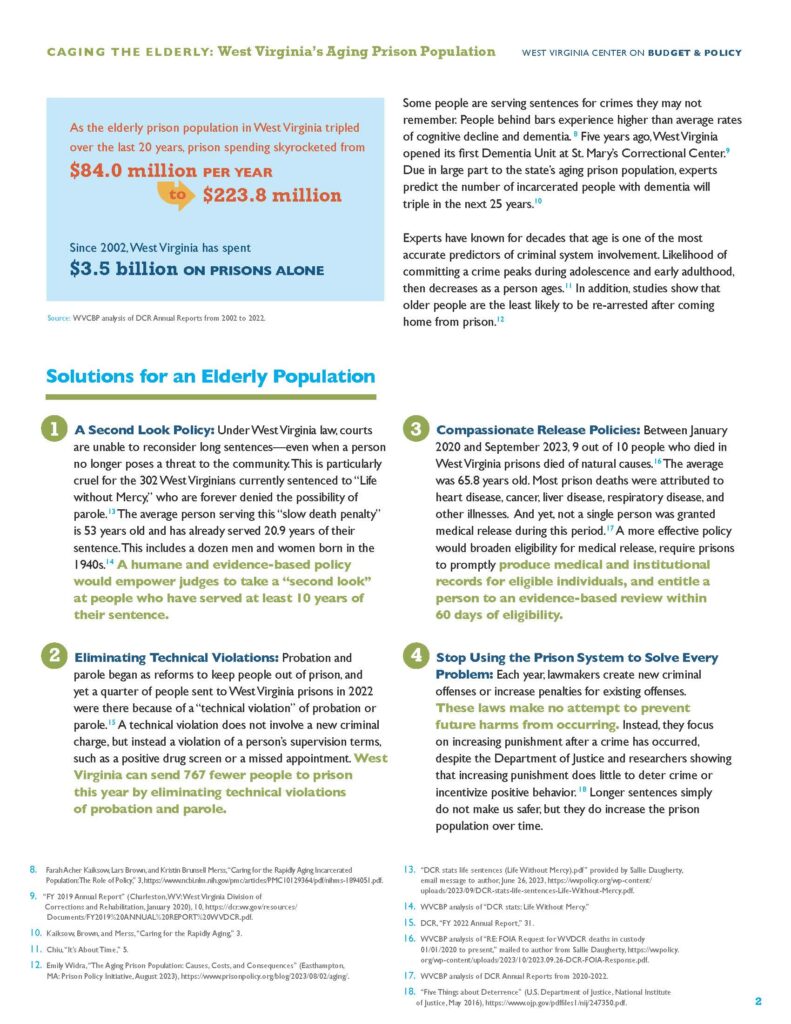 ---
[1] This number may not reflect all people who died after being in DCR custody. For example, the list provided by DCR does not include Kimberly Gilley, who died in a Beckley hospital following alleged assaults inside of Southern Regional Jail in November 2022.
[2] Federal Bureau of Investigation, Crime Data Explorer, National Incident-Based Reporting System (NIBRS) details reported in West Virginia, 2012 through 2021.
[3] WVCBP analysis of Annual Reports for the WV Division of Corrections and the WV Division of Corrections and Rehabilitation for Fiscal Years 2002 through 2022.