During the 2023 regular legislative session, West Virginia lawmakers introduced more than 300 bills related to the criminal legal system. Nearly half of those bills created new criminal offenses or increased penalties for existing crimes.
To a Hammer, Every Problem is a Nail
One trend that emerged was lawmakers' penchant for believing that the criminal system can solve just about any social problem. Many bills relied on the threat of incarceration, despite evidence that increasing punishment does little to deter crime or incentivize positive behavior.
The Senate passed Senate Bill 540 to create a new criminal offense, punishable by up to 90 days in jail, for any person who urinates or defecates in a public place other than a public restroom. Fortunately, this legislation died in the House. The bill would have criminalized acts of survival in a state where public restrooms are simply not an option. A review of city-operated public restrooms open 24 hours a day, 365 days per year found that in nine of the state's largest cities, there are five restrooms for 241,330 residents. If West Virginia has a public urination problem, it can be solved with public restrooms.
Instead of properly funding municipal governments, House Bill 2471–which also did not pass–would have brought back driver's license suspensions for unpaid court fees and fines. Evidence shows that debt-based license suspensions reduce revenue collection, harm economic activity, and result in more unlicensed drivers on the road (read: higher insurance premiums).
Several additional bills aimed to increase penalties for drug offenses (SB 49, SB 304, HB 2129, HB 2358, HB 2432, HB 2847), but one bill that passed the Senate stood out. Senate Bill 547 would have changed simple possession of some drugs from a misdemeanor to a felony offense, created mandatory minimums for certain drug crimes, and tripled the period of incarceration for felony drug offenses.
Law enforcement approaches to public health problems are proven to fail. Over the last decade, West Virginia lawmakers have increased drug penalties. The result: West Virginia was one of only four states to increase its incarceration rate and still had the highest fatal overdose rate in the country – more than twice the national average. Fortunately, it was this prospect of more (costly) incarceration that stopped all of these bills from advancing.
The Revolving Door Keeps Spinning
Last year, formerly incarcerated people told Race Matters and the West Virginia Center on Budget and Policy what they needed to succeed when they returned home. We wish lawmakers had listened.
Two out of three people surveyed cited housing as their top concern when they left prison. Finding a place to live is critical, but most people leave prison with less than $250 in their account.[1] Unfortunately, lawmakers made no effort to expand transitional housing. House Bill 2276 would have provided unhoused people free state identification cards, making it easier for them to apply for housing, but the bill was never considered by a committee. Instead, one bill signed into law will reduce housing options for people with substance use disorders. Despite an insufficient number of treatment beds across the state, House Bill 3337 prohibits counties from having more than 250 licensed treatment beds.
Either Senate Bill 38 or Senate Bill 235 would have restored voting rights to people convicted of felony offenses who were no longer incarcerated and under probation or parole supervision. Returned citizens told us how this fundamental right helped them to reconnect to their communities, and research shows that voting is associated with reduced recidivism. Neither bill was taken up by a committee.
Probation and parole were designed to keep people out of prison. But one out of two people who entered a West Virginia prison in 2022 were there for a probation or parole violation. Half of those people were imprisoned for a "technical violation," such as a positive drug screen or missed appointment. In other words, one out of every four people that went to prison was sent there for behavior that does not involve a new crime.
Last year, one returned citizen told us that "one of the biggest things that people [on probation and parole] need are incentives… you do certain things, you're taking schooling, getting your GED, taking vocational programs, that gets you good time."
House Bill 3445 gave lawmakers an opportunity to provide these positive incentives, while also addressing the technical violations that are driving people into prison. The bill, which passed the House, would have empowered parole and probation officers to grant compliance credits (for work, school, and drug treatment) that incentivize good behavior, shorten supervision periods, and give officers the chance to rescind good time instead of sending someone back to prison. The bill died in the Senate.
Silence on the Harms Facing Incarcerated People
The House Committee on Jails and Prisons spent significant time discussing staff vacancy rates within the Division of Corrections and Rehabilitation (DCR), as well as the counties' perennial struggle to keep up with jail bills ($45.8 million per year and counting).
But no committee dedicated legislation or hearing time to the crisis facing incarcerated people.
People behind bars are dying at an alarming rate. In the 2010s, West Virginia jails had the highest death rate in the country – twice the national average. Then in 2022, 13 people died in Southern Regional Jail alone. Over a two-week period at the start of the legislative session, a dozen people incarcerated in that same jail were hospitalized for suspected overdoses.
A federal lawsuit has been filed against DCR and a federal investigation is underway, but lawmakers did nothing. The only recognition of the crisis facing people behind bars was Senate Bill 495, which applies public information laws to jail and prison records.
A Silver Lining
There was some good news. Senate Bill 558 will keep police departments from posting mugshots on social media platforms, ending a shameful practice that harms people experiencing arrest and undermines the presumption of innocence. At the last minute, the budget bill, House Bill 2024, was amended to include public defenders in the $2,300 pay raises given to other state employees.
And on the last day of session, lawmakers passed a bill that could ease jail overcrowding and protect people from the harms of incarceration.
Our jail population should be shrinking. In the last decade, violent and property crime incidents were down 27 and 50 percent, respectively.[2] The number of criminal cases filed in magistrate and circuit courts decreased.[3] Nevertheless, there are more people in West Virginia jails today than there were a decade ago.
One reason may be the number of people coming to jail on a capias (i.e., an arrest warrant issued by a magistrate or judge). In 2012, 1,990 people entered jail because of a capias. By 2022, that number had grown to 4,936 people – or one out of eight people coming to jail.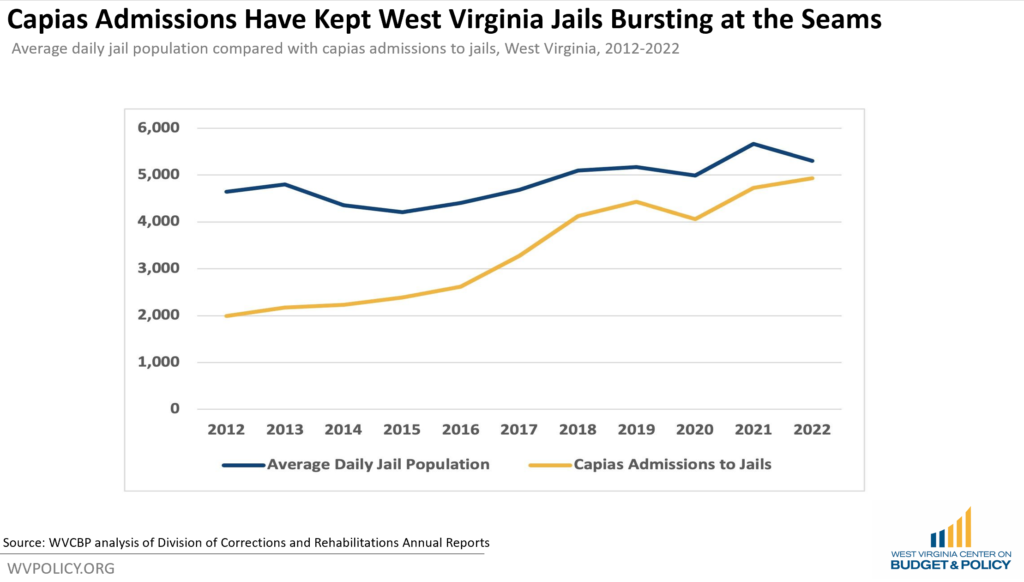 After a capias arrest, a person is incarcerated without bond until a hearing is scheduled. In one courtroom, a person may have a hearing within a day. In another, that hearing might not happen for weeks. Every day of incarceration costs the county $48.25.
Senate Bill 633 will require magistrates and judges to set a hearing within five days of a person's arrest. This uniform standard means that counties will not spend hundreds or thousands of dollars on a jail bill before a person even has a hearing.
A uniform standard will also protect people from the harms of incarceration. A few days in jail can be devastating to a person's health, family, and stability. But too often, people spend weeks or months waiting for a hearing. Danni Dineen waited 124 days for a bond to be set following a capias arrest. In that time, she gave birth to her daughter, shackled to a bed with a correctional officer by her side. Kyle Steven Robinson died at Southern Regional Jail after being held for 81 days without a bond after his capias arrest. These tragedies could have been avoided under this new law.
Unsung Heroes
This year's session could have had much worse consequences if not for the work of dozens of people with lived experience.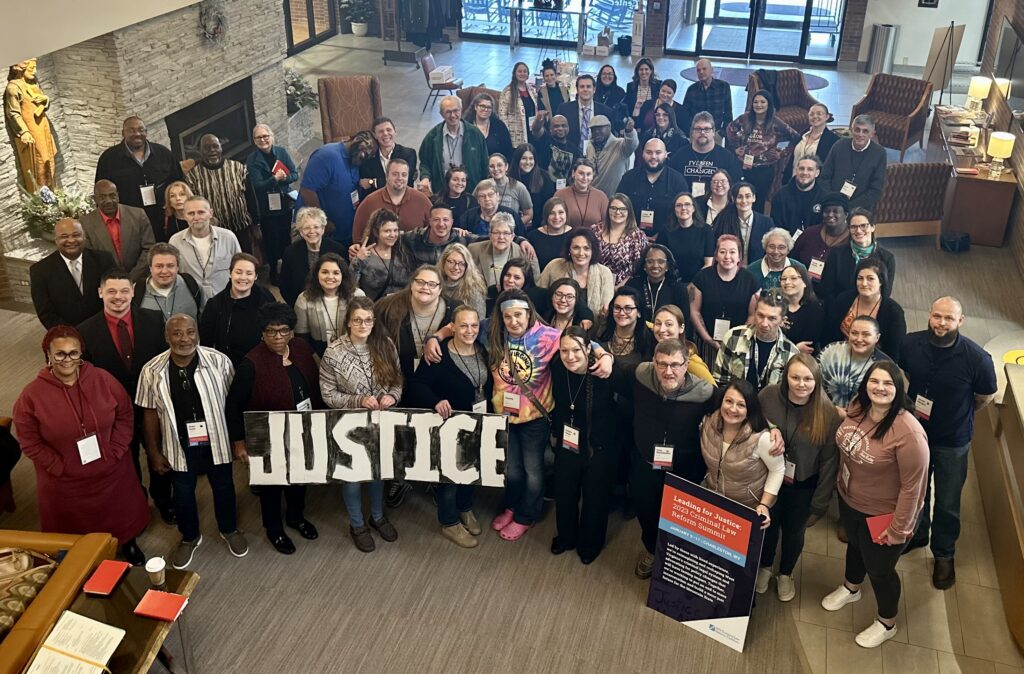 At the start of the session, Danni Dineen bravely shared her capias story with reform advocates gathered at the Leading for Justice conference.
Kenny Matthews and JoAnna Vance of the American Friends Service Committee were a constant presence at the statehouse, educating lawmakers about the criminal system and helping them understand the human impact of criminal legal policies.
Ashely Omps, Deborah Ujevich, and Greg Whittington with the WV Family of Convicted People and the ACLU-WV brought dozens of people to the Capitol to share their stories of recovery and reentry.
Day after day, these folks proved that those closest to the problem are those we should trust to solve it.
---
[1] "Account Balances for People Released from an Adult DCR Prison or Work Release Facility in Fiscal Year 2022" (Division of Corrections and Rehabilitation, November 2022).
[2] Federal Bureau of Investigation, Crime Data Explorer, National Incident-Based Reporting System (NIBRS) details reported in West Virginia, 2012 through 2021.
[3] WVCBP analysis of "Annual Statistics Report on Circuit, Family, and Magistrate Courts" for Fiscal Years 2014 through 2021 and "Annual Report" for Fiscal Years 2012 and 2013 (Charleston, WV: Supreme Court of Appeals of West Virginia Administrative Office) (Circuit court filings went down 6.4 percent; magistrate court filings went down 27.0 percent between 2016 and 2021).