Nothing highlights the shift in Appalachian coal production more than Boone and Marshall County, West Virginia. For as long as I can remember, Boone County was always #1 in coal production. Today,  Marshall County, which is located in the north-west part of the state, is the state's biggest coal producer at 17.2 million tons (compared to 15.8 million in Boone County.)
As we've highlighted several times over the years, this development should not come as a shock. In fact, projections from the U.S. Energy Information Administration (EIA) have consistently shown central Appalachian coal production falling steeply while northern Appalachian coal production slightly increasing over the coming years.  And this is exactly what has happened.
One reason for this shift is that southern West Virginia steam coal is running out and it is becoming too expensive to produce. As the chart below shows, coal mining productivity has declined dramatically over the last decade in West Virginia. While this is good news for coal miners in the short-run because it means more jobs (ironic that coal mining jobs were higher in 2011 and 2012 than they were at any any time over the last 18 years and yet the "war on coal" campaign is stronger than ever), it eventuality means higher coal prices and stiffer competition that will reduce employment in the medium and long run. As the chart below shows, there is an inverse relationship between coal mining employment and productivity. As productivity declines, employment goes up.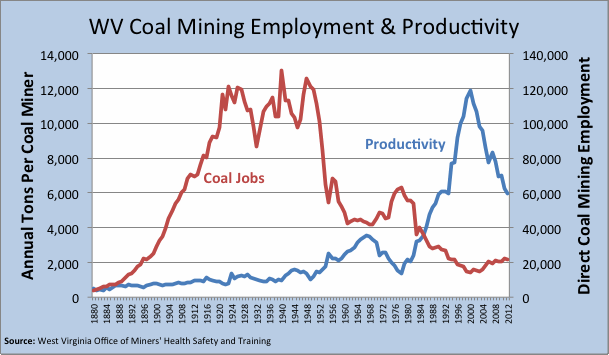 A closer look below reveals that coal production in the northern part of West Virginia has slightly increased (49.3 to 49.9 million tons) from 2008 to 2012. Since 2000 it has grown by about seven million tons (42.8 million).* Southern coal production, however, has dropped from 116 million tons in 2008 to just 79 million in 2012. In 2000, the southern counties produced almost as much as the entire state in 2012 at 126.6 million tons. The northern counties also are making up a much larger chunk of the state's coal production, growing from 25 percent in 2000 to 39 percent in 2012. Meanwhile, the southern part of the state has seen a decline from 75 percent in 2000 to 61 percent in 2012.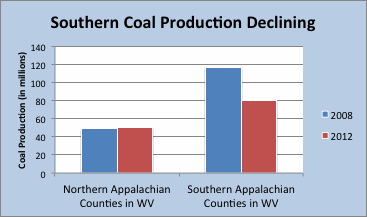 While both coal-producing regions have seen sharp drops in productivity between 2008 and 2012, the decline in productivity in southern West Virginia has been nearly twice as acute.  In 2008, the annual tons produced per miner in the southern coalfields were 7,489 compared to just above 5,000 in 2012 – a drop of 32 percent. In the northern part of the state, the decline from 9,169 to 7,731 was only about half or 15.7 percent.  The sharper drop in productivity  – and the overall lower rates of productivity  – in the southern coalfields highlights how uncompetitive the market is for central Appalachian coal compared to coal produced in the northern part of the state.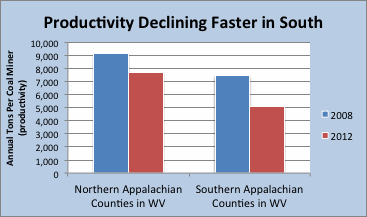 While both regions experienced job gains during this four-year period – partly because of a decline in productivity – most of the job gains where in the northern part of the state. From 2008 to 2012, the number of direct coal miners increased from 5,337 to 6,460 in northern West Virginia – a gain of 1,083 – compared to an increase of just 86 jobs (15,550 to 15,626) in the southern coalfields.  The number of coal-mining jobs in the southern part of the state is most likely much lower today. According to state data, there were nearly 2,400 fewer coal miners in West Virginia in December 2013 than in 2012.
With the drop in coal production and employment in southern West Virginia, political leaders and other stakeholders should engage in a constructive conversation about the future the region. Just recently, more than 1,700 people gathered in Pikeville, Kentucky to do just that.
Instead of waiting like Kentucky until we lose 6,500 coal mining jobs, our state leaders need to take action NOW.  Because without a plan for the future, and without a broad recognition that coal mining is not going to rebound in southern West Virginia anytime soon, we are likely to see our state's economic problems go from bad to worse.
____
*Southern Coal Counties: Boone, Clay, Fayette, Greenbrier, Kanawha, Lincoln, Logan McDowell, Mercer, Mingo, Nicholas, Raleigh, Wayne, and Wyoming.
*Northern Coal Counties: Barbour, Braxton, Brooke, Grant, Harrison, Marion, Marshall, Mason, Mineral, Mononghalia, Ohio, Preston, Randolph, Taylor, Tucker, Upshur, and Webster.