Legislative Session Enters Crunch Time
With March right around the corner, and cross-over day looming, time is running out for legislation to pass during the 2015 Legislation Session.
Here's a quick recap on keys issues we've been following:
Legislation to gut the current Prevailing Wage is now under consideration by the House after a compromise was reached in the Senate.
While Right to Work legislation appears to have stalled for the time being, a lot can happen during the session's final days.
Today the Senate Government Organization Committee is scheduled to take up legislation to that would write into law the recommendations of the Governor's Early Childhood Planning Task Force. It would also make sure that the Early Childhood Advisory Council is empowered to spend this year strategizing how to implement those recommendations.
As of today, there has been no movement in the House on legislation that would require drug testing of TANF recipients. The bill passed the House Government Organization Committee on February 11 and is now awaiting action by the House Finance Committee.
For more on why this policy would not only be expensive to administer but also ineffective when we look at how its worked in other states, here is Sean's op-ed from this week's Charleston Gazette.
West Virginia Has One of the Largest Drops in Number of Uninsured
With implementation of the Affordable Care Act in 2014, the number of people without health insurance in West Virginia has dropped by nearly seven percent. According to the Gallup-Healthways Well-Being Index, West Virginia ranks 5th in the nation with only Arkansas, Oregon, Washington and Kentucky seeing greater improvements.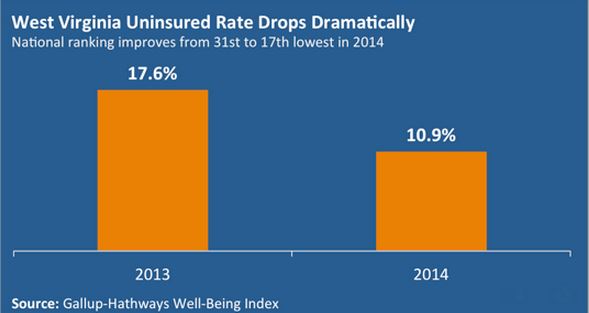 More Austerity, Less Prosperity in State Budget
Next week the WVCBP will release its annual Budget Brief which looks at the governor's proposed budget for the upcoming fiscal year. The story is much the same as last year with the governor trying to close the budget gap, caused by ongoing tax cuts, with temporary solutions.
One recommendation in the report is an increase in the state's tobacco tax for the first time in over a decade. A bill with bi-partisan support was introduced in the Senate last week that would raise the tax by $1 a pack to $1.55, very close to the national average. Here's more in the Beckley Register-Herald.
Business tax cuts are taking their toll on the budget. With little to no room in the budget for salary increases, here's a look at where West Virginia stands compared to its neighbors in terms of wages paid to teachers and public workers: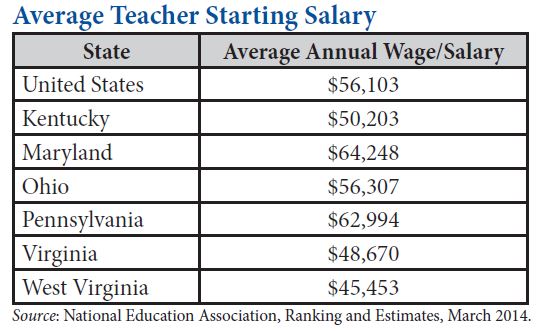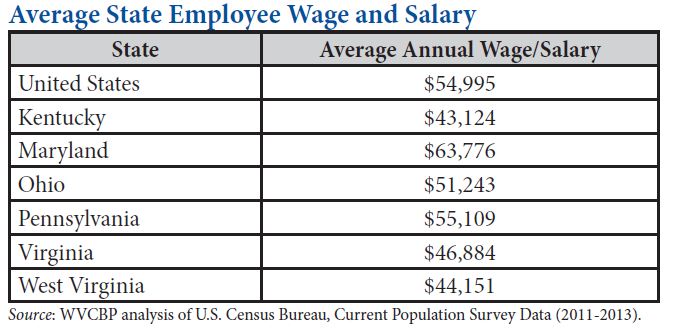 More in next week's Budget Beat on the impact of the governor's proposed budget on West Virginia's working low- and middle-income families.
Race Matters Summit in Martinsburg
Over the next several months there will be many events which have spun off from last year's Summit on Race Matters held in Charleston. Upcoming is a mini summit in Martinsburg on Wednesday, March 18 from noon to 4:00 PM. Please register by March 4 by emailing Michele Barnes.