According to a relatively new report from the WVU Bureau of Business & Economic Research, the Mountain State is predicted to see average annual job growth of just one percent over the next five years. While many may see this as positive news for the state – especially given the recent economic recession and austerity at the federal and state level – it is not only well below the job growth we experienced in the 1970s, but also that seen in the 1990s.
As the chart shows below, West Virginia's average annual job growth during the 1970s was 2.75 percent. The state also experienced stronger job growth 1990s, growing at 1.5 percent annually.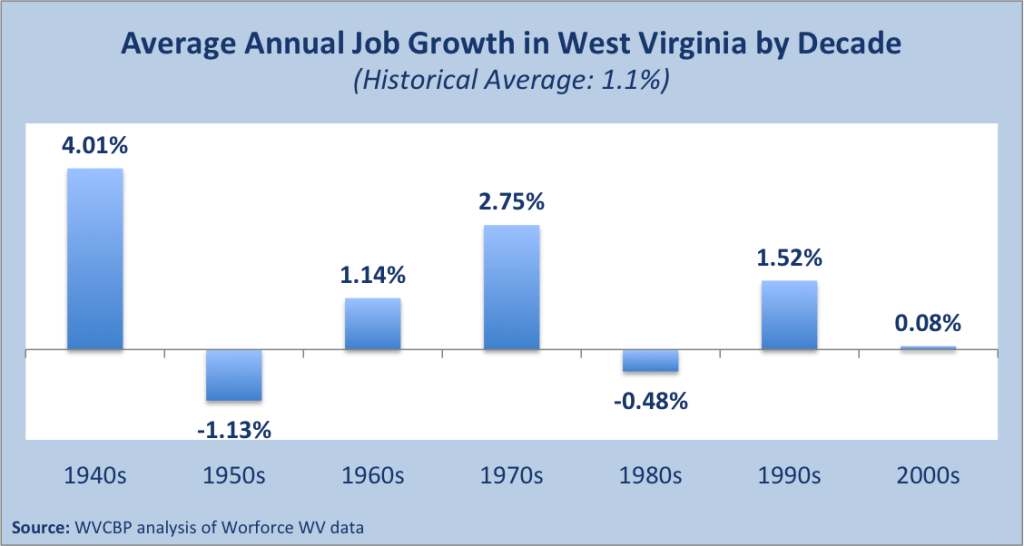 As Dr. Deskins points out in the report, if West Virginia wants to see better job growth in the future, more people will need to stay and move into the Mountain State over the next decade. If this is going to happen, we need to stop reducing our investments in the things that will make our state a more attractive place to live, work, and raise a family and we need to start making sure that we grow the middle class – which is the engine that creates a strong and vibrant economy.