Governor Justice once again drew attention to a strong quarter of personal income growth for the state, with WV having the highest 2019Q1 personal income growth in the country. But, as was the case the last time the governor highlighted this particular statistic, there is more to the story than one quarter's worth of data can tell.
Total personal income in WV grew 1.4% in 2019Q1 (an annualized rate of 5.6%), ranking WV first among the states. Yet, in the previous quarter, personal income grew by only 0.5%, with West Virginia coming in at 46th.
In fact, West Virginia's personal income growth has been all over the place recently. In the past 8 quarters, West Virginia has ranked in the top 10 for growth 4 times, and the bottom 10 for growth 4 times as well. Highlighting the good quarters, while ignoring the bad quarters, paints a misleading picture of the state's economy. And as always, the numbers are preliminary, and subject to revision.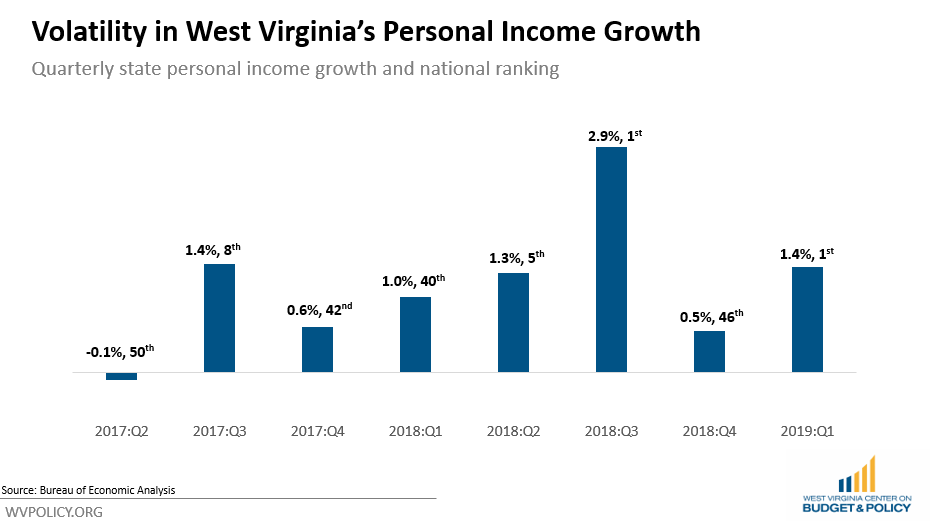 It is also important to look at what is driving the growth in personal income this past quarter. And that too does not paint and overall rosy picture of the state's economy. Earning from work accounted for just under half of the state's personal income growth, with the rest coming from government transfers (social security, etc.)
Nearly two-thirds of the growth in earnings came from three sectors of the economy: mining, construction, and healthcare. Much of that can be attributed to pipeline construction, which as state officials have cautioned with regard to revenue growth, is fueling growth now, but is a temporary boost that won't last much longer. And healthcare growth is unsurprising with an older, unhealthy population, as well as the $1 billion+ that the Affordable Care Act has brought to the state each year.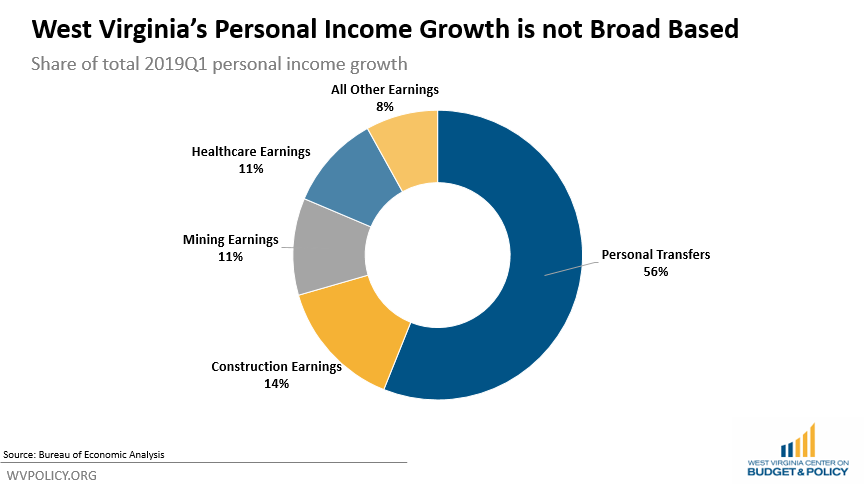 And finally, while the governor mentions in his statement that, "that our economy is growing faster every day and we're getting our people great-paying jobs right here in West Virginia," employment in West Virginia is down by 1,200 jobs so far in 2019, another sign that all is not well with the state's economy.