Budget Beat – May 10, 2013
Evidence Counts – the WVCBP blog
Watch where you get sick. Costs for medical procedures in West Virginia can vary wildly from hospital to hospital, costing thousands of dollars more depending on which hospital is performing them. Read more in Ted's blog post.
The power of West Virginia's governor is second only to Maryland. Since the governor's vetoes typically take place after the regular session adjourns and legislators go home, they rarely get overridden since it would take 3/5th of both houses to call for a special session. This gives the governor final say on most pieces of legislation. Read more in Ted's blog post.
Income inequality is persistent in the Mountain State and has been rising for the past 40 years. In fact, the wealthiest one percent of West Virginians held 20 percent of the income in 2005, up from a long-term average of about 10 percent. And, as shown below, the share of income held by the top 10% continues to rise. Read more in Sean's blog post.
More Income in Hands of Wealthiest West Virginians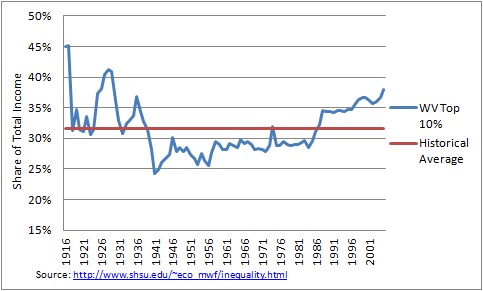 Welcome, Brandon!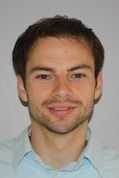 The WVCBP is pleased to announce the addition of Brandon Merritt to our staff. Brandon is joining us as Health Policy Analyst. Brandon received a B.S. in 2006 from West Virginia University and earned his Masters in Public Health with a concentration in Programs, Policy, and Management from Tulane University in New Orleans in 2008. Brandon comes to us with extensive knowledge having studied comparative health policy and health economics in graduate school. Brandon also has a broad array of professional experience having worked in public health at both the state and local levels as well as serving as a Board Member of West Virginians for Affordable Health Care since 2009. His focus at the WVCBP will be, as his title suggests, health policy, and his addition to the staff will allow us to expand our research and analysis of this vital public policy area to new levels. You can reach Brandon at  bmerritt@wvpolicy.org.
Brandon's first blog post is about the recent decision to expand Medicaid in West Virginia. The report upon which the decision was based, however, does not give the complete picture. Beyond the help the expansion will provide to low-income families and their access to health care, there will be economic benefits to the state as well as to its budget.
How Much Do You Know About Medicaid?
Now that we know that West Virginia will officially be expanding its Medicaid program to offer coverage to tens of thousands of low-income families, let's step back and take a look at this program. Did you know that it was created by Congress in 1965? Did you know that almost half of Medicaid enrollees in the nation are children but they only make up about 20% of the spending? Want to know more including who and what Medicaid covers? Check out Policy Basics: Introduction to Medicaid coming to us from the Center on Budget and Policy Priorities.