by Christopher Nyden, Research Associate
Barring another last-minute agreement, the interest rates on subsidized Stafford student loans are set to double from 3.4 percent to 6.8 percent on July 1. These loans are offered to students who depend on them to attend college.
Doubling rates will significantly increase the debt burden for West Virginia college graduates. As the chart below shows, the average debt of a graduate of a West Virginia four-year public college is now over $25,000 – surpassing the national average of $23,065 – and has grown by over $10,000 since 2004.
College Loan Debt for West Virginia Students Higher than National Average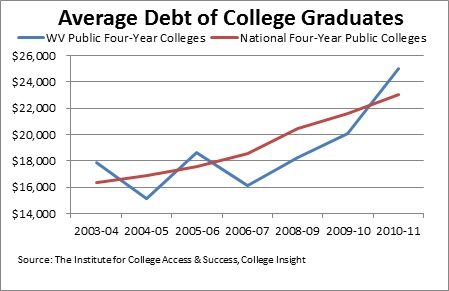 A Center for American Progress (CAP) report estimates the rate hike will cost the average recipient in West Virginia $824 over the life of his or her loan. Statewide, this number is over $55 million.
Last year, the United States Public Interest Research Group (U.S. PIRG) analyzed how many West Virginia students this would affect. According to its report, approximately 60,000 students and 49 percent of Stafford loans would be affected by the rate changes immediately.
Further exacerbating this problem are state budget constraints already placing more burden on students at West Virginia colleges, a topic previously covered by Sean.
These constraints likely mean students will have to take even more out in loans, which makes estimates like those from CAP conservative. Costs will likely rise because more students will need subsidized loans, while others will take more money out per loan.
There are several proposals currently in Congress to solve the student loan dilemma. Libby Nelson of Inside Higher Ed has a convenient table of all these bills.
President Obama's proposal would actually drop the subsidized Stafford rate to 3.09 percent, easing the interest payments on many West Virginia college students. The Senate Democrats' proposal, co-sponsored by Senator Rockefeller, would drop subsidized rates even further to approximately 2.04 percent. However, this rate is variable over time because it is tied to the three-month Treasury rate. Both of these proposals could save many West Virginia students from even more debt.
Piling more debt on the backs of West Virginia college graduates makes little sense, given that the state ranks last in the United States in the number of workers with a college degree. It does not make any more sense around the country where businesses are demanding an educated workforce.
Amidst these budget cuts and doubling interest rates on loans for college students, it is important to reframe these policies and look at their effects. If our state is going to thrive and advance in this new economy, we need to invest more in higher education, not less.