A proposal to raise West Virginia's minimum wage is currently working its way through the legislature. If passed, the state's minimum wage would increase from its current level of $7.25 to $8.25. This would increase the wages of 113,000 West Virginia workers (and the parents of 42,000 children). Currently 21 states and the District of Columbia have raised their minimum wage above the federal level. So why is now a good time for West Virginia to raise its minimum wage?
West Virginia's workers are more productive than ever. In fact, since the end of the recession, and the start of the current business cycle, (which coincidentally overlapped with the most recent minimum wage increase), worker productivity in West Virginia has risen 6.5%, the 8th fastest rate among the 50 states.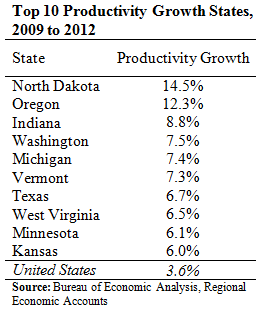 But the productivity gains of West Virginia's workers did not flow back to them. While productivity increased by 6.5%, average wages only increased by a meager 1.8% and the median wages actually declined.

So where did the productivity gains go, if not to worker wages? As the table above shows, while average worker's wages fell behind their productivity, the average hourly pay of chief executives far exceeded productivity, growing 17.9%. 
Workers in West Virginia have not fully shared in the economic gains of the last few years, despite their increased productivity. Instead, as profits and CEO compensation rise, worker wages have stagnated. Increasing the minimum wage is a good first step towards making sure that West Virginia's workers are realizing the fruit of their labor.