The Bureau of Business and Economic Research at WVU recently released population projections for West Virginia over the next 15 years. According to their projections, West Virginia's population will grow by 39,811 from 2010 to 2015, an increase of 2.1 percent.
While the projected total population changes are minor, the changes in demographics are drastic. The following chart shows the projected changes by age group for West Virginia's working age population.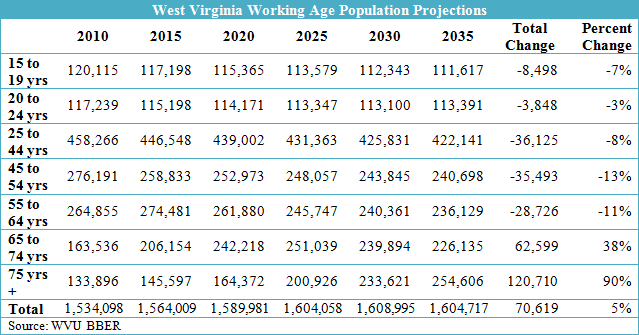 While West Virginia's population below the age of 64 is projected to decline across the board, the population over the age of 65 is set to explode. In fact the population over the age of 75 is projected to nearly double by 2035.
So what does the changing demographics of West Virginia's population mean for the state's labor force. Take a look at the state's 2010 labor force participation rates by age from the ACS.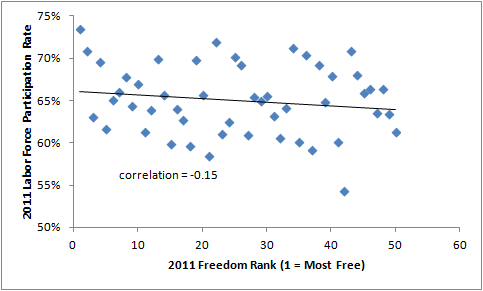 The labor force particpation rates in the older age groups in which West Virginia is gaining population are much lower than in the age groups in which the state is projected to lose population.  This means that even as the population grows larger, the labor force should shrink, as labor force particpation declines with age. The table below demonstrates this, by applying the 2010 labor force participation rates to the population projections.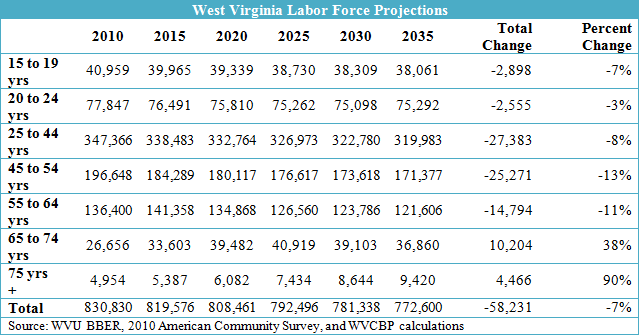 West Virginia's labor force could decline by 7%, even as its population grows, because its population is aging. West Virginia is shrinking in the core working age groups, and growing in the older, retirment age groups. While the population over the age of 75 grows by 120,000, only 4,400 would be added to the labor force from that age group.
This shift also hurts West Virginia's overall labor force particpation rate. Again, as the older age groups with lower particpation rates grow, they are not being replaced by younger workers. As a result, West Virginia's total labor force particpation rate could fall to 48 percent by 2035, meaning less than half of the state's working age population would be in the workforce.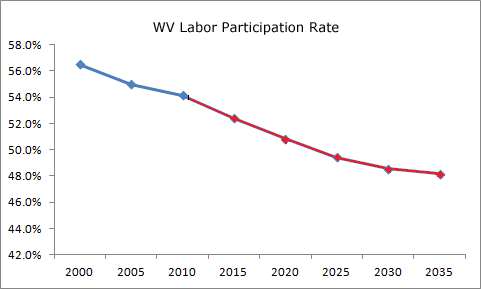 This could spell trouble for the state's future. An older population is an expensive population, particularly with higher medical costs and other demands on public services. Combined with a smaller labor force, and therefore a smaller tax base, and West Virginia's budget won't stay balanced for long.