According the latest jobs report from WorkforceWV, West Virginia's jobs recovery — which had already been showing signs of weakness in recent months — took another step backward in September, as total non-farm employment fell by 3,000 jobs.
Most of September's jobs losses occurred in the public sector, with the state losing 3,200 government jobs, including 300 federal jobs and 2,900 state and local government jobs.
But even with losses concentrated in the public sector, private sector job growth also shows that the state's recovery is petering out. The state added only 200 private sector jobs in September, a dramatic decrease from previous months.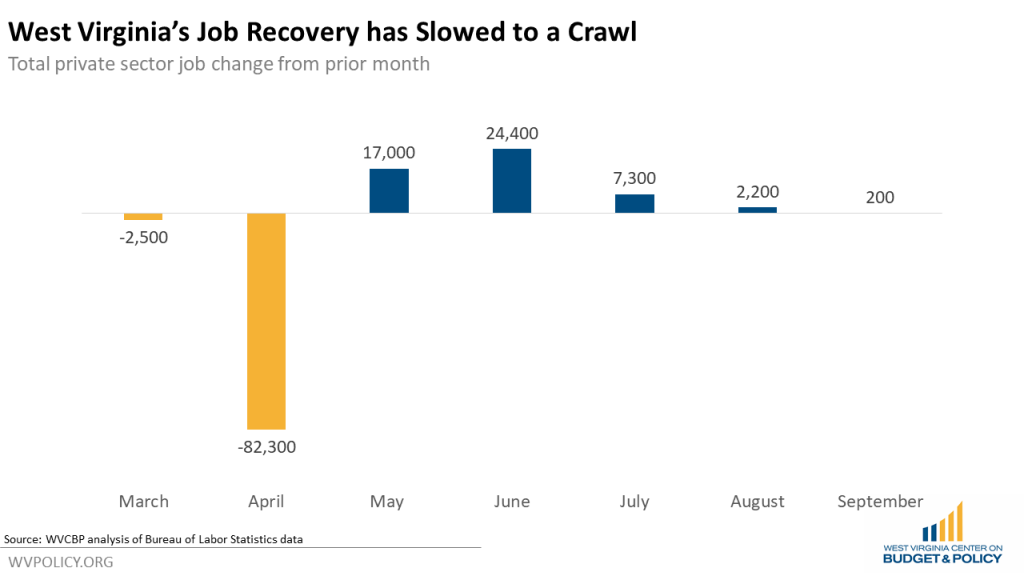 West Virginia's recovery is not only slowing, it is continuing to be uneven, with some sectors continuing to lose jobs. For example, in September, gains of 1,300 jobs in accommodation and food service were offset by losses of 2,100 jobs in education services and retail trade.
Before September's jobs report, West Virginia was still showing signs of a "K-shaped" recovery, with jobs returning for high wage workers, but losses persisting for low wage workers. As of August 21, high wage jobs in West Virginia were down 6.2 percent from January, while low wage jobs were down 12.7 percent.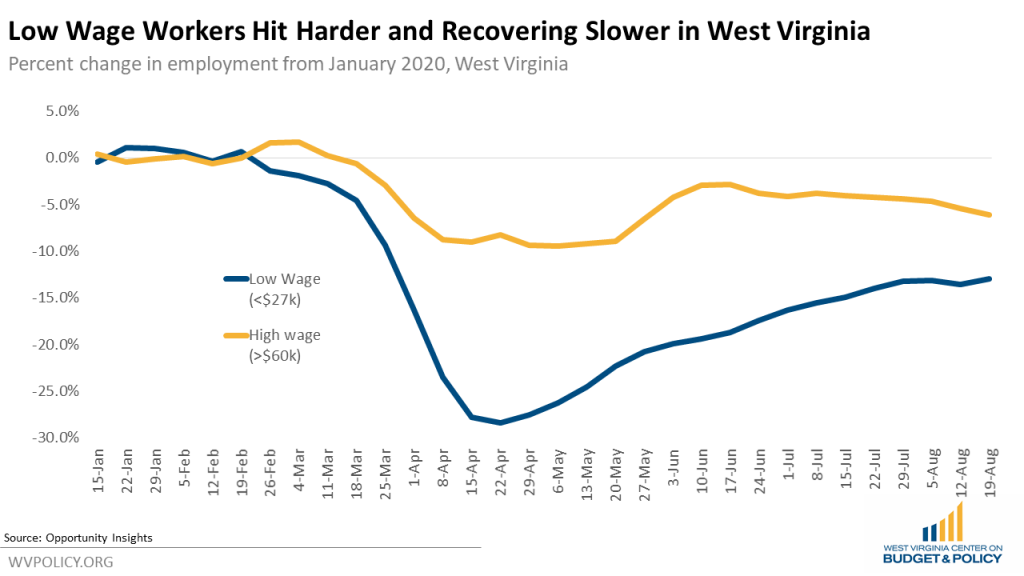 The state's unemployment rate also showed signs that the recovery is stalling. West Virginia's unemployment rate in September was 8.6 percent, a decline of .3 of a percentage point, after falling by 1.1 percentage points in August, and 5.9 percentage points from April to June.
More concerning than the slowing decline of the unemployment rate, West Virginia saw no increase in the size of the labor force. 34,900 workers have left the labor force since February. A more complete, realistic unemployment rate would take into account those who have left and not returned to the labor force since February. Including those workers, West Virginia's unemployment rate in September would be 12.3 percent, more than twice its February rate.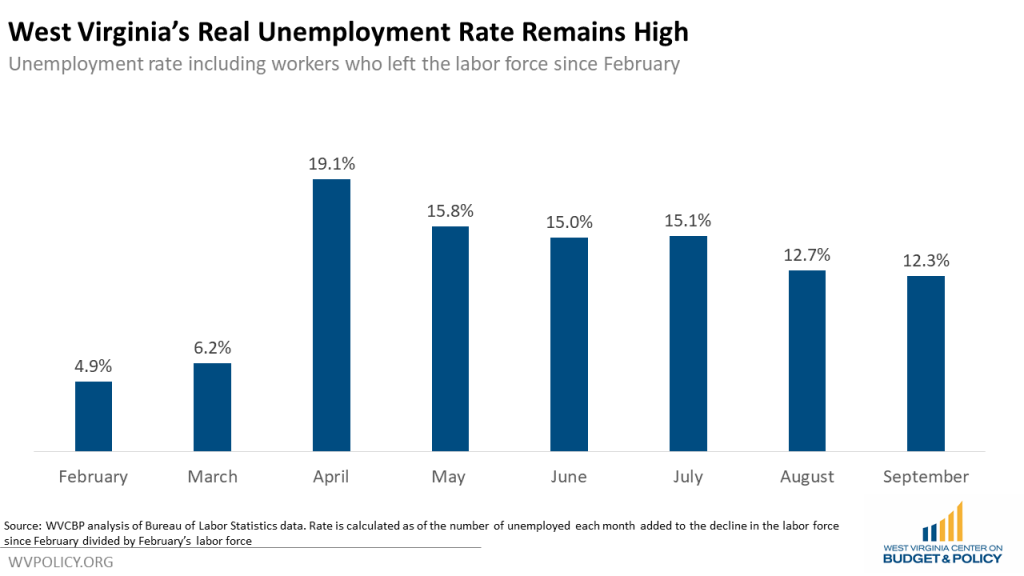 In addition, the number of unemployment claims in September remained extraordinarily high. West Virginia had 81,000 continued unemployment insurance (UI) claims in the last week of September, including 35,000 regular claims, 37,000 Pandemic Unemployment Assistance (PUA) claims, and 9,000 Pandemic Emergency Unemployment Compensation (PEUC) claims. That is 10 times as many claims as during this time last year, and more than three times as many claims as during the worst week of the Great Recession.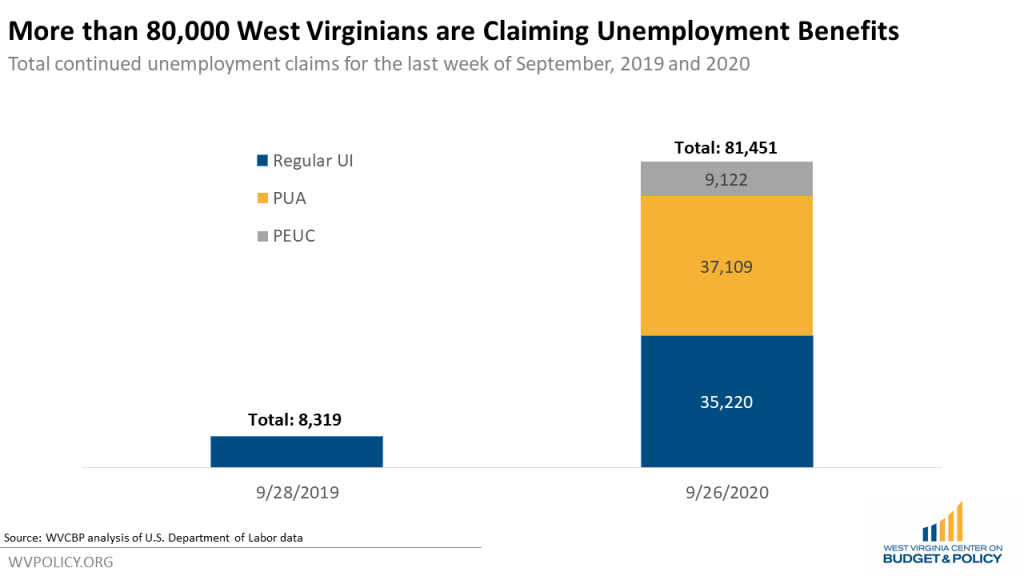 The jobs and unemployment data for September show that the state's recovery is in trouble, but it also comes on the heels of the President announcing that negotiations on another relief package are being called off until after the election. Meanwhile, thousands of West Virginians across the state are facing increasing hardship.
With the $1,200 stimulus checks already spent by most people, the expiration of the $600 enhanced unemployment benefits, the pending expiration of the PUA and PEUC programs, and the state's economy faltering, it is more important than ever not only for Congress and the President to agree on a strong aid package, but for West Virginia to use the nearly $1 billion in unspent CARES Act funding to target relief funds to those who need it the most, before it is too late.