According the latest jobs report from WorkforceWV, West Virginia's jobs recovery – which had already been showing signs of weakness in recent months – took another step backward in September, as total non-farm employment fell by 3,000 jobs.
Most of September's jobs losses occurred in the public sector, with the state losing 3,200 government jobs, including 300 federal jobs and 2,900 state and local government jobs.
But even with losses concentrated in the public sector, private sector job growth also shows that the state's recovery is petering out. The state added only 200 private sector jobs in September, a dramatic decrease from previous months.
Read Sean's full blog post.
Earned Paid Sick Leave for West Virginia Workers: Good for Public Health and the Economy
This fall the convergence of flu season with the ongoing COVID-19 pandemic is likely to impact the health and safety of workers across the state. Both viruses on their own illustrate why it is an economic security and public health imperative that West Virginia workers are able to stay home from work – with paid and job-protected time off – when they are sick.
Without access to earned paid sick leave, workers are forced to make difficult and even dangerous decisions. This is evidenced during the COVID-19 pandemic, as public officials and health professionals have urged people to stay home and "social distance" if they have symptoms of the virus, but workers without access to paid sick leave often cannot afford to miss work, risking potential exposure to their coworkers or the community.
Read Kelly's full blog post.
Time Winding Down for West Virginia to Spend Remaining CARES Act Funds
Despite Governor Justice's dismissal of criticism that West Virginia isn't rolling out its CARES Act money with enough urgency, the state still has nearly $1 billion left to spend, and must do so in the next three months before the funding expires at the end of the year.
In a West Virginia Metro News article, our executive director Kelly Allen weighed in on how this funding could be spent to help those facing the most severe hardship:
"…we'd like to see Governor Justice reallocate some of the remaining CARES Act funding to those who are still facing the brunt of the economic crisis.
"Other states are using this funding to provide utility assistance, rent and mortgage relief, and funding for testing and tracing efforts. We must get remaining aid to where it is most needed while we can."
With no second federal relief package in sight, it is critical to direct these funds strategically and quickly before they go to waste.
Read the full article.
2020 WV KIDS COUNT State Data Book Available Now
The annual WV KIDS COUNT State Data book was released this week and includes lots of insightful findings.
While you should keep in mind that this year's findings are based on pre-COVID data and are thus limited, the report is still a helpful look into not only West Virginia's improvements and weaknesses over time, but also how our state performs relative to others.
According to a Charleston Gazette-Mail article summarizing some of the report's findings, "West Virginia children are faring better in some small ways, but as a whole the well-being of the state's youth is on a minor decline."
Find the full article here.
Check out the full 2020 WV KIDS COUNT State Data Book and additional resources here.
Upcoming Supreme Court Decision Threatens Affordable Care Act, Join Us for Lawsuit Briefing on Tuesday, Oct. 20
Texas v. California, a lawsuit brought by Republican state Attorneys General that could overturn the entire ACA, will be heard in front of the Supreme Court of the United States next month. While a decision is not expected until next spring, a negative outcome would upend West Virginia's health care system and threaten the well-being of hundreds of thousands of West Virginians who rely on its sweeping patient protections and health coverage provisions.
On Tuesday, October 20 at 1:00 pm, join the West Virginia Center on Budget and Policy, Cabin Creek Health Systems, West Virginia Citizen Action Education Fund, and West Virginians for Affordable Health Care for a briefing on the imminent threat to the ACA and what a decision overturning the health care law would mean for West Virginia's people, health care infrastructure, and economy.
Register here.
ReImagine Appalachia Digital Rally on Thursday, Oct. 22
Reimagine Appalachia was born out of a broad recognition that the economy has not been working for most people and places in the Ohio River Valley. In response, a diverse set of economic, environmental and community leaders, and grassroots organizations came together to find common ground and build the future we want to see — a 21st century economy that's good for workers, communities, and the environment.
Save the date! On Thursday, October 22nd at 6 p.m., ReImagine will be hosting a digital rally featuring key stakeholders within the coalition.
The event will be held via Facebook Live.
Register here.
You May Still be Eligible to File for Your Stimulus Payment, Filing Deadline Extended to Nov. 21
Did you know that millions of eligible people could miss out on their Economic Impact Payments (EIP) – commonly called "stimulus checks" – because they have to file an online form with the IRS to get it? While most people get their payments automatically after filing a tax return (or based on participation in certain federally administered programs), this group of "non-filers" must take additional action to get their money (worth $1,200 for adults and $500 for qualifying children).
An estimated 115,000 West Virginia residents did not receive their EIP automatically from the IRS, translating to $112 million in lost potential payments. Don't leave money sitting on the table — if you are eligible, file for your EIP before the Nov. 21 deadline for paper claims and Oct. 30 deadline for online claims.
Please note, per a federal judge's recent ruling, incarcerated folks are eligible to receive the stimulus check. You can find a helpful list of FAQs about obtaining the payment for incarcerated people here.
Learn more about general eligibility and file for your EIP here.
2020 Virtual Medicaid Summit
Join us for the 2020 virtual Medicaid Summit, hosted by West Virginians for Affordable Health Care.
This year's summit will be held in a four-part series throughout the month of October. You can find details for each of the four days in the graphic below. Please note, Continuing Education Credits are offered for all sessions.
Find further details and register here.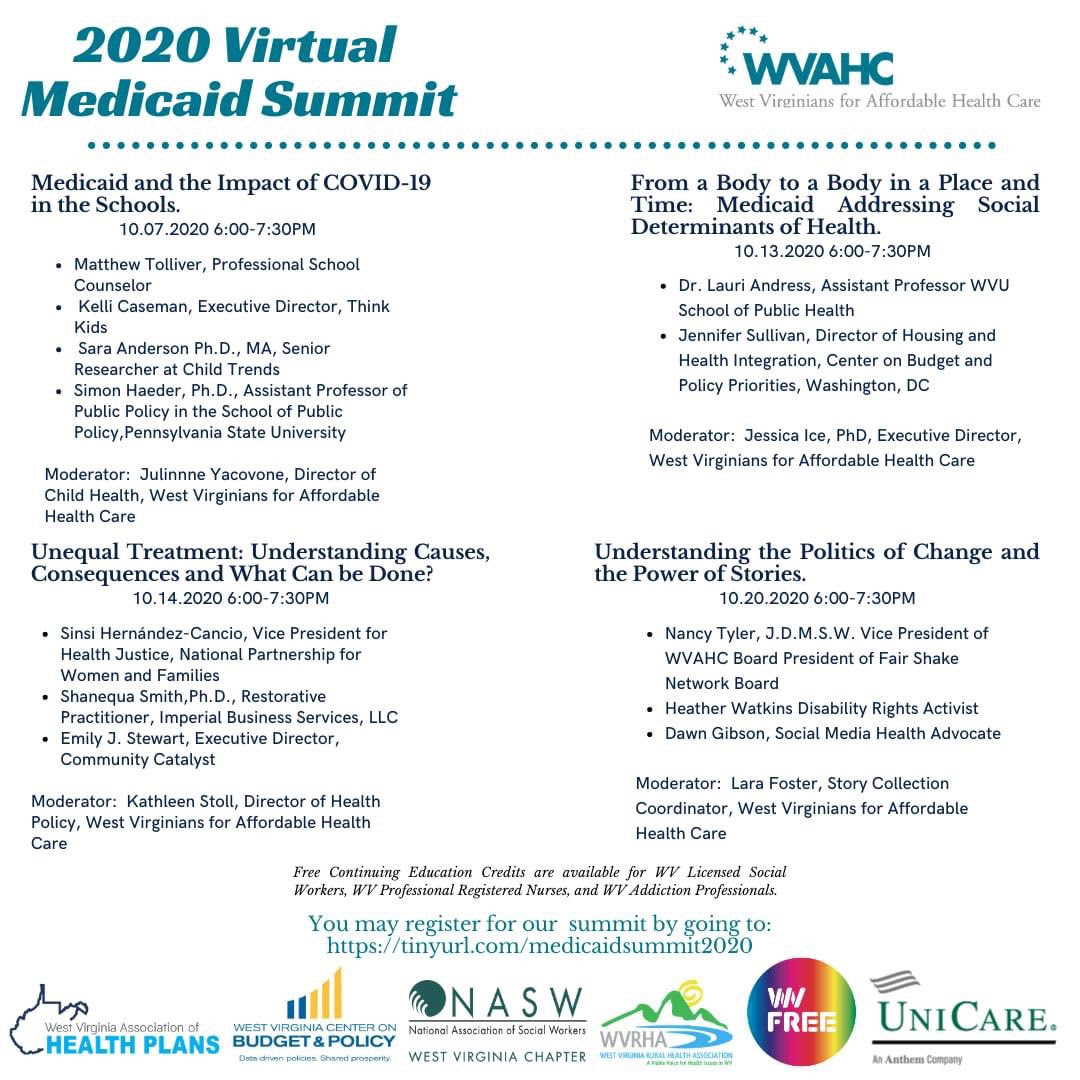 Important 2020 Election Dates
Make your voice heard and remember to vote in this November's 2020 General Election! Important dates to keep in mind below.
Register for WVCBP's 2021 Budget Breakfast
Register early for our 8th annual Budget Breakfast on Wednesday, Feb. 17!
Event will be held at the West Virginia School Service Personnel Association Office. Doors open at 7:30am. WVCBP's analysis of the Governor's 2022 proposed budget will start at 8:00, followed by keynote speaker presentation and time for Q&A.
Please note, due to COVID-19 uncertainties, event may be altered to be held virtually. Stay tuned for update.
Take advantage of our Early Bird Special and register before the end of 2020 to save $10. Legislators and public officials may attend free of charge.