Despite record-low unemployment rates and fully recovered employment and labor force participation rates, West Virginia is still down 24,300 jobs from its pre-pandemic level.
The primary driving force behind this discrepancy is that West Virginia continues to experience population loss. While there is currently a higher percentage of West Virginians working than there was during the height of the pandemic, there are also fewer West Virginians overall to fill jobs. As such, in contrast to the claims of some West Virginia politicians, there are not more West Virginians "sitting on the couch" today with total nonfarm employment at 696,500 than there were when total nonfarm employment was at its peak of 745,200 in 2012 – there are simply fewer people in West Virginia. And, importantly, those who are not currently in the labor force are not "lazy" or "scamming the system" – rather, they are facing the same barriers to labor force participation that they have historically faced and that West Virginia lawmakers have continued to fail to address.
With a large budget surplus and an abundance of federal aid, West Virginia had the opportunity this year to make investments in health, education, workforce training, and child care access that would directly address the well-known barriers that keep West Virginians from participating in the labor force. Instead, West Virginia chose to use its budget surplus and federal aid for more ineffective corporate subsidies and tax cuts, while continuing to neglect areas of need.
If West Virginia leaders truly want to close the remaining jobs gap, they must stop pursuing ineffective legislation that punishes the unemployed and instead begin investing in the policies that meaningfully address the numerous barriers that keep West Virginians out of the workforce.
Read Sean's full blog post.
Taxpayer Dollars Should be Spent on Investments in West Virginians – Not Corporate Subsidies
On Monday, West Virginia lawmakers will hold a special session to consider authorizing a $600 million "revolving door" loan fund touted as a way to bring private investment and jobs to the state. While Gov. Jim Justice celebrates it as a "self-sustaining" project, it requires a $600 million up-front commitment from West Virginia taxpayers paid for by spending the majority of our Fiscal Year 2022 state revenue surplus. Revolving loan funds — once funded — "sustain" themselves by reloaning money as old loans are repaid, meaning West Virginia taxpayers will never see these funds reenter the state budget. Our new op-ed, written in partnership with our colleagues at Good Jobs First, provides further details. Excerpt below:
Senate Bill 729 would create a new fund for "high impact" projects, allowing companies to access cheap loans (interest rates as low as 1.5% on 10-year loans). But none of the funding would be available to small businesses, as borrowers would have to commit to investing at least $50 million.
Economic development subsidies are a popular tool companies seek out to boost their bottom lines — the more public money they can extract from communities, the more profits can potentially increase. So, we know they're good for private enterprise, but that's where the benefits largely stop.
For starters, academic research shows that incentives rarely factor into a company's decision on where to expand or relocate. By the time they've approached a location, companies already know a region has the business basics they need: cheap land or power, a good workforce, highly educated citizens and proximity to infrastructure. Taxpayers shouldn't pay a company to do what it would do anyway. Additional research even shows that subsidized companies create fewer jobs and grow more slowly than companies that do not get public support.
Further, there are the opportunity costs. While West Virginia is currently enjoying budget surpluses — due in large part to artificially low revenue estimates — making such an expensive commitment will rob the state of the opportunity to adequately address current needs or to make new and necessary investments. West Virginia could be left with limited resources as it faces significant required expenditures in the coming years, including the hundreds of millions of dollars needed to keep the Public Employee Health Insurance Agency and Medicaid programs fully funded.
But, beyond those existing obligations, setting aside hundreds of millions of tax dollars for corporate subsidies would limit the state's ability to make much-needed investments in education, health and its workforce. Instead of reversing years of cuts to higher education and reinvesting in K-12 education to prepare its future workforce, or boosting child care subsidies and enacting a paid leave program to support its existing workforce, West Virginia is once again pursing ineffective and expensive corporate subsidies. And without those noted investments, West Virginia will continue to fall behind when it comes to the health, education and well-being of its people.
Read the full op-ed.
Impacts of Rising Insulin Costs Survey
The costs of insulin continue to rise while income wages remain stagnant, causing individuals and families to skip or ration insulin doses. If you or your family is being impacted by insulin costs or rationing, you can aid us in our effort to urge Congress to take action.
Please consider completing our survey – we appreciate your time and insight.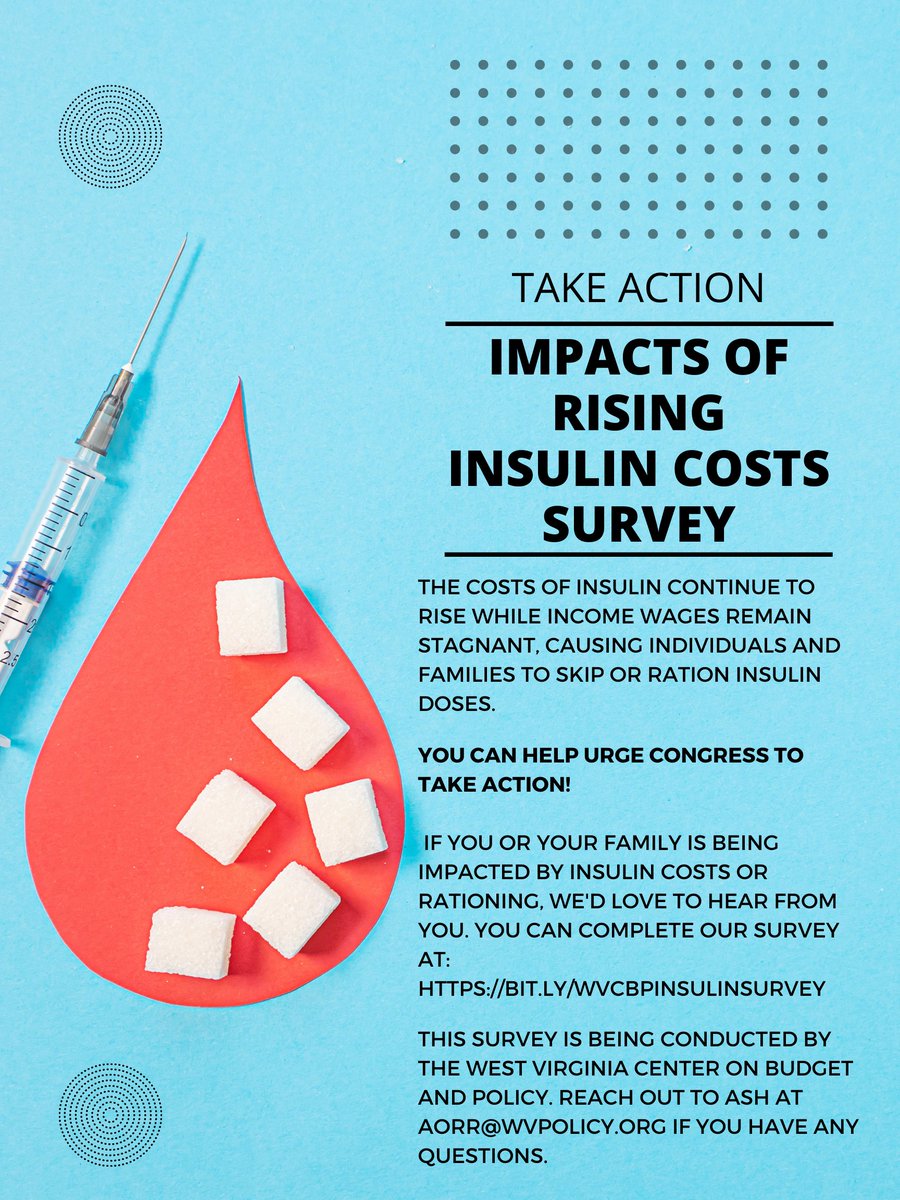 Charleston City Council Approves First Round of ARPA COVID Relief Fund Allocations
In March of 2021, Congress passed the American Rescue Plan Act (ARPA) in the effort to help mitigate pandemic-related hardship around the country. West Virginia was allocated over $2 billion in Fiscal Recovery Funds, with $1.355 billion for the state to distribute and $676 million going to cities, counties, and municipalities to be spent through the end of 2024. This week, Charleston City Council approved relief fund distribution to four community organizations. A recent article provides further details. Excerpt below:
The council approved the distribution of more than $3.5 million in American Rescue Plan funds to four organizations: West Virginia Health Right; Manna Meal; the Girl Scouts of Black Diamond Council; and the West Virginia Food and Farm Coalition.
Health Right, a free and charitable clinic, will get $1.5 million for the expansion of its East End clinic and additions to its West Side clinic, including a roof.
Manna Meal, a downtown soup kitchen, will receive approximately $1.2 million to purchase and staff a food truck and to run the program for four years. The money also will help the soup kitchen to restock food to meet increased demand caused by the pandemic.
The Food and Farm Coalition will get $989,676 for the operation of a community-owned grocery store and the implementation of SNAP Stretch, a program that matches EBT/food stamp purchases for qualifying fruits and vegetables at participating farmers markets. The Keep Your Faith Cooperation, a West Side nonprofit organization, will operate the store.
The Girl Scouts will receive $50,000 for the creation of a makers' space/flexible meeting space within the organization's building on the West Side, a career pathways and a mentorship program for teen girls, and the development of other programming.
Monday's meeting marked the first community applications for American Rescue Plan funding to be considered by the full City Council.
[Mayor] Goodwin and the city's American Rescue Plan advisory committee have recommended funding be distributed for 27 other community projects that will be brought before the City Council for a vote as necessary agreements and risk assessments are completed. Goodwin said the distribution process will take weeks and months.
Read the full article.
2022 Summer Policy Institute Application Deadline Approaching!
The Summer Policy Institute (SPI) is an annual convening hosted by the WVCBP and the American Friends Service Committee that brings together highly qualified traditional and non-traditional undergraduate students, graduate students, and policy-curious people of all ages to build policy knowledge, leadership skills, and networks.
Attendees participate in interactive sessions where they learn the basics of data, policy, and state government and build their organizing and advocacy skills. Throughout the institute, participants work in small groups to identify and develop policy proposals to shape the future they want to see in West Virginia, culminating in team "policy pitches" to state legislators and policy professionals. Many SPI attendees have gone on to continue advocating for their policy idea and to hold internships with West Virginia non-profits and in state government.
This year's SPI theme is "Growing a West Virginia that Works for Everyone."
Due to ongoing public health considerations, SPI 2022 will take place virtually via Zoom from July 28-30. Find further details and instructions to apply in the flyer below and on our event landing page here. There is no cost to attend. Please don't hesitate to reach out to our team at summerpolicyinstitute@gmail.com with any questions.
We will be accepting applications through May 1. People of all ages are welcome to apply, so please feel free to share with any folks you think may be interested!
Help Us Fight to Extend the Enhanced Child Tax Credit by Completing Our Survey and Joining the #Unbearable CTC Campaign
Since July 2021, most households with children had received monthly enhanced Child Tax Credit payments of $250- 300 per child. However, the enhanced Child Tax Credit was temporary and expired at the end of 2021 unless Congress acts to extend it in 2022 through the Build Back Better Act or other legislation.
The impact on children and families since the expiration of the enhanced Child Tax Credit has been severe. Between Dec. 2021 and Jan. 2022, there was a staggering 41 percent increase in child poverty nationwide due to the loss of the monthly payments. And as inflation continues to exacerbate family financial hardship, the need to make the enhanced Child Tax Credit permanent is as urgent as ever.
If you received monthly Child Tax Credit payments, we'd love to hear how they had been helping your family and how your family has been impacted now that the payments have (at least temporarily) expired.
Join us in our advocacy by completing our survey here or participating in the #Unbearable Child Tax Credit campaign.
Learn more about what's at stake if the enhanced Child Tax Credit is not extended in our blog post here.
Find guidance on how to collect your Child Tax Credit payment here.
Share Your Medicaid Experience with Us!
The WVCBP's Elevating the Medicaid Enrollment Experience (EMEE) Voices Project seeks to collect stories from West Virginians who have struggled to access Medicaid across the state. Being conducted in partnership with West Virginians for Affordable Health Care, EMEE Voices will gather insight to inform which Medicaid barriers are most pertinent to West Virginians, specifically people of color.
Do you have a Medicaid experience to share? We'd appreciate your insight. Just fill out the contact form on this webpage and we'll reach out to you soon. We look forward to learning from you!
You can watch WVCBP's health policy analyst Rhonda Rogombé and West Virginians for Affordable Health Care's Mariah Plante further break down the project and its goals in this FB Live.