A new report from the Center on Budget and Policy Priorities shows that West Virginia is not alone in making cuts to higher education in recent years, but unlike West Virginia, most states are starting to reverse those cuts, as the effects of the recession fade away.
The report shows that after adjusting for inflation, 48 states, including West Virginia, are spending less per student now than they did before the recession, with an average spending cut of 23% per student. West Virginia is spending 21.6% less per student in FY 2014 than in Fy 2008, a reduction of over $1,800.
As a result of these cuts, tuition at public colleges and universities across the country has increased. Average annual tuition at public four-year colleges has increased by 28% since 2008, and has increased 26.3% in West Virginia, after adjusting for inflation. The increase in tuition costs has far outpaced income growth for middle-class families, and has grown even faster than the income of the top 1%. This rapid rise in tuition has increased student loan debt, deterred low-income students from enrolling, and has reduced students' future earnings.
This past year, most states have begun the process of restoring the recession-induced cuts that they have made to higher education. Forty-two states are investing more in higher education this year than they did a year ago, adjusting for inflation, but West Virginia is not one of them. In fact, of the eight states that are continuing the cut higher education, West Virginia has the second-deepest cut this year.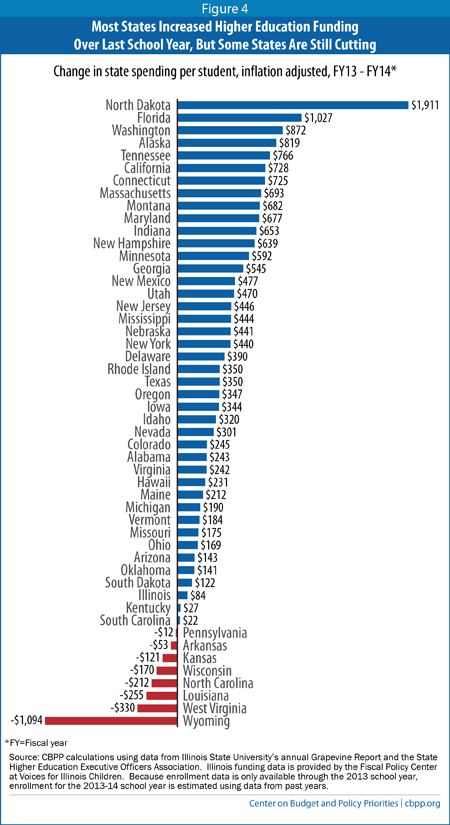 As we've pointed out before, the reason for West Virginia's continued cuts to higher education is due to a lack of revenue. And that lack of revenue is almost entirely self-inflicted from a series of tax cuts, costing the state a total of $425 million this year.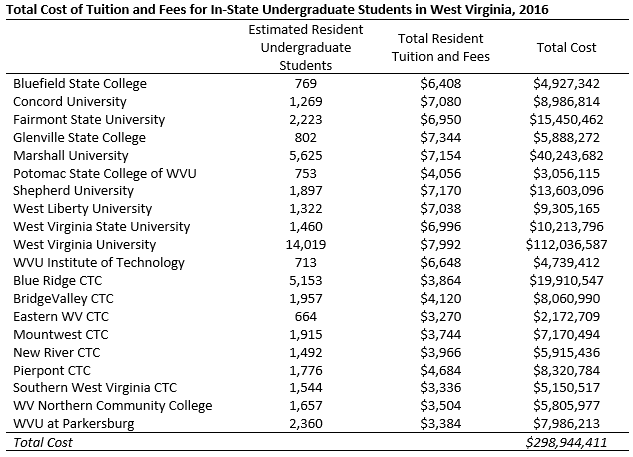 With more tax cuts on the horizon, and no new sources of significant revenue, West Virginia has no future plans to restore the cuts to higher education. Which, if current trends continue, will lead to even higher tuition, more debt, and fewer college graduates in a workforce that already lags far behind.