This Gazette-Mail piece reports on a new West Virginia Center on Budget and Policy issue brief on what eliminating the state's income tax would mean for West Virginia.
The brief  shows a reduction or elimination of the state's income tax is not a surefire way to generate economic growth and the change in tax structure erodes state revenue for important services.
Lawmakers should consider tax reform that would address our budget deficit, is based on the ability to pay, and enact an Earned Income Tax Credit to help hardworking West Virginians provide their families a secure future.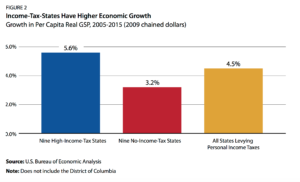 In The News Brad McElhinny dives into the tax debate in this MetroNews piece. Last week, Senate Bill 335 was introduced, which would eliminate the state's personal and corporate tax and the sales tax, and replace it with a general consumption tax.
West Virginia Executive Director Ted Boettner presented to the Senate Select Committee on Tax Reform on how a shift from income and sales tax to a general consumption tax would benefit the wealthy and destabilize the state's revenue system. For more on the bill, see Boettner's post.
Around the same time Boettner was presenting in Charleston, Republican lawmakers in Kansas voted to roll back income tax cuts enacted in 2012 that led to $700 million in reduced revenue, several rounds of cuts to service such as education, and the state's credit rating being lowered three times.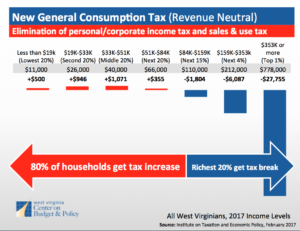 The WVCBP along with the West Virginia Council of Churches, the Partnership of African American Churches, and the Covenant House hosted a press conference to bring attention to possible changes to the Consumer Financial Protection Bureau.
The CFPB has returned $11.8 billion to American consumers ripped off by banks and other financial institutions and industries such as payday lenders and debt collectors. Senators Capito and Manchin should not allow special interest groups to dismantle the bureau without fighting to protect the bureau that protects West Virginians.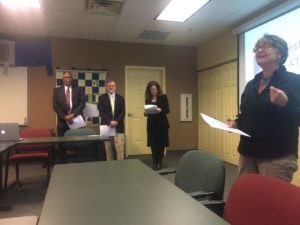 This piece by Center on Budget and Policy Senior Fellow Paul Van de Water takes a look at health-care costs.
The latest projections from the Congressional Budget Office estimate federal health spending – including the costs of the Affordable Care Act – including the costs of the Affordable Care Act, which has enabled 20 million Americans to get coverage – will be less than what it had been projected to be in 2010 without the ACA.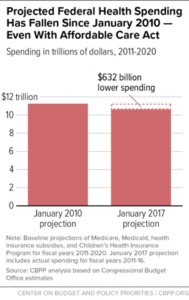 Upcoming Events The 4th Annual WVCBP Budget Breakfast is this Thursday. With a new governor and new budget, join us to find out what is in store. Register today.
Panelists include:
– Senate Finance Committee Chair Mike Hall
– Nick Casey, Chief of Staff for Governor Jim Justice
– Delegate Matt Rohrbach
Sponsorships are available and come with event tickets.
Join West Virginia Citizens Action Group, West Virginians for Affordable Health Care, and others as West Virginians come together to rally for answers! All across the country, elected officials are holding town hall meetings with their constituents to discuss their concerns about repealing the Affordable Care Act (ACA), but our congressional delegation has not stepped up to do so here in West Virginia.
It's time our congressional representatives speak with their constitutes about the many concerns surrounding repealing the ACA. Help us on February 25th make it loud and clear: We want our Congresswoman and Congressmen to represent and listen to us! We demand town halls to express our concerns and get answers to our questions. The event will be held at the West Virginia Culture Center from 2:30 – 3:30 pm.