The American Rescue Plan Act (ARPA), signed into law in March 2021, is a tremendous and unprecedented opportunity to invest in programs and projects that will increase public health and public safety as communities recover from the COVID-19 pandemic. The $1.9 trillion package's flexibility allows for state and local governments to fund a wide range of programs that can reduce violence, recidivism, and homelessness, all while decreasing our reliance on the punitive criminal legal system. Included in ARPA is direct funding for state and local governments; West Virginia state government will receive $1.355 billion and local governments (cities, counties, and municipalities) in the state will receive $676.6 million. This blog post provides an overview of how state and local agencies and policymakers can use ARPA funds to equitably advance public safety in West Virginia.
In addition to the direct funding allocated to state and local governments under the State and Local Fiscal Recovery Fund, Congress appropriated funds to various federal agencies to administer block grants to states and oversee competitive applications. The Council of State Governments Justice Center recently released a guide to assist policymakers, public health departments, community nonprofits, and other stakeholders that are eligible to receive funding.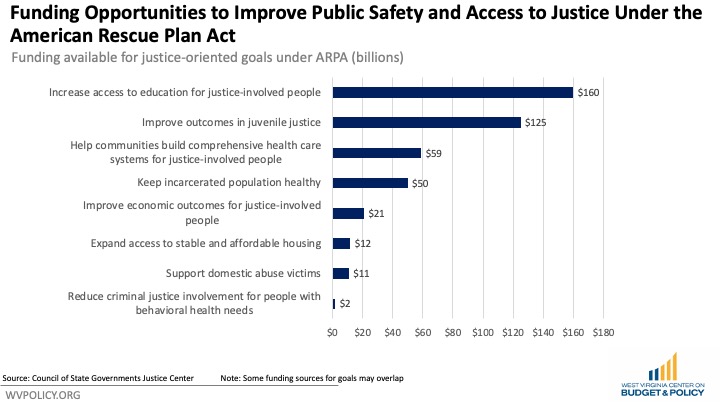 The guide offers many recommendations for how West Virginia policymakers could innovatively use ARPA funding in the categories outlined in the chart above.
Keep People in Correctional Facilities Healthy
As of May 25, 2021, 13 incarcerated people and two Division of Corrections and Rehabilitation (DCR) employees have died of COVID-19 in West Virginia, and nine additional deaths are awaiting further medical investigation. More than 4,300 incarcerated people and staff have been infected with COVID-19 since the DCR began tracking cases last year. When looking at prisons alone, West Virginia is ranked 20th in COVID-19 deaths per 10,000 people incarcerated in prisons.
With ARPA allocating more than $50 billion to detect and monitor COVID-19 in jails and prisons nationwide, West Virginia has the resources to do more to protect incarcerated people and correctional staff and employees. ARPA funds can also be used to address vaccine hesitancy through education campaigns in correctional facilities, a problem documented across the country. As of May 21, 2021, less than 50 percent of DCR employees were fully vaccinated, and the number is even lower for people incarcerated in jails and prisons.
Expand Access to Stable and Affordable Housing
The role of housing security in reducing involvement in the criminal justice system is well studied. Not only does access to housing reduce the likelihood of criminal justice involvement in the first place, it also can reduce recidivism. Our latest report on reentry in West Virginia explores the difficulty that returning citizens have in securing affordable housing. Through the Homelessness Assistance and Supportive Services program and the Emergency Housing Voucher program, ARPA provides pathways for West Virginia's state and local governments to help returning citizens and other vulnerable West Virginians maintain stable housing. State and local governments can also leverage ARPA funds to create permanent affordable housing units.
Improve Outcomes in Juvenile Justice
The Council of State Governments Justice Center specifies diversion programs as an allowable expenditure under ARPA. West Virginia state and local governments should capitalize on the positive passage of HB 2094, which expanded access to juvenile restorative justice programs in the state. While the legislation failed to devote additional funding to the West Virginia Department of Health and Human Resources (DHHR) to oversee an expansion of the program, ARPA funding could be used to ensure that youth in every county have access to restorative justice and diversion programs.
Increase Access to Education and Job Training Opportunities for Justice-Involved People
Governments and agencies can use ARPA funding to improve and broaden education programs for people who are in various stages of the criminal justice system. Correctional facility job programs could be retooled to more closely align with the 21st century economy so that people can obtain living wage jobs as returning citizens. To support formerly incarcerated people and others who struggle to find stable, living wage employment, local governments could create bold wraparound support services to aid people as they engage in job training or adult education. These services could include day care for impacted parents, tutoring, counseling, and transportation.
Support Victims and Address Trauma
State and local governments can leverage ARPA funding to both break the cycle of harm and support survivors of crime. ARPA allows for local governments to partner with community groups to remove people from vulnerable situations, create prevention and intervention strategies, and expand social service and mental health programs.
Expand Community Mobile Crisis Intervention Services
One provision of ARPA creates a funding mechanism for mobile crisis intervention programs. Mobile crisis intervention programs are 24/7 units that can respond to behavioral and mental health emergencies, de-escalate situations, and reduce our reliance on police as a response to mental health calls. Under ARPA, the federal government will match 85 percent of the costs if a state establishes such a program. This provision could be a critical part of West Virginia's plan to combat the opioid crisis.
This post merely scratches the surface of the innovative ways that West Virginia state and local governments could use ARPA funding to create safer communities. It is critical that governments use the money allocated under ARPA to uplift and support our most vulnerable friends and neighbors, rather than investing in ineffective criminal justice strategies that we've historically relied upon.