Last month, we released our State of Working West Virginia report, which looked at how workers in West Virginia are faring. Taking another perspective, the Center for American Progress released its State of Women in America report last week, which analyzes how women are faring in all 50 states. The report measures women's well-being in three categories: economics, leadership, and health and looks at thirty-six factors within those categories. The thirty-six factors are shown below: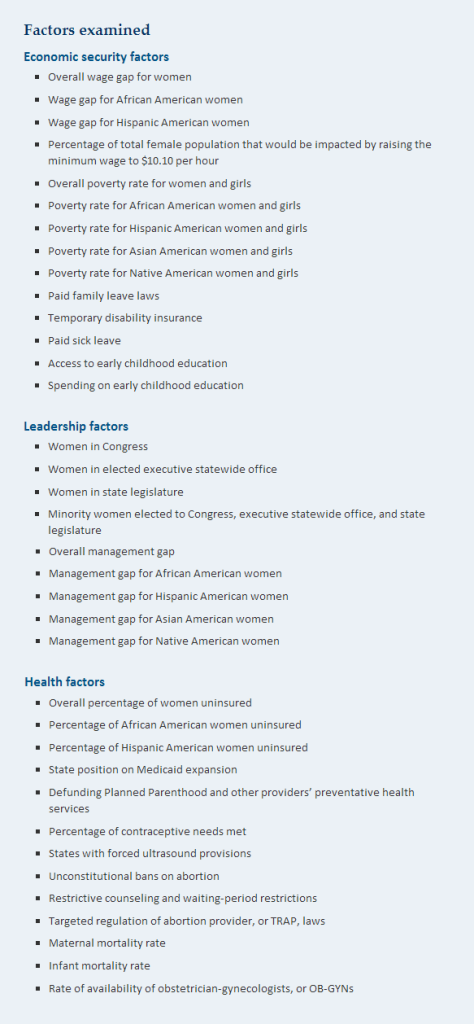 According to the report, women on average are faring the best in Maryland, and the worst in Louisiana.
Overall, the report ranks West Virginia 25th in well-being for women, with a grade of C.
West Virginia ranks 34th for economic security, with a D grade. West Virginia ranks worse than most states for the percentage of women living in poverty, hurting its economic security score.
West Virginia ranks 30th for leadership, with a grade of C-. Only 16% of the seats in the legislature are held by women, while women only hold 39% of management jobs.
West Virginia ranks 24th for health, with a grade of C. Unlike other states, West Virginia does not have laws stripping access and funding to Planned Parenthood and other health care providers, and West Virginia is moving forward with Medicaid expansion.