Abortion is and always has been an economic issue. In the wake of the overturning of Roe v. Wade, the last remaining abortion provider in West Virginia has been forced to cease providing these critical and lifesaving health care services. With safe, legal abortion in the state now fully inaccessible, we know that low-income people will suffer the most.
Nationally, half of all people who seek abortions live below the poverty level and 75 percent are low-income, with incomes below 200 percent of the federal poverty line. In addition to having extremely low incomes, they overwhelmingly lack access to family and work supports like paid maternity leave. Further, 59 percent of those seeking abortions already have at least one child and 55 percent report a recent disruptive life event. This data reinforces why poorer people are more likely to seek abortions and how they will be disproportionately impacted by further abortion restrictions or bans.
In recent years, West Virginia lawmakers have created a landscape where pregnant people frequently find themselves in perilous health and economic conundrums where abortion is inaccessible at the same time as family, health, and economic supports that make parenting possible are inadequate. Over the same period that abortion restrictions were enacted at the state level, surprisingly little has been done to increase economic and health security for families and children. West Virginia does not have a paid family and medical leave policy for maternity leave or a state-level Child Tax Credit or Earned Income Tax Credit. The state also has the fourth-largest rate (nearly two-thirds) of families living in child care deserts, where child care is inaccessible for many families. And in areas where child care is accessible, it is often unaffordable, with child care in a center costing more than in-state college tuition for both infants and toddlers.
With abortion now fully inaccessible in West Virginia, it is more urgent than ever that our state policymakers work to pass legislation that will mitigate the financial hardships of raising children and work to improve family economic and health security.
For additional information on the abortion landscape in West Virginia prior to Roe's overturn, read last week's full blog post.
To learn more about abortion as a nationwide economic justice issue, read this piece by our colleagues at the Economic Policy Institute.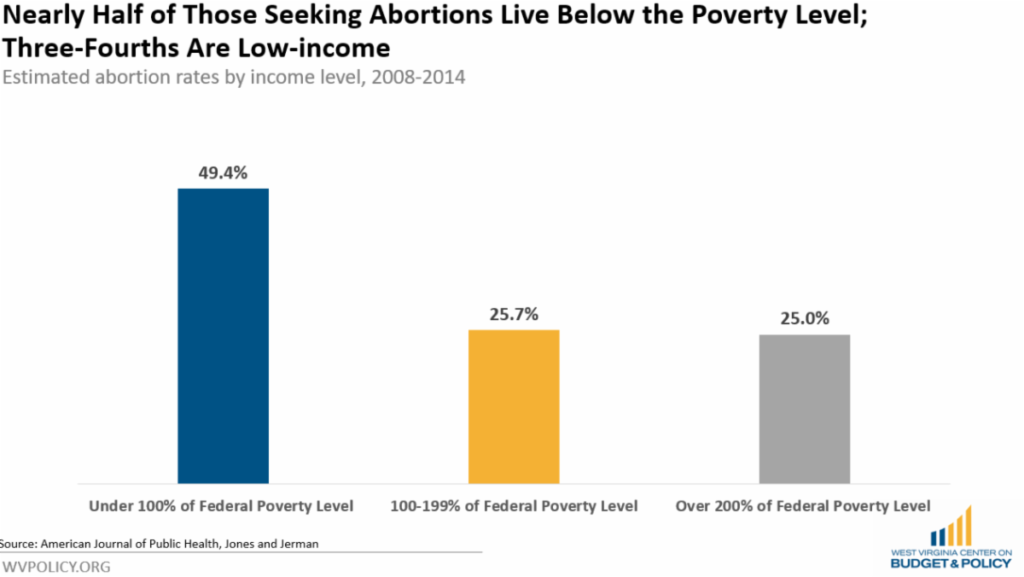 Annual Report Provides WVCBP 2021 Year-in-Review
2021 was a challenging year, in West Virginia and across the country. But despite an ongoing pandemic and an increasingly daunting political landscape, the WVCBP team's collective impact on policy in the Mountain State was greater than ever before. In addition to protecting over $2 billion per year in state revenue by defeating efforts to eliminate the personal income tax, we worked in coalition with organizational and community partners to help secure 12 months of postpartum Medicaid coverage for new moms and increase supports for West Virginians leaving the criminal legal system. Preserving the state budget and the programs and services funded by it, along with the legislative victories, made a tangible difference for low-income West Virginians, communities of color across our state, and all residents who rely on Medicaid, public schools, and other critical public programs.
Additionally, the WVCBP grew in our commitment to listening to and learning from directly impacted communities as we shaped our research and advocacy agendas – from criminal legal reform to health policy to how best to allocate the American Rescue Plan Act's funds to states and localities with an equitable recovery in mind.
The WVCBP's 2021 Annual Report provides further insight into our efforts and wins throughout the past year. You can access it here.
The work the WVCBP is engaged in has the power to change lives all across West Virginia, but it is not possible without the support of those invested in building a Mountain State where everyone has a meaningful and equitable opportunity to thrive. With no shortage of challenges ahead in 2022 and beyond, we hope you consider making a donation to our organization so we can continue using informed research and advocacy to fight for the well-being of all West Virginia communities.

Hope Scholarship Will Divert Hundreds of Millions from WV's Public Education System, Potentially Unconstitutional
The Hope Scholarship, established by the West Virginia Legislature in 2021, provides funding to students leaving West Virginia's public schools system. In the first year alone, over 3,000 scholarships have been awarded, costing the state $13.5 million. Recently, the state school board and superintendent publicly announced that they believe the program is unconstitutional. A recent article provides further details. Excerpt below:
West Virginia's superintendent and state school board have come out against the new Hope Scholarship, saying it goes against the state Constitution by diverting funding away from the public schools system.
The state's top public schools officials came out against the Hope Scholarship in a statement Thursday night and through a filing in a lawsuit challenging the scholarship.
"The Hope Scholarship Program incentivizes students to exit the public school system and drains needed public funds from the state's public schools," the board officials said in a statement distributed Thursday night.
"As a result, it violates the West Virginia Constitution as it prevents the West Virginia Board of Education from providing a thorough and efficient education for all children. It is the Board's intent to assert that position in the Circuit Court of Kanawha County and to support the parents who have initiated legal action in this matter."
The Legislature passed and the governor then signed a bill establishing the Hope Scholarships in 2021, providing money for students leaving the public school system to use for a variety of financial costs. West Virginia's program also allows students old enough to enter the school system for the first time to be eligible immediately.
The scholarship program is being challenged by a lawsuit, Beaver vs. Moore, contending it violates the state Constitution by pulling money from the West Virginia's public education system. The Moore refers to state Treasurer Riley Moore whose office oversees the scholarship program.
In addition to the scholarship program itself, the filing challenges the administration of the scholarship by the separate board headed up by Treasurer Moore: "The voucher law unlawfully creates a separate board which oversees and supervises the public's funds that are to be used for educational purposes."
Read the full article.
Another recent article includes insight from WVCBP executive director Kelly Allen about the severe financial implications of the Hope Scholarship program. Read it here.

New Child Tax Credit Proposal Revealed, Includes Strengths and Weaknesses
Beginning in July 2021, most households with children had received monthly enhanced Child Tax Credit (CTC) payments of $250- 300 per child. However, the enhanced CTC included in the American Rescue Plan Act (ARPA) was temporary and expired at the end of 2021.
The impact on children and families since the expiration of the enhanced CTC has been severe. Between Dec. 2021 and Jan. 2022, there was a staggering 41 percent increase in child poverty nationwide due to the loss of the monthly payments. And as inflation continues to exacerbate family financial hardship, the need to make a robust CTC permanent is as urgent as ever.
Last week, a new proposal to expand the CTC was announced. While we are excited to see bipartisan interest in enhancing the credit and while the proposal does improve some elements of the current law, it also has serious shortcomings – primarily, it does not make the full credit available to the lowest-income families (a notable divergence from the now-expired enhanced CTC that was included in the ARPA). Further, it proposes problematic offsets that would prove detrimental to low-income families.
A detailed Twitter thread from our colleagues at the Center on Budget and Policy Priorities provides further insight. You can read it here.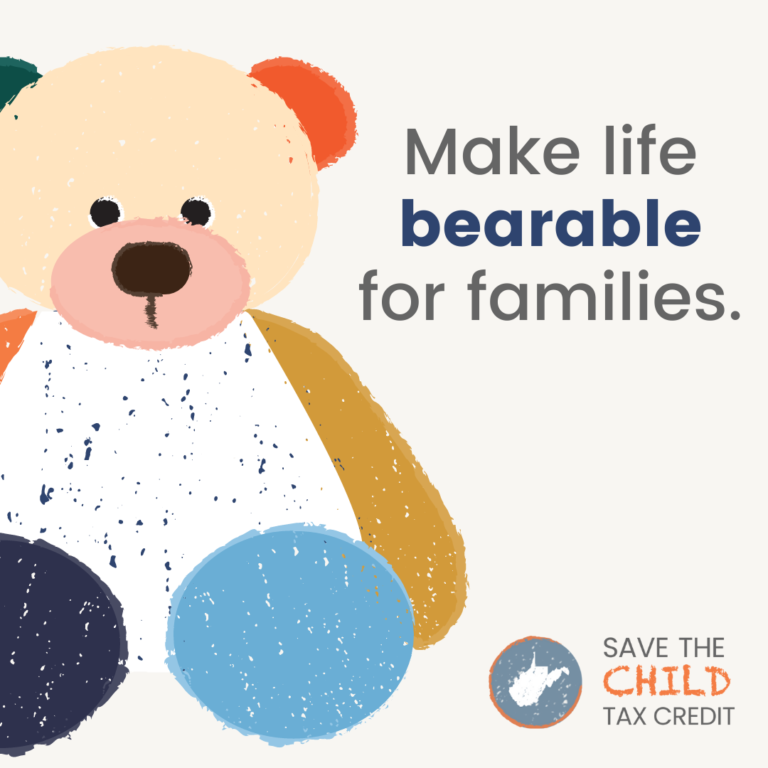 Impacts of Rising Insulin Costs Survey
The costs of insulin continue to rise while income wages remain stagnant, exacerbating pressure on individuals and families to skip or ration insulin doses in order to make ends meet.
You can help us in our fight to urge Congress to take action! If you or your family is being impacted by insulin costs or rationing, please consider completing our survey and aiding us in our advocacy– we appreciate your time and insight.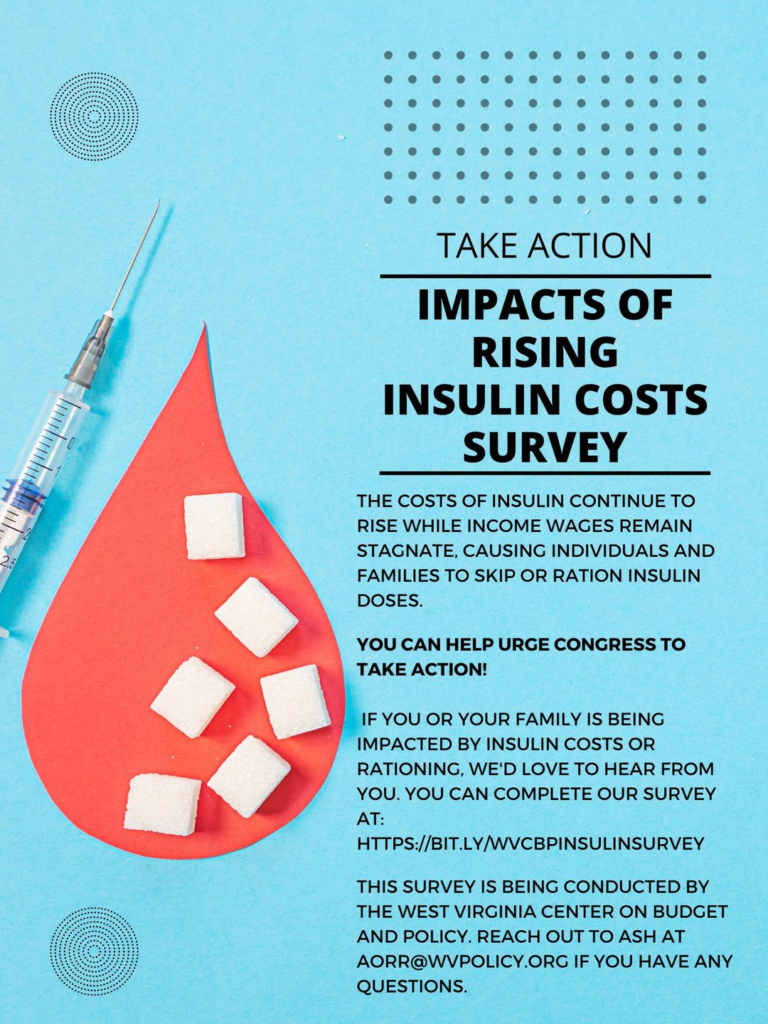 Share Your Medicaid Experience with Us!
The WVCBP's Elevating the Medicaid Enrollment Experience (EMEE) Voices Project seeks to collect stories from West Virginians who have struggled to access Medicaid across the state. Being conducted in partnership with West Virginians for Affordable Health Care, EMEE Voices will gather insight to inform which Medicaid barriers are most pertinent to West Virginians, specifically people of color.
Do you have a Medicaid experience to share? We'd appreciate your insight. Just fill out the contact form on this webpage and we'll reach out to you soon. We look forward to learning from you!
You can watch WVCBP's health policy analyst Rhonda Rogombé and West Virginians for Affordable Health Care's Mariah Plante further break down the project and its goals in this FB Live.