The Affordable Care Act (ACA) included several provisions to help make health care more accessible and affordable for Americans. One provision is the Individual Marketplace, which allows people who are not eligible for health coverage through their employers, Medicaid, or Medicare to purchase health insurance, often with income-based subsidies that make the monthly premiums more affordable. But too often, even with subsidies, individuals and families found that monthly health insurance premiums were too expensive.
As one piece of the federal response to the pandemic, Congress passed the American Rescue Plan Act (ARPA), which increased these income-based subsidies, known as advanced premium tax credits (APTCs). These credits help make health insurance premiums more affordable to Americans at all income levels. While the increased APTCs have played a critical role in helping people across the country – including 23,000 West Virginians – access health care, they will sunset at the end of 2022 without further action from Congress. Their expiration will cause severe and unnecessary price shocks, just as West Virginians are dealing with other rising costs.
A recent analysis by the Urban Institute found that if Congress does not extend the enhanced APTCs, an estimated 3.9 million people nationally will become uninsured in 2023, as their health insurance costs would become unaffordable. This estimate includes 11,000 West Virginians, which represents a 34 percent drop in the overall size of the state Marketplace. Furthermore, about 20,000 West Virginians could see an automatic hike in their premiums on the Marketplace when open enrollment starts on November 1, 2022. Of those folks, at least 4,000 low-income West Virginians would lose their zero-premium coverage. It is important to note that insurance costs are the primary reason Americans forgo insurance. The enhanced APTCs have played a crucial role during this tumultuous time and can ease recovery as the pandemic subsides in the future.
APTCs work by ensuring that households do not exceed a specified percentage of their income on health insurance costs via the Marketplace. Generally, the lower their household income, the less they are expected to pay for health coverage, and APTCs, or subsidies, cover the difference between their responsibility and the total cost of the health plan. The relationship between income and expected contributions helps make the Marketplace more equitable. ARPA reduced the percentage of household income individuals and families can be expected to spend on health insurance premiums, cut health costs during the pandemic, and freed up household funds to spend on other basic needs. This technical change significantly impacted health costs, reducing health insurance premiums for over 30,000 West Virginians who are receiving their health coverage through the Marketplace in 2022.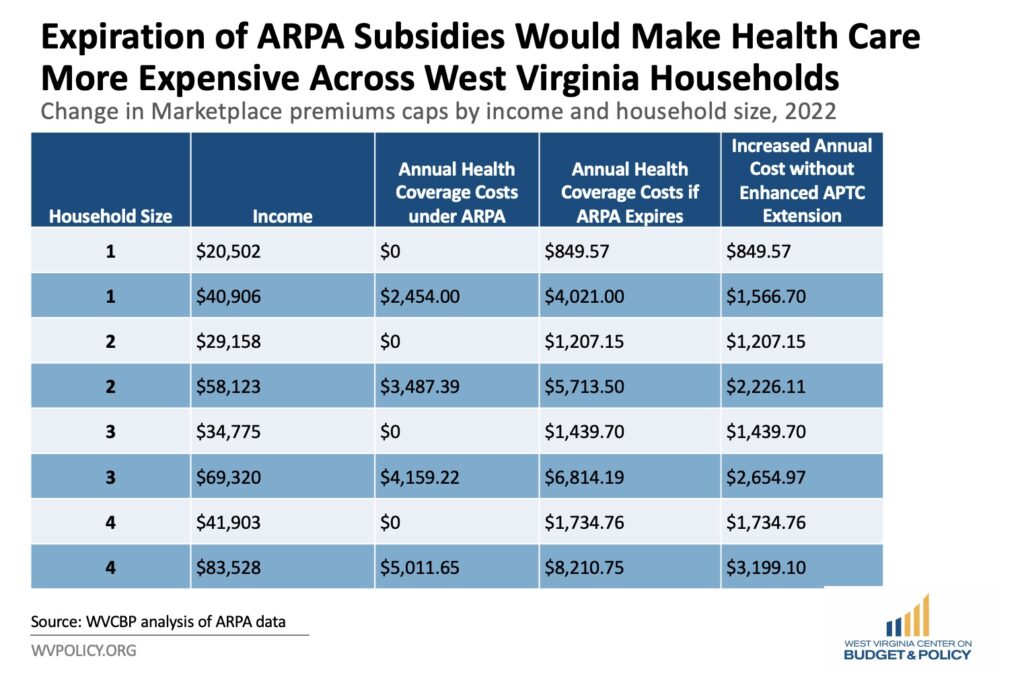 Ensuring that West Virginians can access affordable health coverage is good for families and our economy. Failing to extend the supports that made health coverage more affordable through the American Rescue Plan Act would increase West Virginia's uninsured rate and make it harder for individuals and families to meet their basic needs. Congress should act swiftly through a broad economic reconciliation package to extend the subsidies that have made health coverage accessible and affordable for tens of thousands of West Virginians.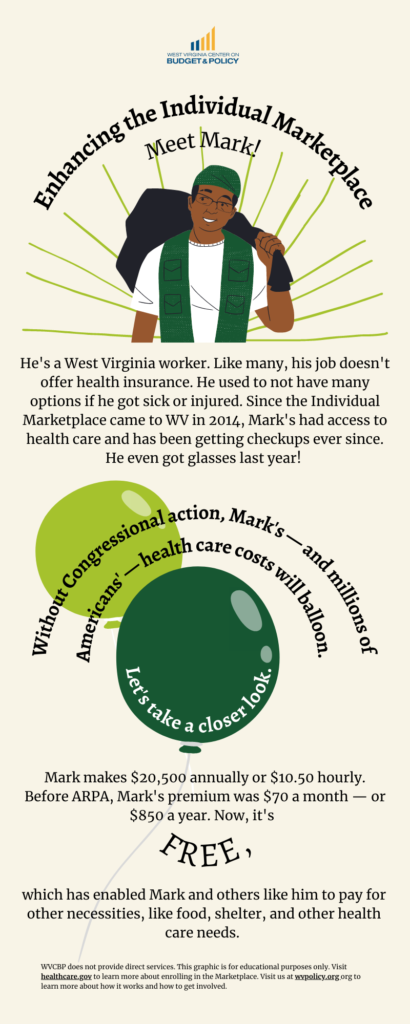 Please note that the WVCBP does not provide direct services. Our infographic is for educational purposes only. Visit healthcare.gov to learn more about the Individual Marketplace. Visit us at wvpolicy.org org to learn more about related policies and how to get involved.