Budget Beat for April 19, 2013
Evidence Counts – the WVCBP blog
This week was all about taxes and budgets. While the House and Senate met to work out differences between their budget bills and the one presented by the governor in February, there really wasn't much to talk about as any disparities were minimal. And in this era of budget cuts that the state is facing, we can look back and remember they are a result of tax cuts to corporations and businesses as Ted points out in this week's blog post.
What WERE the Differences Between the Budget Bills?
Want to know how the legislative budget bills differed from the governor's bill? Read all the details in a WVCBP report released this week. In an op-ed appearing in the Charleston Gazette on Tax Day, Ted and Sean discuss the "power of the purse" and how, in West Virginia, that authority falls largely under the Executive branch. Balancing out the power and giving West Virginia citizens a greater say in budget decisions could be done if the state joins the other 40 that have a Legislative Fiscal Office, an independent, non-partisan legislative agency that looks at the costs of proposed legislation.
WVCBP in the News
As we all wrote those checks for Tax Day, it is important to note that corporations pick up a smaller and smaller portion of the tab. To make up for it, West Virginians paid an average $620 extra in taxes last year while corporations enjoyed $150 million in tax credits and cuts. Read more in this week's Charleston Gazette article.
Where do these important tax dollars go? To many very important programs and services: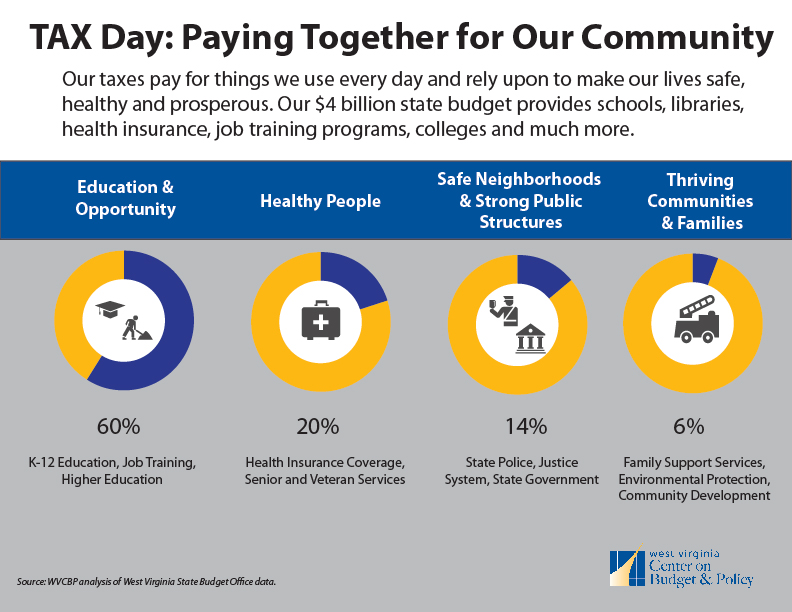 Now that the 2013 Legislative Session is over, advocacy groups await Governor Earl Ray Tomblin's decision on Medicaid Expansion. A West Virginia Public News Service article this week featured WVCBP analysis on the issue.
WVCBP research was also cited this week in an article appearing in the State Journal on rebuilding West Virginia. The article refers to our analyses on West Virginia's employment picture.
US EITI Names Co-Chair
WVCBP Executive Director Ted Boettner was nominated late last year to be a member of the US Extractive Industries Transparency Initiative (EITI). This month the organization selected Danielle Brian as its Co-Chair. Ms. Brian is the Executive Director of Project on Government Oversight (POGO), a Washington, DC based nonprofit that champions good government reforms. The EITI is an international initiative that requires governments to publicly disclose their revenues from oil, gas, and mining assets, and for companies to make parallel disclosures regarding payments. By signing onto the global standard that EITI sets, the U.S. government can help ensure that American taxpayers are receiving every dollar due for the extraction of these valuable public resources.