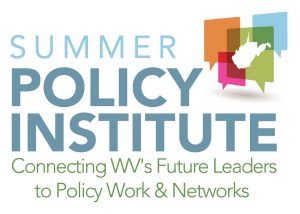 WVCBP's Summer Policy Institute will be held at West Virginia State University in Institute from July 26-28, 2019.

---
Applications accepted until May 31, 2019.
Be sure to review all requested documentation below before completing your application.
If you have any questions about the Summer Policy Institute or application, contact Kelly Allen at kallen@wvpolicy.org or (304) 612-4180.
Resume – Please attach a copy of your resume. Your resume should include your current (and permanent, if different from current) address and telephone number(s) and your e-mail address. Your resume also should include your educational history, employment history, extracurricular activities and any other relevant information you care to provide.
Statement of Interest – Please attach a brief statement – no more than one page in length – stating the reasons you wish to attend the 2019 Summer Policy Institute. (You may want to include how the SPI may complement your educational or career goals, skills you possess that may be beneficial in the information exchange you will participate in and/or any other information you believe to be relevant.)