This post was written by the WVCBP's summer research associate, Myya Helm.
Throughout West Virginia's history, labor unions have played a significant role in bargaining for higher wages and better benefits for workers. During the peak of unionization, West Virginia's workers enjoyed higher wages, stronger economic output, and lower income inequality than workers in many other states. Unfortunately, union membership has been declining in West Virginia and across the United States for decades since its peak in the early 1980s. And despite ample evidence that unionization has been proven to lead to better pay, safety, and mutual solidarity, multiple new efforts taken at the state level by the West Virginia Legislature further threaten worker power to collectively bargain and unionize throughout the state.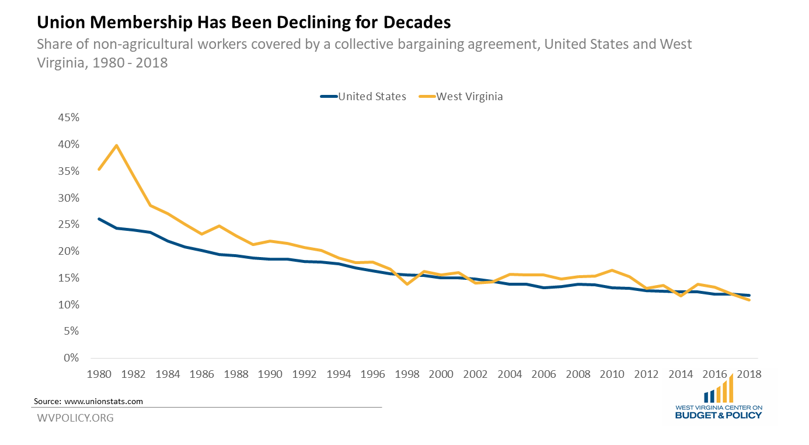 With the deindustrialization of West Virginia came the fall of union employment. The collapse of coal mining, steel production, and manufacturing jumpstarted a downturn in unionization. In 2016, West Virginia became the 26th "Right-to-Work" state, allowing non-union workers to "free ride" and receive full benefits from union contracts without being required to pay dues. After teachers and school service personnel went on strike calling for better pay and benefits in 2018, both the West Virginia House and Senate passed a bill specifying that any strike by a public employee was illegal. The "Paycheck Protection" Act has also passed, prohibiting dues from being taken directly out of union members' paychecks. 
Despite this pushback, unions continue to serve an essential role for working West Virginians, and especially for Black workers.
Although unions weren't always a welcoming force for Black Americans (and were originally used as a tool to exclude Black people from white-dominated workplaces), an increase in manufacturing jobs coupled with desegregation in the 1960s meant there was an increased number of Black laborers to organize around economic issues. Soon enough, organized labor began to back the Civil Rights Movement, and it was discovered that workers of color actually had some of the greatest gains from union membership.
Better Wages and Benefits
Across the country, Black workers are more likely than workers of any other race to be unionized. As abolition intertwines with the exploitation of unpaid labor, many Black unionists have come to the pragmatic understanding that unions help facilitate equality in a racially unequal society. Unions offer economic "liberation" and bring Black employees into the middle class they've long been excluded from.
Working Black West Virginians are typically much less economically secure than white West Virginians due to various financial disparities. In a state where Black households have only 70 percent of the income of white households, and wages for Black workers are 18.3 percent lower than that of white workers, unions have the potential to combat multiple systemic injustices. Nationally, Black union members earn 36.0 percent higher wages than non-union Black workers, on average. Even when controlling for factors like age, education, geographic location, and industry, Black union members still earn 16.4 percent higher wages than Black non-union workers, greatly impacting their families' accumulation of wealth and economic security. In fact, Black union families have almost five times the median wealth as their non-union counterparts.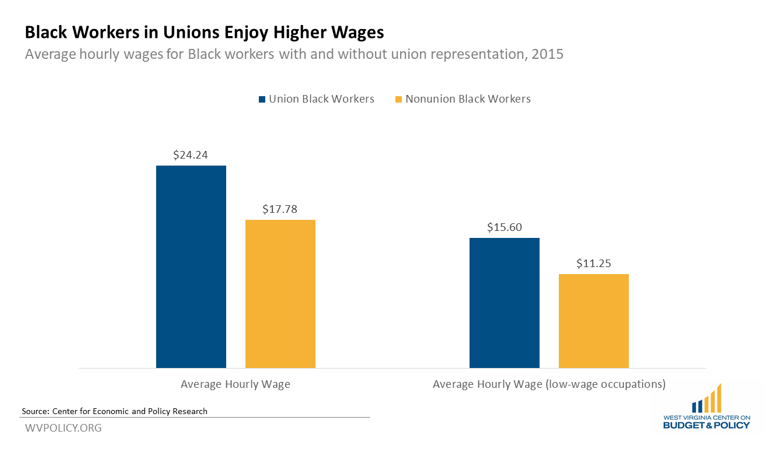 Further, the advantages of strong unions are not limited to higher wages. Black union members are the recipients of competitive insurance and retirement benefits, and they more often have better access to health care than their non-union counterparts. After controlling for different worker characteristics, Black unionists are 18.3 percent more likely to have employer-sponsored retirement plans than the non-unionists around them. And while Black West Virginians are also less likely to have health insurance coverage, nationally, Black unionists are 17.4 percent more likely to have employer-provided health insurance.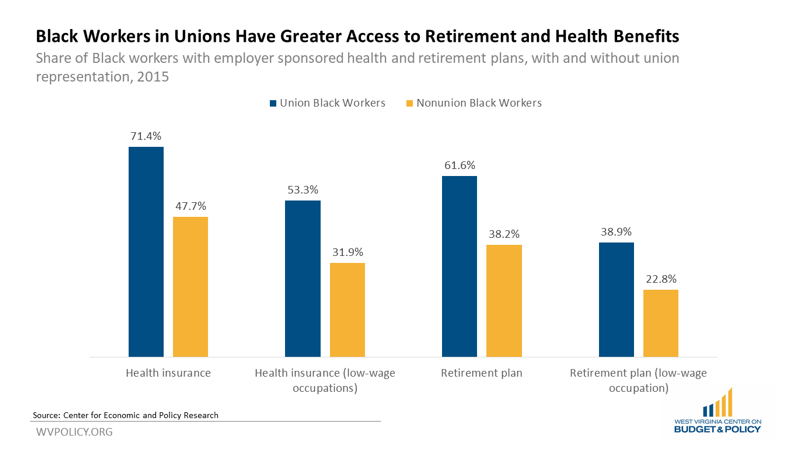 Addressing Racism and Discrimination
Organized labor provides an important voice for addressing issues of workplace discrimination, as well. People of color in all occupations and industries face racism and inequity. However, with the benefit of a union, workers are better prepared to fight instances of these issues when they arise. 
Unions have a history of pushing for policy solutions to end racial bias and discrimination, and they hold employers accountable for their responsibility to prevent it. Due to Title VII of the Civil Rights Act of 1964, protecting laborers is both an idealistic and legal obligation of union representation. Collective bargaining agreements typically contain anti-discrimination language which is enforced by grievance and arbitrations processes. This makes employees feel safer when bringing prejudice to light, especially when one in four Black workers has reported facing discrimination at work and three in four felt that the discrimination they experienced was based on their race.
As unionized workers continue to face politically motivated attacks in West Virginia, protecting the right to a union is both an economic justice and a racial justice issue. Strong labor laws defend working people, and strong unions serve an essential role for Black workers. The decline of overall unionization coincides with the decline of Black unionization. This lack of Black worker power adds to an increasing number of obstacles against efforts that reduce inequality, especially in a state where economic and social inequities persist across a broad range of variables. The effectiveness of unionization in making our economy — and our society — fairer and more inclusive is clear. Union representation unequivocally provides for the well-being of Black West Virginia workers that would be completely unseen otherwise. 
Black workers deserve meaningful reforms that organize and protect unions not only to ensure their economic progress, but as a principle of equal opportunity.
Later this summer, Myya and the WVCBP will release our annual State of Working West Virginia, which will include a deeper look at the history of unions in West Virginia, with a focus on Black worker organizing.